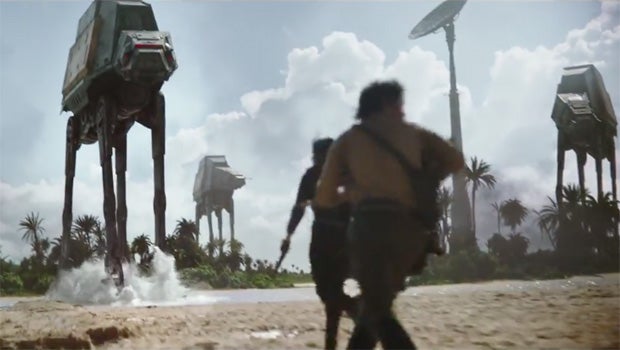 Review: "Rogue One: A Star Wars Story"
It is a great relief when the dreams of youth are not ruined in adulthood. Perhaps being an adult makes one more cynical that such is not only possible, but to be expected. It's particularly worrisome when movie companies go to the well one too many times, as might be feared in a new "Star Wars" film centered on the Death Star -- the fourth film in the franchise to feature a planet-destroying machine.
There was certainly trepidation when a prequel to the 1977 original was announced, based on lines from that film's opening crawl about the theft of the Death Star plans by rebel spies. Did we really need a film about that apocrypha? The answer: yes, definitely.
After seeing "Rogue One," one can only wonder why no one had come up with the idea earlier, except that it is tangential to the saga's family tale of Annakin and Luke Skywalker. Tangential, but thrilling, and filled with moments that exhilarate still, nearly 40 years after audiences were first introduced to the Force, rebels and the Emperor's sinister agents.
Visual effects supervisor John Knoll, who had worked on the "Star Wars" prequels and won an Oscar for "Pirates of the Caribbean: Dead Man's Chest," came up with the idea of a war film involving the band of rebels. And to stay true to the canon, the filmmakers had to operate under the handicap that we know the plans end up getting stolen in the end. What is most impressive about "Rogue One" is that, as wonderful as the effects are, this is not a movie that cares only for its visual marvels or the mechanics of the plot; we have characters to care about, and very impressive actors portraying them.
In the prologue we are introduced to Galen Erso (Mads Mikkelsen), a scientist conscripted by the Empire to construct a super-weapon. His young daughter, Jyn, escapes from stormtroopers and, in time, lands in the hands of the Rebel Alliance, who wish to use her to gain contact with Galen and stop the Death Star's completion.
Played by Felicity Jones (an Oscar-nominee for "The Theory of Everything"), Jyn doesn't have much to lose, but her interest in helping avoid a galactic holocaust is perhaps overshadowed by her wish to reunite with her captive father.
Helping her in her mission are Cassian Andor (Diego Luna, "Y Tu Mamá También"), an agent who has rebelled against the Empire practically his entire life; Chirrut Imwe (Donnie Yen, "Ip Man"), a blind Jedi acolyte, and his cohort, the heavily-armed Baze Malbus (Wen Jiang, "Devils on the Doorstep"); Bodhi (Riz Ahmed, "The Night Of"), a pilot who has defected from the Empire; and an android, K-2SO (a motion-capture performance by Alan Tudyk, of "Firefly"), who has C-3PO's worry without the fussiness.
Also in the cast are Oscar-winner Forest Whitaker ("The Last King of Scotland") as a rogue militant fighter who has a backstory with Jyn, and Ben Mendelsohn ("Animal Kingdom") as the ambitious Imperial officer in charge of getting the Death Star up and running.
What is refreshing about this "band of brothers" is that they exist in a decidedly gritty, violent and unsentimental story of war, with relatively vague intimations of the Force and only one lightsaber wielded.
The film offers stunning vistas captured by cinematographer Grieg Fraser (it was shot in Iceland, the desert of Jordan, and the Maldives, as well as on studio sets and -- not incongruously -- at a London tube station). The exceptional production and costume design offer nods not just to previous "Star Wars" films, but also to "Blade Runner" (as in the teeming cityscapes of the planet Jedha) and to martial arts films.
Stripping the adventure of much of the saga's fantasy without losing its majesty, "Rogue One," briskly directed by Gareth Edwards, retains the wonder of the series without condescending into wanton digital pyrotechnics that in other action films tend to deaden the soul. Bravo.
"Rogue One: A Star Wars Story" (Walt Disney Pictures) is rated PG-13.
To watch a trailer for "Rogue One" click on the video player below.
Thanks for reading CBS NEWS.
Create your free account or log in
for more features.