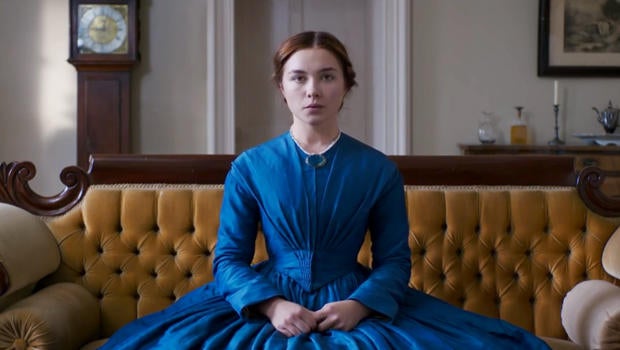 Review: Murder and corsets in "Lady Macbeth"
The lady of the house is a prisoner. Born poor, the teenager came to her position though a forced marriage, to a man clearly unsuitable to companionship. The environment of the surrounding 19th century British countryside - stark in its beauty and isolation - traps her, as she is forbidden to leave the manor house in her husband's absence.
But Katherine doesn't cotton to taking orders, and in the course of "Lady Macbeth" (opening Friday in select cities), she uses duplicity, steely determination and violence to realign a natural order constructed against her.
And if people have to die in the process, well, she won't as much as bat an eye.
Adapted from the 1865 Russian novella, "Lady Macbeth of the Mtsensk," by Nikolai Leskov, William Oldroyd's captivating new film is not expressly based upon Shakespeare's Scottish Play, but its central character is the natural heir to the scheming Lady Macbeth. As played by the remarkable Florence Pugh, Katherine shows no weakness or fear in confronting the misogyny of her husband, Alexander (Paul Hilton), or her father-in-law, Boris (Christopher Fairbank). Indeed, she's a female warrior fighting for her dignity, as well as her own sexual pleasure, which she takes in the most undignified ways.
Initiating an affair with a farmhand, Sebastian (Cosmo Jarvis), Katherine challenges conventions and dares the wagging of tongues as gossip abounds. One person whom she does not fear (but perhaps should) is the maid Anna (Naomi Ackie), a woman practically mute but who sees all, and whose silence may be mistaken for a conspiratorial assent, or an acquiescence mandated by her class.
Playwright Alice Birch, with her first screenplay, and director Oldroyd (who makes his feature debut) fashion a protagonist whose empowerment is born from her insolence, and a vengefulness that wreaks havoc on everyone around her -- those with more power, and those with none.
Don't expect period opulence a la "Downton Abbey"; the puritanical settings are severe, grounding the movie's modernist sentiments and making Katherine's cold-blooded actions all the more chilling.
In addition to Oldroyd's precise direction, Ari Wegner's cinematography, Jacqueline Abrahams' production design and Holly Waddington's costumes are all top-notch.
"Lady Macbeth" (distributed by Roadside Attractions) opens July 19 in New York City and Los Angeles, expanding later this month in Washington, D.C., San Antonio, San Francisco, and other cities. The film is rated R (for sexual situations, nudity and disturbing violence). 89 mins.
To watch a trailer click on the video player below.
Thanks for reading CBS NEWS.
Create your free account or log in
for more features.