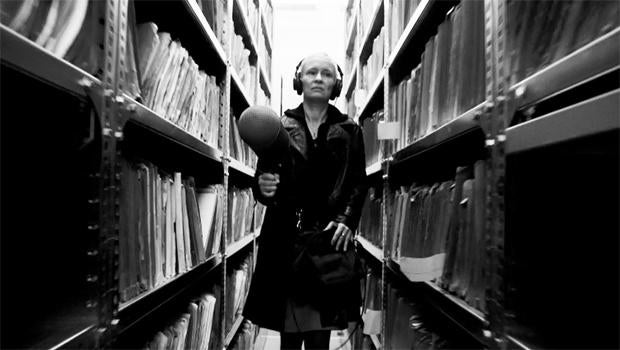 Review: How East Germans spied on themselves, in "Karl Marx City"
During the Cold War, there were an estimated 90,000 employees of East Germany's Ministry for State Security (Stasi) and 200,000 informants reporting on the activities and loyalties of 17 million East Germans. An unfunny joke goes that, if three people were sitting together, one of them was Stasi.
And the information from these informants now fills 111 kilometers of files and index cards kept at the former Stasi headquarters, where conservators are even today painstakingly reconstructing documents that were shredded once the Berlin Wall fell.
Making its U.S. theatrical premiere, after playing in international and documentary festivals (including last Year's New York Film Festival), "Karl Marx City" is an unsettling look at East German surveillance that existed for four decades, and how a climate of paranoia continued beyond the collapse of the Soviet Union and the end of the Cold War.
Filmmakers Petra Epperlein and Michael Tucker (the husband-and-wife team who previously collaborated on "Gunner Palace") use declassified Stasi film and audio recordings which show how ordinary citizens were kept under surveillance, using both obvious and hidden cameras. Shooting in black-and-white, their exploration of Germany today blends with the haunting images captured of the day-to-day activities of citizens under an ever-present lens -- as they call it, "the B-roll of a dictatorship."
Interviews with experts and former Stasi officials (who explain their tricks for getting people to become informants) also get at how resistance against a state dominated by fear is broken down, as well as the rationalizations they use today to live with themselves.
But the impetus of the film is also personal. Epperlein grew up in Karl Marx City (which was otherwise known as Chemnitz, and which reverted back to its original name in 1990). Most signs of Communist rule were torn down, if they weren't too heavy to remove, but the residue of East German life was maintained in the nostalgia (called ostalgia) for a time before economic unsettlement and democracy.
Epperlein's father, who like everyone was kept under surveillance, committed suicide -- hanging himself from a tree near the family home in 1999. She hopes to answer questions she has about his death, and his life, about which much was hidden. For example, beginning in 1990, he began receiving anonymous letters accusing him of being an informant. "Short of being called a Nazi, 'Stasi man' is the worst accusation an East German can suffer," the narrator says.
Epperlein's appearance throughout the film seems aimed to make an ironic point: Carrying a shotgun mic, she glides through the former Eastern Bloc streets and the archives of the state's spy apparatus, and even wears her headphones while interviewing family members about their experiences in a surveillance state. Watching her maintain the ironic guise of a surveiller does get tiring -- it's a point that doesn't need to be made so blatantly for it to have dramatic effect. The film's third-person narration provides a further remove -- as if hearing an informant's clinical report.
But the interviews she elicits -- about her own family's tragic history, and about the suffocating climate of East Germany -- provide jarring warnings about privacy, and a poignancy about the after-effect of Cold War spying. Former citizens of the German Democratic Republic must now decide whether they want to learn all the details that might be found in the card files. Who among their "friends" was reporting on them? Were their occupations actually covers? Were they betrayed, and by whom? And was complicity merely a means to get by in a society where you really had no choice?
The film is rightly disturbing. And as is the case with uncovering dark family histories, when looking at a nation's moral standards, there may be no resolution of truth, no comfortable sense of redemption, when all is grey.
"Karl Marx City" (in English and German with English subtitles) is playing at the Film Forum in New York City through April 11, and will expand nationwide. Not rated. 89 mins. Distributed by Bond/360.
To watch a trailer for "Karl Marx City" click on the video player below.
Playing with "Karl Marx City" is a documentary short, "Broken: The Women's Prison at Hoheneck (Kaputt)", an animated film in which women jailed as political prisoners at the notorious Hoheneck Castle in East Germany recall their experiences. They speak of the indignities of their confinement, and of working as slave laborers to sew linens for sale in Western markets, as graphics draw a world without color.
One woman recalls that, upon her arrest, she assured her daughter she would be back that night to pick her up: "I'll never forget her eyes. Well, I never did pick her up."
Directed by Volker Schlecht and Alexander Lahl, with animation by Schlecht. In German with English subtitles. 7 mins.
Thanks for reading CBS NEWS.
Create your free account or log in
for more features.