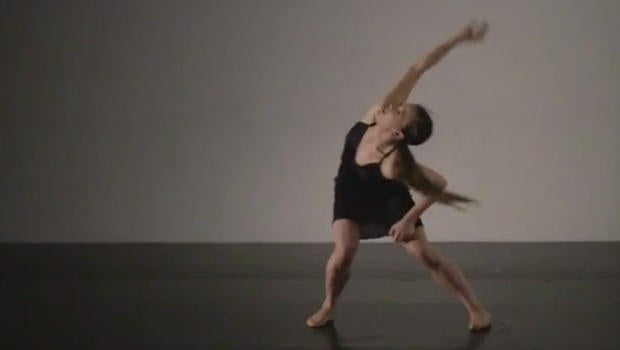 Review: Dancer bares all in documentary "Bobbi Jene"
A former Juilliard student, and later a member of the celebrated Batsheva Dance Company in Tel Aviv, Israel, Bobbi Jene Smith had already made a mark for herself. But after 10 years as a star performer abroad, and itching to choreograph her own dances, the Iowa native decided to return home to the States, cutting her ties to her dancing mentor and leaving her boyfriend behind, while seeking her own professional fulfillment as a solo artist in America.
There, she found herself adrift, a virtual unknown among the dance community. Though connected to her boyfriend via Skype, she was untethered. Yet her isolation and emotional disconnect fueled her work as she rehearsed a grueling, erotically-charged dance -- a completely naked performance so in-your-face that the dancer's own mother could barely bring herself to watch.
The new documentary "Bobbi Jene" (which opens today in New York City) is frankly less about the artistic process than it is about a young person gazing into her future with wariness, unsure what she sees, and summoning the courage to move forward anyway into the unknown.
Directed by Elvira Lind with an unflinching and bizarrely raw intimacy (how DID she get such fly-on-the-wall footage of the dancer's most private moments?), the film holds the viewer rapt, even though a majority of the running time consists of Bobbi Jene's nascent independence compared to her (admittedly artful) expression through dance, both solo and in collaboration, clothed and unclothed.
The film would be intriguing even if Bobbi Jene were a less talented dancer -- what we see of her on stage is absolutely mesmerizing -- because it is her inchoate ambition that is most revealing.
Bobbi Jene has the spotty wisdom of a 30-year-old -- that is to say, she recognizes the path that spells trouble but fails to listen to her own good counsel, such as when she admits the recklessness of becoming emotionally tied to a man 10 years younger than she. ("I'll be 40 when he's 30," she sighs.) Shortly thereafter, we see the two languorously entangled in bed. The lesson: Sometimes the heart just barks commands, and the head stays mute.
It's a lesson that Bobbie Jene slowly comes to realize: "We're not very good with all the reality stuff," she says. Fortunately, the film made of her is about as real as it gets.
After winning awards for Best Documentary, Best Cinematography and Best Editing at this year's Tribeca Film Festival, "Bobbi Jene" (distributed by Oscilloscope Laboratories) is now playing in New York City, and opens in Los Angeles and San Diego in early October. 96 mins. The film is not rated but contains an abundance of nudity. (Warn your Mom.)
To watch a trailer for "Bobbi Jene" click on the video player below.
For more info:

Thanks for reading CBS NEWS.
Create your free account or log in
for more features.