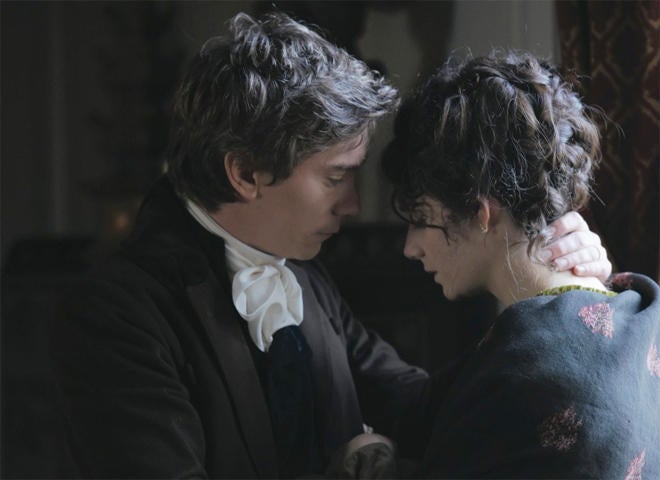 Review: "A Woman's Life," and a deceitful marriage
Jeanne, a French aristocrat's sole child of marriageable age, thinks she has found a suitable partner in Julien. But her trust in the young Viscount proves to be sorely misplaced, once she is wedded into a relationship marked by infidelity, tragedy and poverty.
Betrayal by her husband, her family, her friends, and her faith forces Jeanne into the discomfort of a life that - even by the standards of late 19th century France - was a difficult one. As depicted in the new French film, "A Woman's Life," Jeanne's existence becomes one of constant questioning: What can she do when faced with her husband's cheating? Must she reveal the secrets she harbors, if it would hurt others? Must she forgive, if it is what a priest says God demands? And whom can she trust, if everyone around her seems to reject or deceive her?
Based on "Une Vie," the first novel by French author Guy de Maupassant (which was originally published in 1883), the film is a compressed dramatization of a life's most delicate, haunting and painful memories, as experienced from Jeanne's point of view. And compressed in the literal sense, too: the movie was shot in a 4:3 aspect ratio, rather than widescreen, with the actors in arrangements that force the viewer into an extreme intimacy.
But being close to the action does not imply closer understanding. One of the great accomplishments of the film is that it does not readily explain the story or its characters' actions explicitly. We are instead coaxed, shown brief snippets of scenes which, strung together, comprise a narrative that reveals itself much in retrospect, as if looking back on a life lived to fully understand a person's journey, which may not be fully understood while in its midst. Even the title (made only slightly less universal compared to the source novel's) suggests a reductive take on a life that was anything but simple or unmarred by tragic consequences. Nonetheless, there is great empathy for Jeanne and her struggle as a daughter, a wronged woman, and a mother.
Produced with minimal artifice in production or design, and with a remarkable, plaintive realism from its cast, "A Woman's Life" feels uncommonly true. Directed and co-written by Stéphane Brizé (whose previous film, "The Measure of a Man," earned the Best Actor Award at the 2015 Cannes Film Festival), the film features exceptional performances by Judith Chemla as Jeanne, Swann Arlaud as Julien, Jean-Pierre Darroussin and Yolande Moreau as Jean's parents, the Baron and Baroness, and Nina Meurisse as Rosalie, a housemaid whose own quest for forgiveness stirs a remarkable reversal - and even more difficult questions for Jeanne.
"A Woman's Life" (Kino Lorber), already playing New York City, opens today in Los Angeles, Miami and Pasadena, Calif., and will open in coming weeks in Boca Raton and Lake Worth, Fla., Cleveland, Chicago, Santa Fe and other cities. In French with English subtitles. 119 mins. This film is not rated.
To watch a trailer for "A Woman's Life" click on the video player below.
For more info:
Thanks for reading CBS NEWS.
Create your free account or log in
for more features.