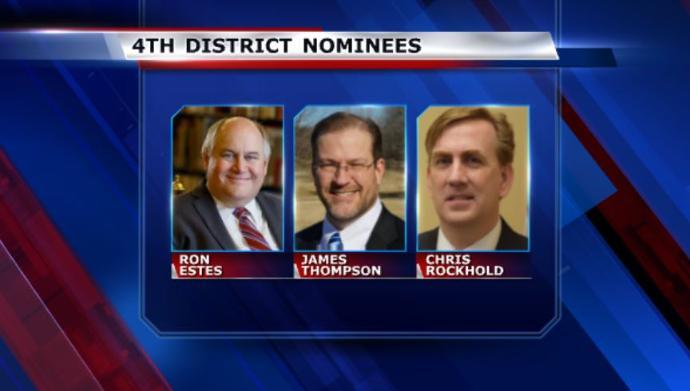 Republicans keep Kansas Congressional seat in surprisingly close special election
WICHITA, Kan. -- Republicans have held off a surprisingly strong Democratic challenge for a Kansas House seat in the first congressional election since President Donald Trump's November victory.
Voters on Tuesday picked state Treasurer Ron Estes to fill the vacancy created when Trump chose former U.S. Rep. Mike Pompeo as CIA director.
Estes held off Democrat James Thompson, a civil rights attorney, to claim the 4th congressional district seat occupied by Republicans for more than two decades.
Trump won 60 percent of votes in November's election in the 17-county district in south-central Kansas that includes the state's largest city of Wichita.
The special election was closely watched for any anti-Trump backlash against Republicans.
After entering the fray Monday with a recorded get-out-the-vote call on Estes' behalf, Mr. Trump Tuesday morning tweeted:
Republicans have represented the south-central Kansas district since 1994. The district has been hard hit by the downturn in the agricultural economy and the loss of hundreds of well-paying, blue-collar jobs in aircraft manufacturing plants. The 17-county congressional district includes Wichita, home to Koch Industries, the company led by conservative billionaire political donors Charles and David Koch.
Steve Weems, a 69-year-old retired accountant from Wichita, doesn't want to see a change in the Republican majority in the House and cast his vote for Estes.
"I am not totally happy, but I think they need time to prove themselves," he said of the national Republicans.
The Estes campaign pulled in Sen. Ted Cruz of Texas to campaign Monday Wichita. Vice President Mike Pence also recorded a get-out-the-vote call on behalf of Estes, the state's treasurer.
All those GOP calls prompted Charlene Health, a 52-year-old homemaker and Republican in Belle Plaine, to cast a ballot for Estes.
"I wasn't even going to vote," she said as she left her polling site Tuesday morning. "I finally did. I realized this was important."
Lucy Jones-Phillips, a 31-year-old insurance representative and Democrat, acknowledged she doesn't vote in every election, but said she voted for Thompson because she wanted to ensure supporters of Gov. Sam Brownback are not in office. She was especially upset when the Republican governor recently vetoed Medicaid expansion.
"I can't stand Brownback," she said as she left her polling site in Belle Plaine.
But Thomas Hauser, 67, of Belle Plaine, a Republican who works in the information technology industry, said he crossed party lines in Tuesday's election to vote for Thompson. He also didn't vote for Mr. Trump in the last year's general election. Thompson appealed to Hauser in part because both men are ex-military but also because "I don't believe in the (GOP) line."
Readers of the liberal blog Daily Kos also were jumping into the race, donating more than $200,000 to Thompson in the final days. Chris Reeves, a Daily Kos member and Democratic National Committee member from Kansas, said a close race would bolster the party's hopes in other states.
In a sign of nervousness in the waning days of the campaign, Republicans poured money into the race to bolster Estes, who was criticized by Thompson for avoiding some events to which both leading candidates were invited.
"Republican Ron Estes needs your vote and needs it badly," Mr. Trump said in his minute-long call. "Our country needs help. Ron is going to be helping us, big league."
Alan Branum, 64, a retired construction worker is a Wichita Democrat who voted for Estes and plans to change his party affiliation to Republican since he leans more conservative. He thinks Mr. Trump has been been doing fine so far.
"I don't think it is fair people condemn him," he said of the president. "He hasn't been in long enough to make a judgment. People need to give him some time."
Thompson has tapped into voter frustration with Brownback throughout the campaign, tying the state treasurer to the unpopular Republican governor. Thompson has called the Kansas congressional election more of a referendum on Brownback than on Mr. Trump.
That resonated with Rick Altmiller, a 52-year-old Wichita aircraft worker who noted the state is going broke under Brownback's income tax cuts that favor small businesses and farmers. Altmiller, an unaffiliated voter, cast his ballot for Thompson.
"Estes had his chance being one of Brownback's buddies," Altmiller said. "I don't think that worked out too good."
Mr. Trump's picks for top jobs in his administration and a California Democratic appointment have created five openings in the U.S. House, where Republicans have a 237-193 edge. Republicans are defending four GOP-leaning seats - the Kansas seat plus Georgia, Montana and South Carolina - while Democrats are protecting a seat in a liberal California district.
Thanks for reading CBS NEWS.
Create your free account or log in
for more features.