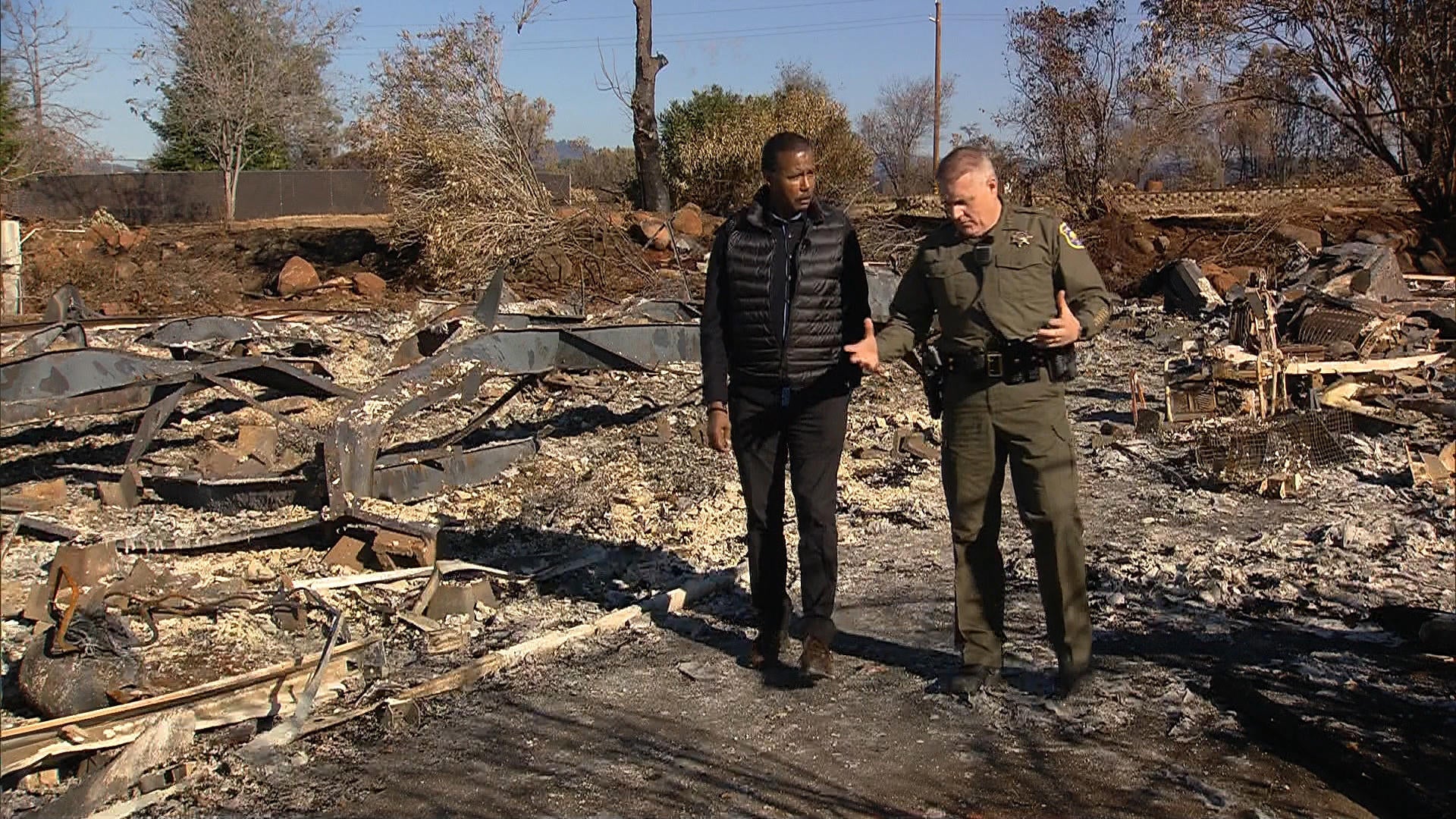 Reporting that respects the Camp Fire's victims
This week on 60 Minutes, correspondent Bill Whitaker covered the Camp Fire, a fast-moving inferno that almost completely destroyed the northern California town of Paradise. In a matter of hours, the fire grew at an astounding rate of one football field per second, killing about 90 people.
When Whitaker arrived in California with producer Marc Lieberman and associate producer Ali Rawaf, the team knew they had to earn the trust of the people in Paradise. They needed to assure the sheriff that they would be respectful of all that was lost. In the video above, they explain to 60 Minutes Overtime's Ann Silvio how they approached their reporting.
Rawaf arrived to the area first. He spent Thanksgiving Day following Kory Honea, the county sheriff and coroner who was trying to sort through the wreckage. In an attempt to get him to allow 60 Minutes cameras to capture his effort, Rawaf explained to Honea that he had grown up in Iraq during the height of the country's civil war. When he went to school as a teenager, he would see dead bodies lying on the side of the road.
"I remember my parents talking to me about how that's not the way to respect people who had just died," Rawaf recalled telling Honea. "So I can assure you with that background, we will definitely be cautious and respectful in the way that we go about doing the story."
Honea acquiesced and permitted 60 Minutes to film inside the morgue, where the victims' remains were nothing more than bone fragments placed in small brown paper bags. Because the Camp Fire burned so intensely for so long, the bodies of those who died had been almost completely consumed. The team made it clear to the sheriff that they would only shoot from certain angles in a way that was respectful to the victims.
Whitaker carried that approach into his interviews with victims' families.
"You have to always remember that this person is grieving and you're asking them to do something quite unnatural: sit in front of a camera and talk to the world," Whitaker said. "It's almost like you want to hold their hand."
Whitaker has been covering wildfires in the American west for more than 20 years. He and Lieberman both used to work in the Los Angeles bureau, and in the years they spent covering wildfires, they have watched the destruction increase.
"That's what I see, that these fires get worse and worse every year," Whitaker said. "There used to be a fire season. By the time I moved from California 22 years later, there are fires all year long."
Not only has the fire season increased, Whitaker explained, so too has the devastation.
"There was a time when five, eight people died. You would say, 'Oh my God, that is a horrible, horrible fire,'" Whitaker said. "This time, almost 90 people. That's unheard of. And the scientist and the firefighters tell us they expect that next year will be worse."
To watch Bill Whitaker's 60 Minutes report on the Camp Fire, click here.
The video above was produced by Ann Silvio, Lisa Orlando, and Rebecca Chertok Gonsalves. It was edited by Lisa Orlando.
Thanks for reading CBS NEWS.
Create your free account or log in
for more features.