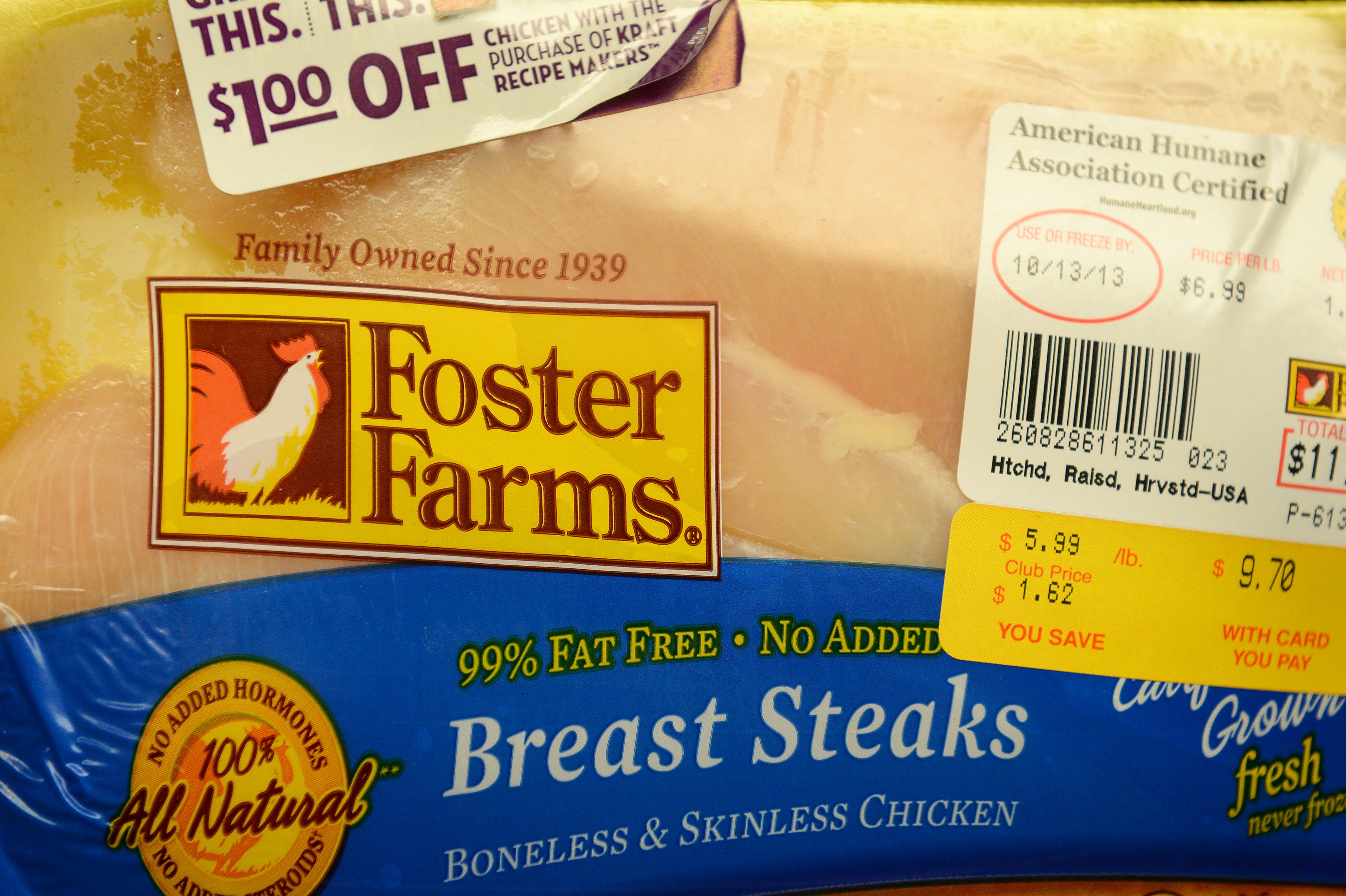 Report says salmonella outbreaks from raw chicken linked to USDA weaknesses
A new report on salmonella blames two recent disease outbreaks from raw chicken on flaws in the government's food safety program.
According to the Pew Charitable Trusts' report, the U.S. Department of Agriculture's Food Safety and Inspection Service is not doing enough to target salmonella bacteria, the cause of at least 42,000 reported illnesses each year in the U.S.
"When more than 500 people get sick from two outbreaks associated with chicken that meets federal safety standards, it is clear that those standards are not effectively protecting public health," Sandra Eskin, director of Pew's food safety project, said in a press release.
The report was released Dec. 19, the same day Consumer Reports issued a study that found 97 percent of raw chicken breast samples tested contained potentially harmful bacteria.

Pew's report takes a closer look at two multistate salmonella outbreaks linked to Foster Farms, the sixth-largest chicken producer in the country. One outbreak lasted from June 20120 to April 2013, and the other started in March 2013 and remains ongoing, according to the Centers for Disease Control and Prevention.

More than 520 illnesses in 29 states and Puerto Rico have been reported, but as many as 15,000 people may have gotten infected by the often unreported infection caused by salmonella, called salmonellosis, according to Pew.

The report points out that government food safety officials only issued a health alert for the second outbreak, but not the first.

For both outbreaks, the USDA's FSIS did not ask the California-based Foster Farms to issue recalls for its products.

The agency did however threaten to shut down the plants in October.

Pew's report points to weaknesses in the FSIS' regulations and policies, including that salmonella lacks the "adulterant" classification that other foodborne illness pathogens like E. coli O157:H7 has, meaning they are not strictly as regulated. There are also no salmonella limits or standards for chicken parts, which tend to be purchased more widely than whole chickens. Chicken products are tested at slaughterhouses only once a year, while some "best performing" facilities only get tested every other year.

The report adds poultry plants don't have to treat salmonella as a significant health hazard risk that needs to be controlled during processing and production, nor are their requirements for farm-level control measures that would reduce salmonella contamination in live chickens before they arrive at slaughterhouses.

"The Food Safety and Inspection Service should go beyond what it is proposing in its recently released 'Salmonella Action Plan' and do more to target salmonella, which is responsible for more hospitalizations and deaths than any other bacterium or virus," said Eskin.

Pew calls for new limits on salmonella contamination in chicken that are updated regularly, and for unannounced testing at processing plants.

While salmonella is confirmed in about 42,000 Americans each year, the government estimates that number could be almost 30 times higher given the infection often goes unreported because most people recover within a week without treatment.

Symptoms typically include diarrhea, fever and abdominal cramps 12 to 72 hours after infection. In some cases, diarrhea is so severe patients need to be hospitalized. The infection can also lead to long-term complications, like reactive arthritis, which is pain in the joints that is difficult to treat.
Thanks for reading CBS NEWS.
Create your free account or log in
for more features.