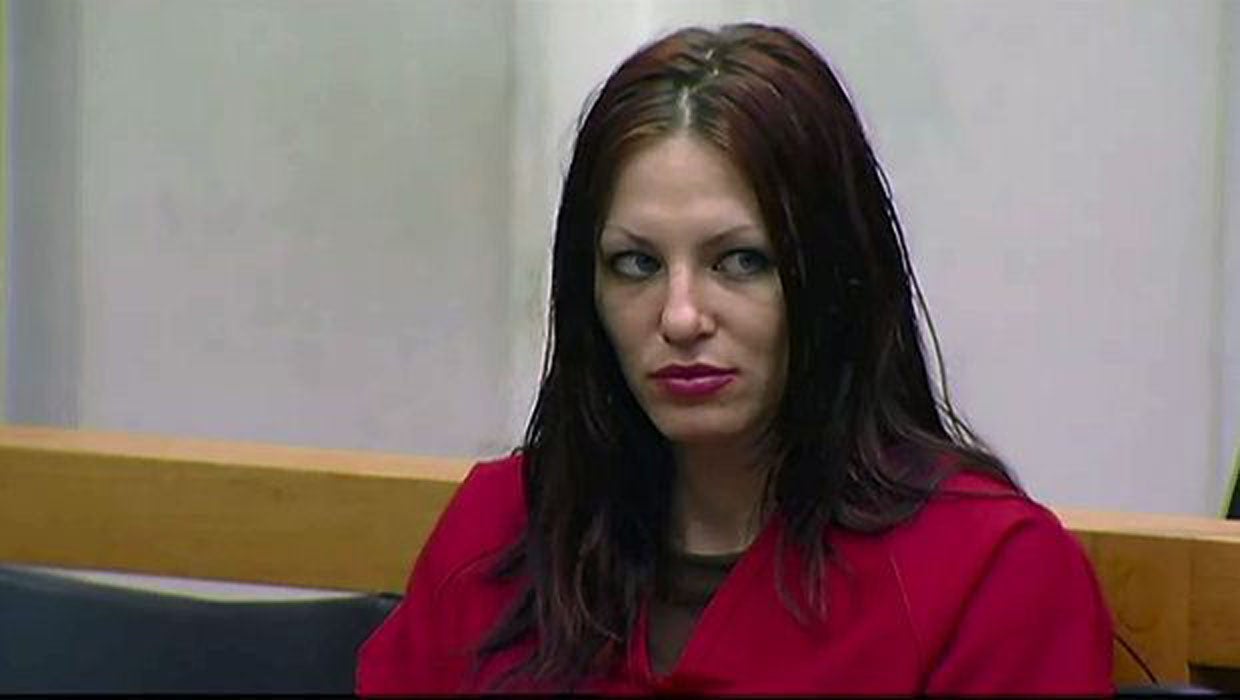 Report: Prostitute arrested in Google exec's overdose death
SANTA CRUZ, Calif. - Police say a woman who admitted to being a prostitute has been arrested in the heroin overdose death of a Google executive found on his yacht docked in a Santa Cruz harbor, reports CBS San Francisco.
Police say Alix Catherine Tichelman, 26, injected 51-year-old Forrest Hayes with heroin she provided, and fled as Hayes suffered medical problems, passed out and eventually died in an incident caught on surveillance video last November.
Tichelman was arrested Friday after detectives posed as a prospective client who wanted to pay for sex, according to the station.
"She was so callous that she literally stepped over the victim's body to retrieve her glass of wine and finish the glass of wine as the victim is laying there dying at her feet," Deputy Chief Steve Clark of the Santa Cruz police told CBS San Francisco.
She appeared in court on Wednesday on manslaughter and heroin charges, wearing handcuffs and a red jumpsuit.
She did not enter a plea and was appointed a public defender. She is being held on $1.5 million bail.
Police were called to the yacht Nov. 23, 2013 to investigate the suspicious death and identified Tichelman as a suspect that month after learning that she had an alleged prostitution relationship with Hayes and had met with him the evening of his death, the station reports.
According to the Santa Cruz Sentinel, police learned there were surveillance cameras inside and outside the yacht, but the boat captain didn't want to turn over the footage because of the lurid nature of the case. Eventually, police obtained a judge's order to get the video, which they used to identify Tichelman.
Police said Tichelman had destroyed evidence on the yacht, according to the paper.
"She did some cleaning. She took some evidence from the scene," Clark told the paper.
Police also said she had ties to a death investigation in another state, reports the Sentinel. They reportedly wouldn't disclose the nature of the investigation, and she hasn't been charged in that case.
After Hayes' death, Tichelman moved to Folsom, nearly three hours northeast of Santa Cruz, reports the paper. Police in recent months had tried to lure her back to Santa Cruz with a modeling gig, but "it was going to take us too long to make it a believable scenario," Deputy Chief Clark told the Sentinel.
Police were concerned she may leave the state if she learned of their investigation, reports CBS San Francisco. They set up a rendezvous with a fictitious wealthy man who would pay her $1,000 for sex at an upscale Santa Cruz County hotel on the Fourth of July, reports the Sentinel. That's where she was arrested.
During interviews, police said Tichelman showed no emotion and boasted of her more than 200 male clients, reports CBS San Francisco.
According to the station, police say the surveillance footage shows Tichelman gathering up heroin, needles and other belongings while stepping over Hayes' body several times. The footage also shows her apparently drawing a window blind, police said.
The paper reports Hayes and Tichelman met on SeekingArrangement.com, which according to the website is, "for sugar daddies and sugar babies seeking mutually beneficial relationships and arrangements."
According to the Sentinel, Tichelman describes herself on her social media accounts as an aspiring model, makeup artist, writer, exotic dancer and "hustler," and posted photos of herself posing with dyed red hair, tattoos and black lingerie.
The paper reports Hayes was originally from Michigan and worked in the auto industry early in his career. He was a long-time Santa Cruz resident and worked at technology giants including Sun Microsystems, Apple and Google.
He is reportedly survived by his wife of 17 years and his five children.
Tichelman's attorney, Diana August, did not immediately return a call from the Associated Press seeking comment. Assistant District Attorney Rafael Vazquez said authorities are still investigating the case and may file more serious charges.
Thanks for reading CBS NEWS.
Create your free account or log in
for more features.