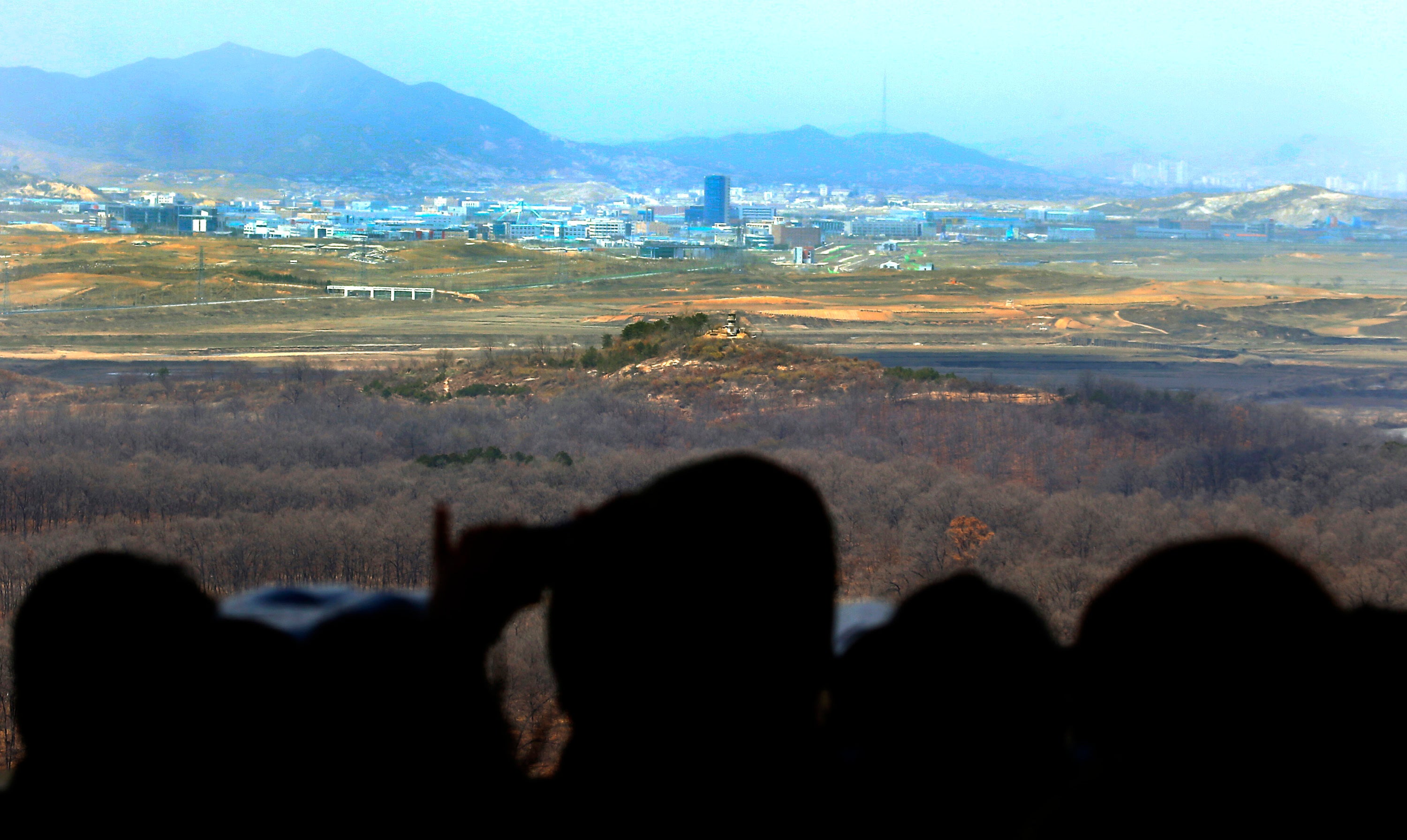 Report: North and South Korea exchange fire
SEOUL, South Korea -- South Korea fired dozens of shells Thursday at rival North Korea after the North lobbed a single rocket at a South Korean town near the world's most heavily armed border, the South's Defense Ministry said.
The North was backing up an earlier threat to attack South Korean border loudspeakers that, after a lull of 11 years, have started broadcasting anti-Pyongyang propaganda. The broadcasts are in response to Seoul's accusation that the North planted land mines on the South Korean side of the Demilitarized Zone that maimed two South Korean soldiers earlier this month.
The ministry said in a statement that its artillery shells landed at the site where North Korea had fired its rocket. There were no other details from the military and no reports of injuries.
"Our military has stepped up monitoring and is closely watching North Korean military movements" the Reuters news agency reported the South Korean defence ministry as saying.
North Korea didn't respond militarily to South Korea's artillery barrage Thursday, but its army later warned in a message that it will take further military action within 48 hours if South Korea doesn't pull down the loudspeakers, according to South Korea's Defense Ministry.
Authoritarian North Korea, which has also restarted its own propaganda broadcasts, is extremely sensitive to any criticism of the government run by leader Kim Jong Un, whose family has ruled since the North was founded in 1948. Pyongyang worries that the broadcasts could weaken Kim's grip on absolute power, analysts say.
The artillery exchange also comes during another point of tensions between the Koreas: annual U.S.-South Korean military drills that North Korea calls an invasion rehearsal. Seoul and Washington say the drills are defensive in nature.
South Korean President Park Geun-hye convened an emergency National Security Council meeting and ordered South Korea's military to "resolutely" deal with any provocation by North Korea.
About 80 residents in the South Korean town where the shell fell, Yeoncheon, were evacuated to underground bunkers, and authorities urged other residents to evacuate, a Yeoncheon official said, requesting anonymity because he wasn't authorized to speak to the media.
In the nearby border city of Paju, residents were asked to stay home. On Ganghwa Island, residents in villages near a site where South Korea operates one of its loudspeakers were also evacuated, according to island officials.
South Korea's Yonhap news agency reported that a total of about 2,000 residents along the border were evacuated.
Pyongyang has claimed that Seoul fabricated its evidence on the land mines and demanded video proof.
While the Koreas regularly exchange hostile rhetoric, it is also not unusual for fighting to occasionally erupt. Last October, North Korean troops opened fire at areas in Yeoncheon, after South Korean activists launched balloons there that carried propaganda leaflets across the border. South Korea returned fire, but no casualties were reported. Later in October, border guards from the two Koreas again exchanged gunfire along the border, without any casualties.
Before that, the Koreas tangled in a deadly artillery exchange in 2010, when North Korean artillery strikes on a South Korean border island killed four South Koreans. Earlier in 2010, an alleged North Korean torpedo attack killed 46 South Korean sailors.
North Korea's army said recently in a statement that the South Korean propaganda broadcasts were a declaration of war and that if they were not immediately stopped "an all-out military action of justice" would ensue.
South Korea has said the two soldiers wounded from the mine explosions were on a routine patrol in the southern part of the DMZ that separates the two Koreas. One soldier lost both legs and the other one leg.
The Koreas' mine-strewn DMZ is a legacy of the 1950-53 Korean War, which ended with an armistice, not a peace treaty, leaving the Korean Peninsula still technically in a state of war.
Thanks for reading CBS NEWS.
Create your free account or log in
for more features.