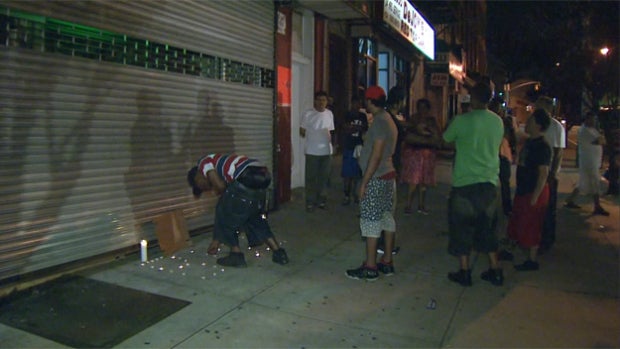 Report: N.Y. man put in police choke hold dies during arrest
Update: No charges for officer in Eric Garner NYPD chokehold death case
NEW YORK - Police say a man had a heart attack and died as officers attempted to arrest him for illegally selling cigarettes on Staten Island, but a video of the incident obtained by the New York Daily News appears to show police placing the man in a choke hold as he pleads "I can't breathe."
Eric Garner, 43, was pronounced dead at a hospital after officers tried to apprehend him around 4:45 p.m., Thursday.
Police say the officers observed Garner selling untaxed cigarettes on Bay Street, just blocks away from the 120th precinct. They say he'd been arrested before for the same offense.
Authorities didn't say whether Garner was handcuffed or if there was a struggle during the arrest, however the video obtained by the paper shows several officers attempting to take Garner into custody by putting him in a choke hold and pressing him towards the ground.
"I can't breathe, I can't breathe," Garner is heard saying in the video as he is pushed to the ground and handcuffed.
Within moments, the 43-year-old stops struggling and appears to go unconscious.
"We have a responsibility to keep every New Yorker safe, and that includes when individuals are in custody of the NYPD," Mayor Bill de Blasio said in a statement expressing his condolences to Garner's family.
Ramsey Orta, 22, who shot the video posted by the newspaper, told the Associated Press on Friday that he was sitting with Garner and discussing weekend plans before the confrontation with police. Garner had just broken up a fight between two other men when the police approached him, claiming they'd observed him selling loose cigarettes, Orta said.
"Before they even grabbed him, he told them he wasn't feeling good and that's why I pulled the camera out and started recording," said Orta, adding that Garner was asthmatic. "They could've just hopped out on the guys who were fighting, but they didn't bother to ask. They just jumped straight on him."
Garner has been arrested 31 times since 1988 on charges such as drug possession, selling untaxed cigarettes and assault, police said. Police say Garner weighed 350 pounds at his last illegal-cigarette arrest in May.
Internal affairs investigators and prosecutors have opened inquires into Garner's death. An autopsy for the 43-year-old was scheduled for Friday.
On Thursday night, a group of people placed candles on the sidewalk where Garner was taken into custody. A sign was also mounted in the spot accusing police of "brutality" in connection with his death, reports CBS New York.
Thanks for reading CBS NEWS.
Create your free account or log in
for more features.