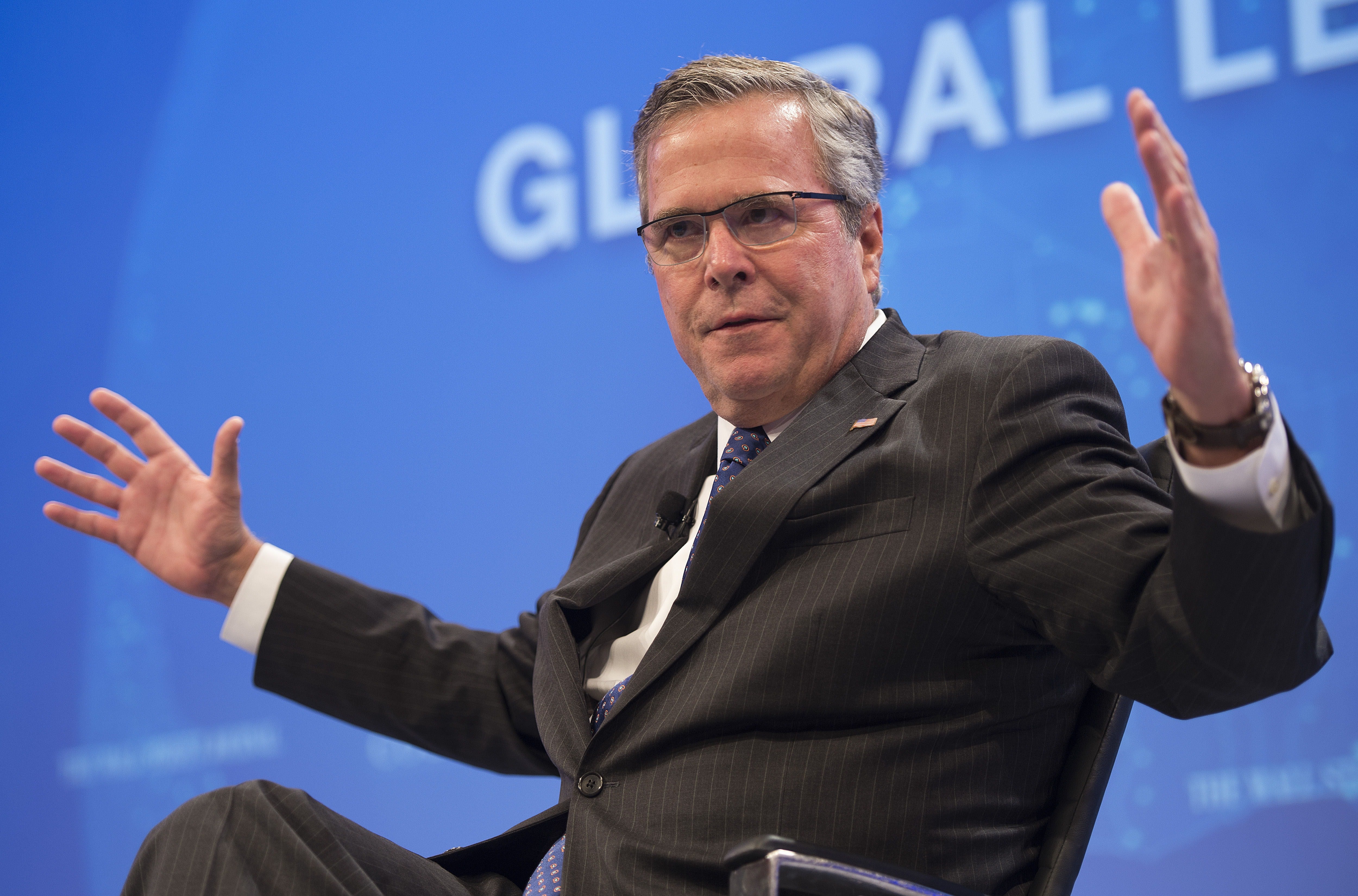 Report: Jeb Bush aims to raise $100 million in three months
As Jeb Bush's fundraising machine gathers steam ahead of the former Florida governor's likely entrance into the 2016 presidential campaign, some of his advisers are setting an ambitious goal of raising $100 million in the first three months of the year, Bloomberg Politics reports.
The eye-popping target, which was confirmed by several GOP sources involved with Bush's fundraising operation, is being presented to donors in Florida, New York and Texas as the governor and his team begin reaching out to the Bush family's extensive network.
A strong early fundraising haul by Bush could help dissuade some of his more establishment-minded primary rivals from mounting a bid, which is what his brother, then-Texas Gov. George W. Bush, was able to do in his 2000 presidential campaign.
If Jeb Bush is able to pull off a similar early show of strength, it could make potential rivals like Gov. Chris Christie, R-New Jersey and Sen. Marco Rubio, R-Florida, think twice before launching bids of their own.
Despite the multiple sources that confirmed the $100 million figure, the Bush team disputed that number in its on-the-record response.
"These alleged goals are not accurate," Bush spokeswoman Kristy Campbell told Bloomberg Politics. "Governor Bush has not had a political organization until now. He is just in the initial days of reaching out to people and making plans to support conservative causes and conservative candidates in the coming months."
Whatever the early goal, it's clear Bush's fundraising operation is already off to a vigorous start. The former governor was in Greenwich, Connecticut on Wednesday, soliciting money for his new leadership political action committee, dubbed the "Right to Rise PAC." Mike Murphy, a GOP consultant involved in setting up the PAC, told Politico on Tuesday that the organization raked in over $100,000 just a few hours after launching a website and purchasing ads on Google.
On Friday, during a trip to Boston to attend the swearing-in of Gov. Charlie Baker, R-Massachusetts, Bush again shook the money tree during a luncheon hosted by Putnam Investments CEO Robert Reynolds, the Boston Globe reports.
While he was in the Bay State, Bush met with former Sen. Scott Brown, R-Massachusetts, who tweeted a picture of himself with the former governor "at lunch discussing 2016 possibilities."
The fundraising drive in Florida will kick off next week when Bush visits the home of C. David Brown, an Orlando-based attorney and prodigious fundraiser whose relationship with the Bush family dates back to the 1990s, according to Bloomberg. That event is expected to raise at least $1 million, and it will be coupled with similar gatherings in Tampa, Palm Beach, and other Florida cities.
Thanks for reading CBS NEWS.
Create your free account or log in
for more features.