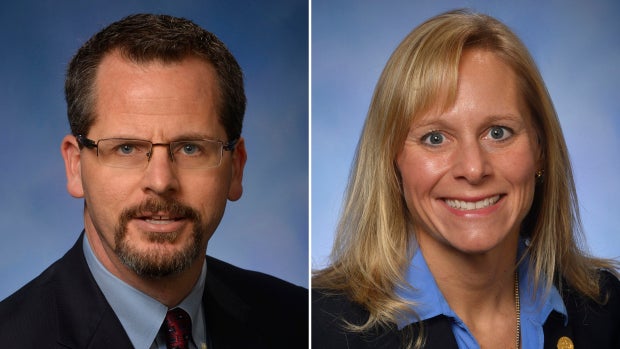 Report: Mich. lawmaker fabricated male prostitute story to hide affair
LANSING, Mich. -- A Michigan House leader on Friday requested an investigation into allegations that state Rep. Todd Courser orchestrated the distribution of a fictional email claiming he had sex with a male prostitute in a bid to conceal an extramarital relationship with a fellow Michigan lawmaker.
House Speaker Kevin Cotter said in a statement that after seeing The Detroit News' report on Friday that provided details about the email, he's asking the nonpartisan House Business Office to determine "whether there was a violation of House rules or any evidence of illegal behavior."
In audio recordings obtained by the newspaper, Courser, R-Lapeer, said the email was designed to create "a complete smear campaign" about him and Rep. Cindy Gamrat, R-Plainwell, so a revelation about their relationship would seem "mild by comparison."
"I need a controlled burn," Courser, a father of four children, said repeatedly throughout the conversation, according to CBS Detroit. "I need it to be over the top."
The Associated Press sent messages seeking comment from Courser and Gamrat.
Courser and Gamrat rose from tea party activism, battled establishment Republicans to win seats in the House last year and formed a legislative coalition. The socially conservative legislators both are married and have children.
Ben Graham, who served as a House aide, recorded Courser in mid-May directing him to send Republican activists and operatives an email that would appear to be from an anonymous political enemy that said Courser had been "caught behind a Lansing nightclub" having sex with a man.
After Graham rejected the request, Graham said he had duties removed and was fired by Courser by early July. The sexually explicit email was received by Republicans on May 20 and 21, the two days following Courser's meeting with Graham. During the meeting, Courser read aloud portions of a draft email.
During two meetings recorded by Graham, Courser and Gamrat didn't dispute the aide's characterization of their relationship as an extramarital affair. Courser and Gamrat both declined to comment about reasons behind the dismissals of Graham and an aide to Gamrat.
"I'm not going to talk about any kind of staff-related issues," Gamrat told The News on Monday.
On Monday morning, Courser told a Detroit News reporter and photographer to leave his Lapeer law office after being asked whether he wrote the email. Courser confirmed "that's my voice" as a reporter played the recording in his office lobby, but he disputed the legality of the recording.
In his statement, Cotter, R-Mount Pleasant, said the House Business Office will follow up with "any and all appropriate measures, including disciplinary steps."
He added: "We will not stand for any violation of House rules or law, and we will not let anyone's actions tarnish this institution or take away from the work we do every day to improve the lives of the hard-working men and women of this great state."
Thanks for reading CBS NEWS.
Create your free account or log in
for more features.