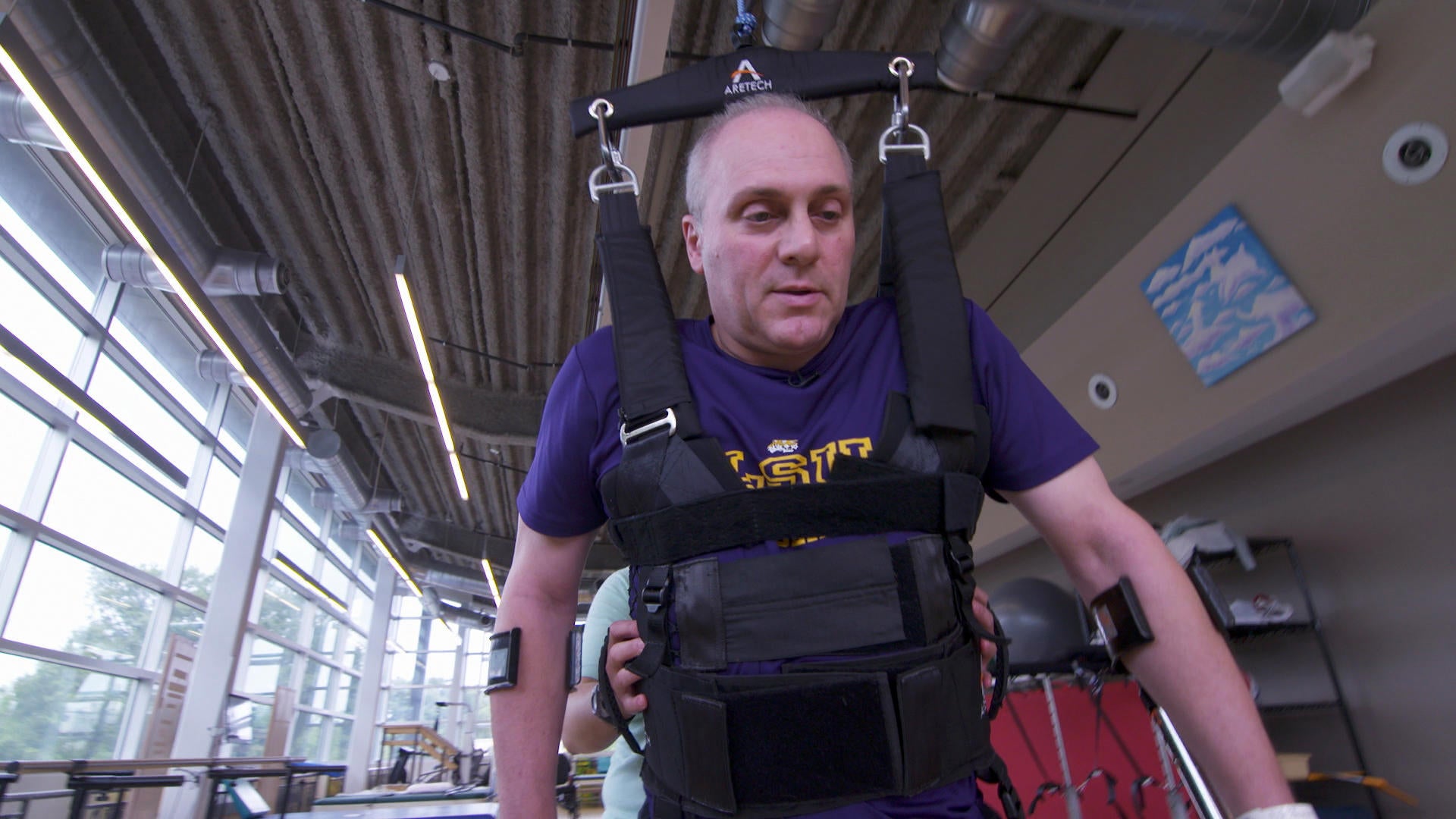 Rep. Steve Scalise's "little miracles"
When House Majority Whip Steve Scalise thinks about the day he almost died, he focuses on the little things that helped save his life.
"We call 'em little miracles," Scalise says. "You know, if one of 'em doesn't happen, I'm probably not here."
This week on 60 Minutes, the Louisiana congressman talks with correspondent Norah O'Donnell in his first television interview since a lone gunman wounded him and four others on June 14. The Republican lawmakers had been practicing in Virginia for a charity baseball game, and Scalise was playing second base when the bullet tore through his hip and across his body. He nearly died that day and has since fought through serious infections and begun the difficult process of relearning to walk.
"Congressman Scalise is a devout Catholic," O'Donnell tells 60 Minutes Overtime's Ann Silvio in the video above. "He credits God with getting him through this."
God, and some earthly assistance.
The first thing that derailed the would-be assassin on June 14th was Scalise's security detail. Most members of the House of Representatives are not protected by security guards, but because Scalise holds a leadership position, he gets security privileges. That meant two Capitol Police officers were at the ballfield that morning, ready to return fire. The actions of those officers prevented a massacre, says Scalise.
"I have no doubt that if [Capitol Police officers] Crystal and David weren't there that morning on June 14th, there would've been multiple casualties and probably well over a dozen members of Congress executed," Scalise says.
With the help of local Alexandria police, the officers exchanged fire with the gunman until he was shot dead.
"If you would have said, at the end of this, the only person that would be dead would be the shooter, nobody would believe it," Scalise tells O'Donnell.
A locked gate also stymied the shooter. Located next near third base, the gate would have allowed the gunman to enter the field in close proximity of the players if it hadn't been locked.
"[The shooter] would have had everybody. And the groundskeeper said, for some reason, the night before, he locked that gate," said Rep. Brad Wenstrup.
Wenstrup is not only a fellow congressmen, he's also a combat surgeon and Iraq War veteran. On Scalise's list of "little miracles," Wenstrup is a something of a guardian angel.
During the shootout with police, Wenstrup waited, keeping one eye on the gunman and one eye on his colleague. As soon as the gunman went down, Wenstrup ran onto the field to administer aid to Scalise's gunshot wound. In an interview with 60 Minutes, Wentrup said his combat experience helped him stay calm.
"I've seen this movie before, you know?" Wenstrup says. "Just not in this environment."
Wenstrup fashioned a tourniquet from a belt and later applied a clotting bandage, which prevented Scalise from bleeding out on the field.
"I don't think I would have made it if he wasn't there, right there on spot to administer that tourniquet," Scalise says.
The congressman has since had a long road to recovery. When he first started physical therapy, he couldn't move one of his legs, telling O'Donnell that it felt like "lead."
But on Thursday, Scalise walked into the House chamber on his own, aided by crutches and surrounded by many of those who helped save his life.
"I have no doubt that if God didn't put those little miracles out there, I wouldn't be here today," Rep. Scalise says. "It's a confirmation of my faith, and it's something that I want to continue to share with other people."
The video above was produced by Will Croxton and Ann Silvio. It was edited by Will Croxton.
Cellphone video courtesy of Noah Nathan
Thanks for reading CBS NEWS.
Create your free account or log in
for more features.