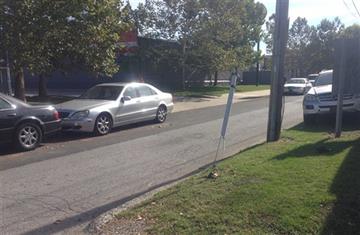 Relatives upset over police shooting of man in wheelchair
WILMINGTON, Del. -- The police shooting Wednesday of a Delaware man who was in a wheelchair was "an execution," a relative said at a press conference Thursday.
Jeremy McDole, 28, was shot around 3 p.m., after police responded to a call of a man who had a possible self-inflicted gunshot wound, the Wilmington Police Department said in a brief statement that officers.
Police have released few details, but said McDole had a handgun when officers shot him to death.
McDole's uncle, Eugene Smith, was among a crowd of about two dozen people who gathered Thursday at the scene of the shooting.
"It was an execution. That's what it was. I don't care if he was black, white, whatever," Smith said.
McDole is black. The race of the officers involved was not immediately released.
The police chief and mayor planned a news conference Thursday afternoon to talk about the shooting.
Smith said he was with his nephew about 15 minutes before shooting. "I didn't see no gun. He had a book bag, but I never seen a gun," he said.
The shooting occurred on a narrow street behind an auto parts store in an area that includes a mix of shops and rowhouses.
A bouquet of flowers was placed in the area where McDole was shot and some gray powder was on the concrete, apparently to soak up bloodstains on the street. At least seven small yellow chalk circles were on the pavement across from where McDole was shot, presumably outlining where the shell casings from officers' guns landed. A .40-caliber shell casing was found in the grass about 15 feet from where McDole was shot.
Smith said McDole had gotten out of jail about a year ago and was living in a nursing home near the scene of the shooting. He said McDole had been in a wheelchair since being shot in the back several years ago.
The Delaware Department of Justice's Office of Civil Rights and Public Trust is investigating the shooting and will determine whether the officers acted within the law. The agency investigates all police shootings that result in injury or death.
Thanks for reading CBS NEWS.
Create your free account or log in
for more features.