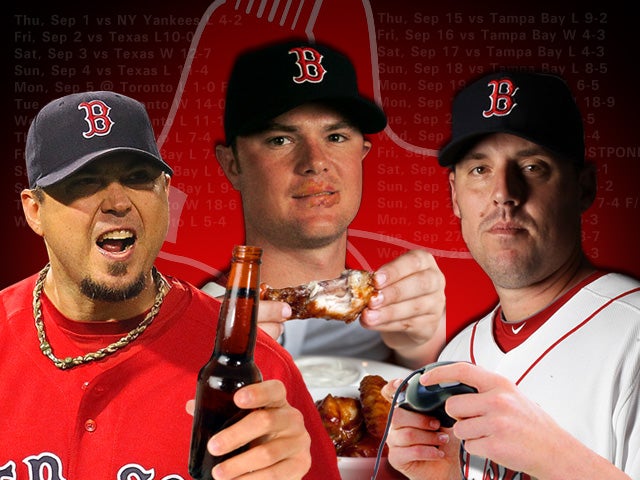 Red Sox flop linked to beer, chicken, video games
The epic collapse of the 2011 Boston Red Sox has been well chronicled (and today, as a result, their once-beloved general manager appears on his way out of town).
While the team had many scapegoats (namely high-priced free agent Carl Crawford and exiled manager Terry Francona), the Boston pitching staff was a collective Achilles heel - especially during the club's historic September swoon. Starter John Lackey summed up his performance early in the season thusly: "Everything in my life sucks right now."
But, according to a new Boston Globe report, the team's dysfunction and lack of effort was far more egregious than the casual fan would have guessed. The newspaper says that during the team's September slide, the team's top three starters - Josh Beckett, Jon Lester and John Lackey -settled into a routine of swilling brew, eating fast-food fried chicken, and playing video games in the clubhouse rather than support their struggling teammates in the dugout.
"The guys that weren't down on the bench, I wanted them down on the bench,'' Francona told WEEI last week. "I wanted them to support their teammates.''
A few other notable nuggets from the Globe article:
Francona completely lost his ability to motivate his increasingly lackluster team and was often distracted by marital problems (he lived in a hotel during the season) and health issues (concern that his managerial performance was affected by his use of pain medication, which he denies).
Some players were irate at management for being forced to play a doubleheader in late August (due to Hurricane Irene). According to the Globe, the team swept the doubleheader but the resentment lingered and the team "spent the rest of the season playing uninspired, subpar baseball, losing 21 of their final 29 games."
Team veterans David Ortiz, Kevin Youkilis, Jason Varitek and Tim Wakefield were largely detached and failed to show any leadership in the clubhouse.
Even though Jacoby Ellsbury enjoyed a MVP-caliber season, he did not get along with most of his teammates - most notable Kevin Youkilis, who publicly criticized the outfielder for missing so many games to injury in 2010.
Newly acquired star Adrian Gonzales, like Ellsbury, had a fantastic year on the field but lacked any leadership off it, even complaining about playing so many nationally televised games on Sunday nights.
"We play too many night games on getaway days and get into places at 4 in the morning,'' Gonzalez complained. "This has been my toughest season physically because of that.''
Tough, indeed. Enough to make someone want to unwind with beer, chicken and video games.
Thanks for reading CBS NEWS.
Create your free account or log in
for more features.