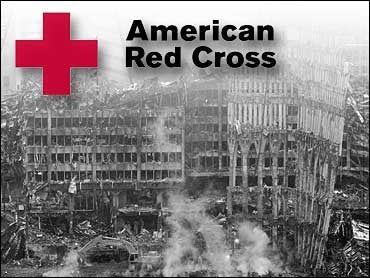 Red Faces At The Red Cross
In part two of her report on the American Red Cross, CBS News Correspondent Sharyl Attkisson looks at what investigative auditors found when they visited the charity's local chapters to see what they were doing with the millions in donations pouring in.
---

In the hours after the Sept. 11 attacks, a record-breaking amount of donations started pouring into more than 1,000 local American Red Cross chapters.

What donors didn't know was that some of the chapters entrusted with all that money had been identified by Red Cross headquarters just a few weeks before for having poor accounting procedures, inaccurate financial reports and for keeping national disaster contributions that should have been sent to headquarters in Washington. That according to internal documents obtained by CBS news.

The Red Cross isn't known for keeping a tight rein on its chapters. But now, it was suddenly crucial for headquarters to find out what chapters were doing with the millions in Sept. 11 donations. So the Red Cross leadership rushed special investigative auditors out to conduct surprise inspections. The results were startling.

According to documents obtained by CBS News, a dozen of the Red Cross chapters audited were marking, or "coding", donations as local funds. This means chapters like San Diego, Southwest Florida, and Gateway Area, Iowa would keep the money instead of sending it in for Sept. 11 victims.

What's more, the Savannah chapter "could not provide information regarding cash (and) checks collected." In Pine Tree, Maine "cash (and) checks (were) unlocked at all times," and in Los Angeles the chapter there had "no accurate accounting for funds received after Sept. 11," believed then to total "at least one-half $1 million."

The fact that the San Diego chapter was coding donations as local was no surprise to county supervisor Diane Jacobs, who'd been fighting the chapter for a year over lack of accountability for fire donations and issuing a doctored audit.

"The local chapters are operating independently," says Jacobs. "They're on their own. There's lack of oversight. There's lack of accountability."

Sources tell CBS News the national Red Cross singled out nearly 30 chapters for surprise audits because of their recent financial problems from sloppy accounting to worse. They were even nicknamed by some inside the organization as the "Dirty Thirty." But when the charity recently answered questions from Congress, it made it seem like there were no problems.

The Red Cross actually defended the chapters, saying they had discretion to keep the money because headquarters hadn't yet issued guidance. Also, they might have thought the money was in response to other local fundraising efforts.

Jack Campbell, the chief financial officer for the Red Cross, says he wasn't troubled by the results of the audit. Campbell says the chapters were right to think that some of the money that began rolling in on Sept. 12 was not meant for Sept. 11.

After the audits, he says, the Red Cross did require chapters to send in all the money that they received after Sept. 11, so he claims no harm was done.
The Red Cross also says it imposed a "rigorous set of additional procedures … and more national oversight" of chapters after the audits.

Daniel Borochoff, president of the American Institute of Philanthropy, a charity watchdog group, says it just shows that the Red Cross should be subject to state oversight just like other charities. The Red Cross is currently subject to federal oversight, and that, it says, is enough vigilance.

"It just doesn't make sense for them to not want to be accountable to the state attorney generals and also to their own national office," says Borochoff.

The stresses of Sept. 11 brought to a head an internal power struggle that had long been festering inside the Red Cross.
---
In Part 3 of Attkisson's report, the story of how that struggle ultimately forced out the Red Cross president.
Part One: Disaster Strikes In Red Cross Backyard
Part Three: 9/11 Fund Threatened Red Cross' "Leaky Piggy Bank"
Thanks for reading CBS NEWS.
Create your free account or log in
for more features.