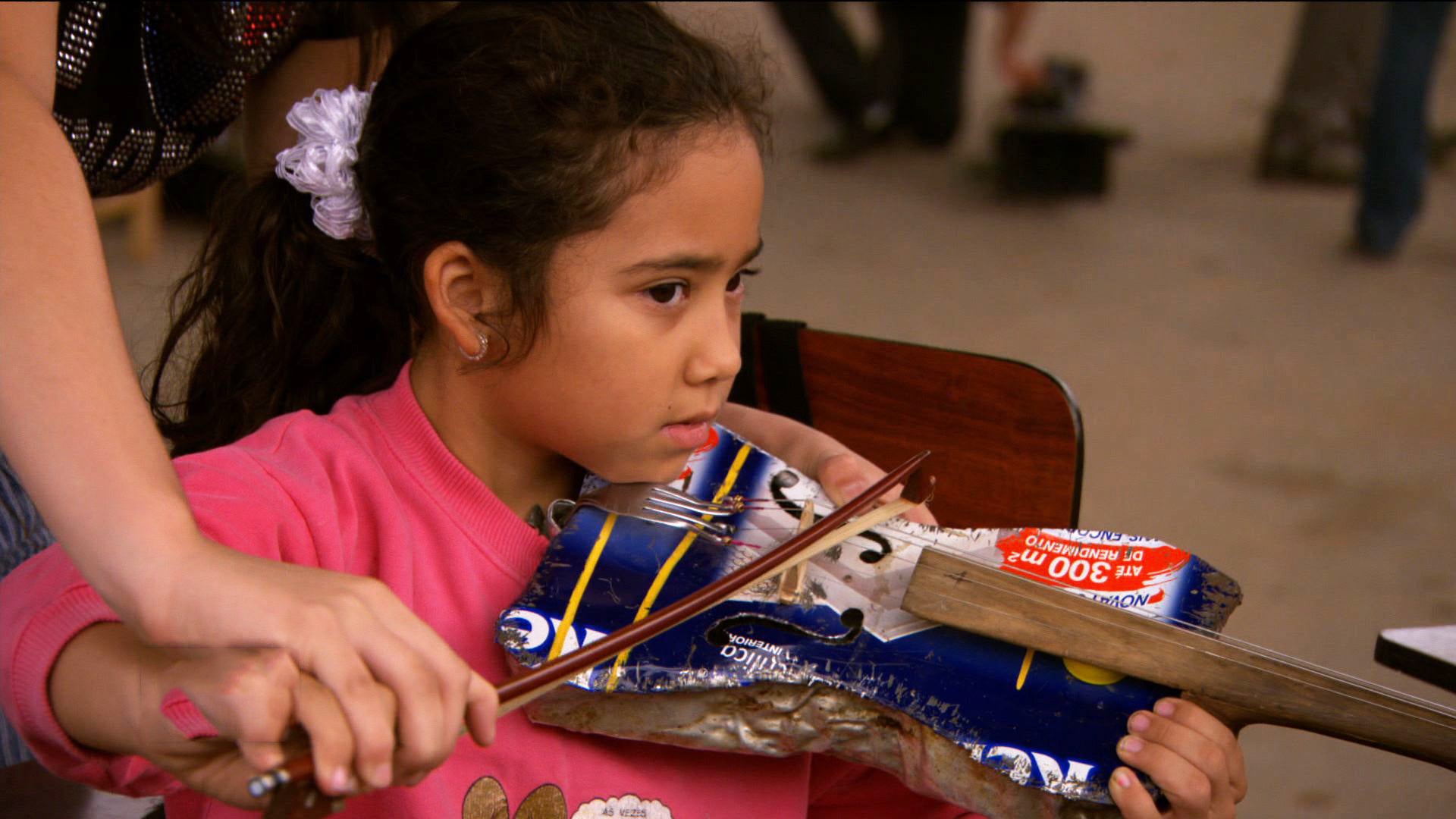 The Recyclers: From trash comes triumph
The following script is from "The Recyclers" which originally aired on Nov. 17, 2013, and was rebroadcast on May 11, 2014. The correspondent is Bob Simon. Michael Gavshon, producer.
Ever heard of a town built on a garbage dump? We hadn't until last year when we visited a community on the outskirts of Asuncion, the capital of the tiny, impoverished South American country of Paraguay. It's called Cateura and there is trash everywhere -- in its streets, its rivers, in people's backyards -- but we decided to take you to Cateura tonight, not because of the poverty or the filth, but because of the incredible imagination and ingenuity of the people who live there. Our story is also a reminder that, ultimately, music will triumph everywhere and anywhere.
How you can help
For information on how you can help the Recycled Orchestra of Cateura, click here or email orquestareciclados@gmail.com

To learn more about the film "Landfill Harmonic," click here
---
Garbage is the only crop in Cateura and the harvest lasts 12 months a year. It is Cateura's curse, its livelihood and the only reason people live here, providing hundreds of jobs to peasant farmers who were kicked off their plots by large land owners. They are the Trash Pickers. It is their profession. They sift through the stench 24 hours a day, scrounging for anything they can sell -- 10 cents for a pound of plastic, five cents for a pound of cardboard.
You'll be amazed at what else people here are doing with this trash...just look and listen.
This is the Recycled Orchestra of Cateura. The violins are fashioned from oven trays, the cellos from oil barrels. Even the strings are recycled.
The saxophones and trumpets are made from old drain pipes, the keys were once coins and bottle caps. This drum skin used to be an X-ray plate, the guitar from dessert tins.
The idea came from environmental technician Favio Chavez. When he came to Cateura and saw the kids working and playing on this miserable hill, he came up with the idea of starting a music school to lift the kids' lives out of the trash.
From the start, Favio realized that even if he could raise the money, new instruments were out of the question. A factory-made violin would cost more than a house here and would almost certainly get stolen. But these fiddles aren't worth a dime.
They are the handiwork of trash worker and carpenter Don Colá Gomez -- three days a week he goes to the dump to find the raw materials.
Then, in his tiny workshop at the edge of the dump, he goes to work. Favio first asked him to make a violin. But this Stradivarius of South America had never seen one or heard one.
Bob Simon: But do you realize how unusual it is?
Don Colá Gomez: Yes, that's the way it is. When you need something, you need to do whatever it takes to survive.
He was soon making three violins a week, then cellos and finally guitars, drums and double basses...out of trash.
Take a look and listen to what Colá has created. Fifteen-year-old Ada Rios has been playing for four years now. Today, she is the orchestra's first violinist.
Bob Simon: The first time you went and saw the orchestra you saw all these instruments with all these different colors. Were you surprised when you learned that they were made from trash?
Ada Rios: Yes. I was very surprised because I had thought that trash was useless. But thanks to the orchestra I now realize that there are so many different things that can be done with the stuff.
Cateura didn't exist before Paraguay's capital Asuncion started dumping its trash here. The town grew up around the garbage and became one of the poorest places in South America.
Twenty-five hundred families live here now. There is hardly any electricity or plumbing. The drinking water is contaminated. Many of the children move from broken homes to crime and drugs.
But Ada and her younger sister Noelia, who plays the cello, say that music has become their salvation, the centerpiece of their lives. And who do they have to thank for that? Their grandmother, Mirian.
She is a garbage worker, collects bottles in the streets of Asuncion, carries them back to Cateura to sell. Ten cents a pound. Three years ago, Mirian saw a notice advertising free music lessons for children. That's how it all began.
Bob Simon: Why did you want them to learn music?
Mirian Rios: Because I always wanted to be a musician-- or play an instrument. Actually I wanted to be a singer. Sometimes our dreams do come true. Maybe not in our lives, but through people that we love very much.
Ada Rios: When I play the violin I feel like I am somewhere else. I imagine that I'm alone in my own world and forget about everything else around me and I feel transported to a beautiful place.
Bob Simon: Can you describe that beautiful place?
Ada Rios: Yes. I'm transported to a place that is completely different to where I am now. It has clear skies, open fields and I see lots of green. It's clean with no trash. There is no contamination where we live. It's just me alone playing my violin.
Every Saturday, this drab school yard is transformed into a multi-colored oasis of music. The kids flock here to learn and to play.
Cateura is a long way from Juilliard, but these music students are just as dedicated as those prodigies in New York... and they don't get rained on like the kids here. Paraguay is in the tropics and you are reminded of that all the time. But the band plays on.
The veterans --15-year-olds -- are teaching the novices. Many are barely big enough to hold a violin. The music can't compete with the downpour but there is refuge in a classroom.
Favio Chavez says that music teaches the kids respect and responsibility, not common commodities in the gang-ridden streets of Cateura.
Favio Chavez: These values are completely different to those of gangs. If these kids love being part of the orchestra--they are absolutely going to hate being part of a gang.
For the first time, the children are getting out of Cateura, performing around the country and to Chavez, the Pied Piper of Paraguay, that's the most important thing. They are being seen. They are being heard.
Favio Chavez: These are children that were hidden, nobody even knew they existed. We have put them on a stage and now everybody looks at them and everybody knows they exist.
That's mainly because of a documentary that's being made about the orchestra called "Landfill Harmonic." Eighteen months ago, the producers put their trailer up on YouTube. It went viral... the orchestra began getting bookings worldwide. It is such stuff as dreams are made on.
The film which follows their remarkable journey through concert halls in Europe and America will only be released later this year but already instruments are being donated and that's not all -- the kids are getting help.
Paraguay's most famous musician, Berta Rojas, flies down regularly from her home in Maryland to offer master classes.
Remember Noelia, Ada's sister, the cellist? Berta is teaching her how to play the guitar.
Berta Rojas: This is-- an-- a story that is filling my heart and my soul with so much inspiration.
Bob Simon: When you first heard them play, what went through your mind?
Berta Rojas: I couldn't believe that you could make music with trash. I couldn't believe it. And I thought, "Oh my God, this is the best thing that had happened in Paraguay in so many years."
And when you talk to the parents, you hear what you hear from poor people everywhere. They want their kids to have a better life than they've had.
Jorge Rios is Ada and Noelia's father...
Bob Simon: If Ada becomes a professional musician, she'd probably be leaving town. How would you react to that?
Jorge Rios: Yes, the truth is if you asked that question to every parent here they would say they would leave this place if they could. I, of course, would like her to have a better life than the one I've had. And if she leaves I hope she takes me with her!
What's hard to believe is that most of the parents and the people of Cateura had never heard the children play. That was about to change. A concert was finally scheduled. There were banners in the streets, the local radio station was ready to broadcast. The church was transformed into a concert hall.
The children wore their finest. This was, after all, opening night. It could have been New York.
All the students were on stage for the finale. Some of the musicians were performing after just one rehearsal.
The parents were proud, of course. But just listen to the girls' grandma Mirian.
Mirian Rios: I would say it's a blessing from God. People used to humiliate us and call us "trash pickers." Today they are more civilized, they call us the "recyclers." So I feel that this is a reward from God. That our children who come from this place....can play beautiful music in this way.
And here's a final note from the Recycled Orchestra of Cateura. Go on, send us your garbage, we'll send it back to you...as music.
In the last few months, the orchestra has been touring. In South America, it played before tens of thousands as an opener for the heavy metal group Metallica -- yes, you heard it right, Mettalica! They are hoping to raise enough money to build a music school for their community on the edge of the dump.
Thanks for reading CBS NEWS.
Create your free account or log in
for more features.