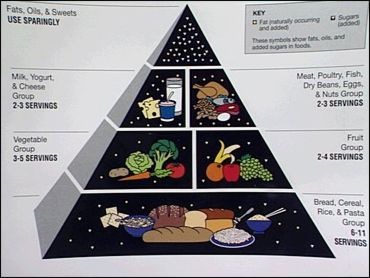 Rebuilding The Food Pyramid
The suggestions range from wacky to reasonable, but plenty of people have ideas about how to revamp the federal Food Guide Pyramid, that iconic graphic that supposedly guides how people eat.
An artist wants the pyramid redrawn as a heart pumping iron. A North Carolina man wants it to warn of the "poisons" in vegetables. A Virginia man seems to suggest dumping leafy greens - his nephew doesn't like them. And just about everyone thinks it should be more specific.
Over 600 pages of letters, e-mails and drawings provide a snapshot of what a nation obsessed with diet really thinks. The revised pyramid is expected to be released in early 2005.
For a month and half last fall, 254 responses from citizens and special interest groups poured in to the U.S. Department of Agriculture.
"The science has evolved and yet most Americans are health illiterate," wrote Caile Spear of Boise, Idaho. "They do not understand how to make good choices based on the best science."
The pyramid, first released in 1992 and now under one of its periodic reviews, was envisioned to help people do just that. Replacing the four food groups that so many Americans grew up with, the pyramid aimed to simplify the flood of increasingly complex dietary advice.
The pyramid principle - even the shape itself is up for debate - is simple: a triangle sliced horizontally into segments, with each segment representing different foods.
But more is at stake than the nation's waistlines. Industries and lobbyists also seized the opportunity to weigh in with changes, hoping to prove people can't live well without their products.
Walnut growers were the most prolific, with more than 20 letters touting the nut's alpha-linolenic acid, an essential fatty acid that cannot be manufactured by the body.
The national debate on carbohydrates was reflected, with carb-friendly industries cautioning against sticking them with the dreaded top of the pyramid - the smallest slot, reserved for foods deemed less healthy.
"Americans need to stop blaming carbohydrates for weight problems," wrote the Washington-based Independent Bakers Association. "Simply put, Americans need to cut down on caloric intake and increase their physical activity."
In fact, the folks at the American Association of Cereal Chemists in St. Paul bolstered their pro-carb stance by pointing out biblical references to manna from heaven and the bread of life.
Meanwhile, promoters of the low-carb Atkins Diet began a media blitz this week with full-page ads of their food pyramid in major newspapers and magazines. Breads and cereals are relegated to the pyramid's peak.
Across the board, Americans want more information. The current pyramid groups all grains at the bottom, followed by fruits and vegetables, then meat and dairy products and finally fats and sugars.
Virtually everyone asked for more distinctions, separating simple and complex carbs, healthy and unhealthy oils, breaking nuts and beans out of the meat and fish category, and even separating starchy vegetables from leafy greens.
"I have a real beef with equating a serving of french fries or scalloped potatoes to other vegetables, as well as equating 1½ cups of ice cream to a glass of lowfat milk," wrote Joanne Milkereit, a nutrition consultant.
Many also disagreed with the one-size-fits-all approach, saying separate pyramids are needed for the elderly and obese.
Most saw a need to feature fitness and give fruits and vegetables more prominence, especially the nearly 40 vegetarians and vegans who wrote in. They were the largest of any single group of advocates.
Eric Jaffa wants the "Meat and Beans" group renamed "Beans and Meat" to encourage people to eat more of the former and less of the latter. But the United Fishermen of Alaska want it renamed "Meat, Fish and Beans."
Sunkist, a citrus supplier, warns against changing the pyramid's unit of measurement from servings to cups. This will increase confusion, the group wrote. "Families do not think of a cup of oranges or a cup of bread."
Some groups were surprisingly restrained, leaving agendas behind. The Snack Food Association of Alexandria, Va., offered several reasonable ideas for improving the pyramid, and not one involved Twinkies or pork rinds.
Others were less subtle.
"In fact, every comprehensive review of the scientific literature continues to exonerate sugar's intake involvement in any lifestyle disease, including obesity," wrote The Sugar Association of Washington.
And the old pyramid wasn't without its defenders, especially those who use it to teach nutrition. The Oregon Dairy Council said it isn't the pyramid that needs changing:
"We argue instead that it has become the unfortunate scapegoat for a society that has lost all focus when it comes to balance, variety and proportionality."
By J.M. Hirsch
Thanks for reading CBS NEWS.
Create your free account or log in
for more features.