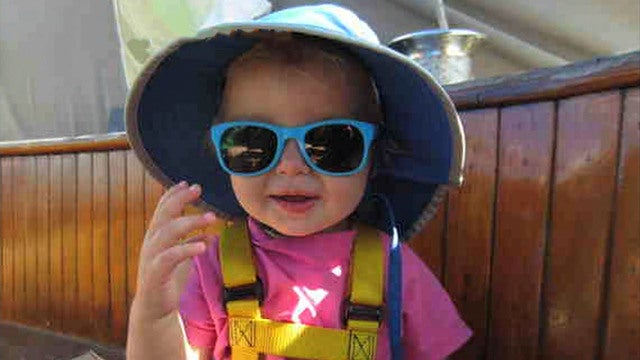 Parents of rescued baby defend their choices
SAN DIEGO - An ailing 1-year-old girl was improving Sunday after being rescued from a disabled sailboat hundreds of miles off the Mexican coast.

Lyra Kaufman's parents issued a statement Sunday evening thanking their rescuers and defending themselves against critics who questioned why they they would try to sail around the world with their two young daughters.

"We understand there are those who question our decision to sail with our family, but please know that this is how our family has lived for seven years, and when we departed on this journey more than a year ago, we were then and remain today confident that we prepared as well as any sailing crew could," Eric and Charlotte Kaufman said in a statement issued from the USS Vandegrift.

The Kaufmans

were two weeks into their trip when Lyra developed a fever and a rash covering most of her body and wasn't responding to medications. Then, their 36-foot sailboat, the Rebel Heart, lost steering and communication abilities about 900 miles off Mexico. They sent a satellite call for help to the U.S. Coast Guard on Thursday.

Four rescuers from the California Air National Guard parachuted into the water and reached the boat Thursday night. The crew stabilized the girl and stayed by her side until the Navy frigate arrived Sunday.

Lyra, her parents and 3-year-old sister, Cora, were helped onto an inflatable raft and then taken aboard the USS Vandegrift at 8 a.m.. The ship was expected to reach San Diego sometime midweek, the Coast Guard said.


Lyra was in stable condition and already improving, her family said.


"We also appreciate all the concern, thoughts and prayers of everyone back home for the health of our daughter Lyra. She is doing well now, and her medical condition continues to improve," the Kaufmans said in a statement.


Before the family left, Lyra had salmonella poisoning, but doctors cleared her to travel after she was healthy again, English said.

The Kaufmans had been chronicling their sailing adventure on their blog, and Charlotte Kaufman's posts often illustrated the ups and down of sea travel. Lyra's plight sparked a backlash online in which the parents were criticized for bringing two young children on such a long and potentially dangerous ship.

Critics have also been angry about the cost of rescuing the family, which the Coast Guard is not disclosing.

"The ocean is one of the greatest forces of nature, and it always has the potential to overcome those who live on or near it. We are proud of our choices and our preparation, and while we are disappointed that we lost our sailboat and our home, we remain grateful for those who came to our aid and those family and friends who continue to encourage and support us," the Kaufmans said in their statement.

Charlotte Kaufman's sister, Sariah Kay English, said that when she first heard of the couple's plans to sail around the world with two children, "I thought it was nuts."

But English said the couple was always careful. Eric Kaufman is a Coast Guard-licensed captain who introduced sailing to Charlotte Kaufman during one of their early dates.

"They were not going into this blind. I knew they were doing this wisely," English said.

English said the couple made a network of friends who traveled around the globe with children and always stocked the sailboat with more food than they need.

"They were very overcautious. They're not new at sailing," English said. Unfortunately, "sickness sometimes happens."

English said she had been assure that her ailing niece was already much better.

"The rash is going away. She's becoming the happy 1-year-old she is," English said. "It's wonderful news."
Thanks for reading CBS NEWS.
Create your free account or log in
for more features.