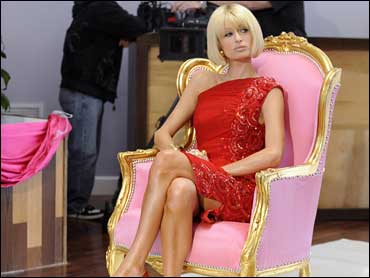 Reality TV Is Frugality TV
Here's a new economic indicator: the diminishing level of glamour on Paris Hilton's reality TV show.
Contestants in season two of "Paris Hilton's My New BFF" are living in a mansion that costs half as much as the home the show rented last season. Trips to New York and Tokyo are out this year, as the show's production budget has been cut 10 percent.
With the recession eating into advertising revenue at TV networks, a popular solution has emerged - even cheaper reality TV.
Reality shows already were TV's low-budget alternative. Producing one on a broadcast network can cost about $950,000 per episode, versus $1.7 million for a scripted drama, largely because reality shows don't use expensive actors and writers. And advertisers like how reality TV can give them inexpensive air time if they give the production free stuff and services. Add it all up and a network can eke out a profit even if a reality show's audience is fairly small.
So in this downturn, as Americans are clipping coupons, eating at home more and doing whatever it takes to cut their budgets, they can turn on their sets and find that TV is being frugal too. There are more reality TV shows, and less elegant ones at that.
For instance, unlike the cool $1 million available to the last contestant of CBS's "Survivor," the top queen of "RuPaul's Drag Race," which just finished on Viacom's Logo network, received a magazine photo spread, a role in two ad campaigns and $20,000 - "courtesy of Absolut Vodka and MAC Cosmetics."
"There's just less money around," said Michael Hirschorn, co-executive producer of the Paris Hilton show, as he sat outside its sun-drenched set in a modernistic building overlooking the San Fernando Valley. "The economy's a mess, so all of us have to work more efficiently. ... We have a reality show that is 40 percent cheaper than this show that just got green-lit."
MTV, which plans to air the new Hilton show this summer, is filling more air time with new reality series rather than reruns. Even so, its programming costs are down 17 percent per half hour, said Tony DiSanto, head of programming at the Viacom Inc.-owned network.
One new show debuting next week on MTV, "College Life," even cut out the director and camera operators by distributing $500 handheld video cameras to freshman and sophomore students in Madison, Wis.
"Safe to say, it's probably 35 percent less expensive than a similar half hour of reality drama," DiSanto said.
Reality programming is drawing more interest from around the industry as executives look to pare costs - much like General Electric Co.'s NBC will save money by putting Jay Leno on at 10 p.m. instead of 11:35 p.m. and avoid the expense of scripted fare in that prime-time slot.
At broadcast networks like ABC, NBC, CBS and The CW, 32 new reality shows have been ordered, are in production or are being developed, according to David Lyle, the president of Fox Reality Channel, who keeps a running count. At the same time last year that number was 21.
At cable networks, there are 160 new shows in this state, compared with 109 last year.
CBS Corp., which has ordered versions 19 and 20 of "Survivor," is developing projects based on arranged marriages, neighbors who compete against each other and an obstacle course trivia game.
The economics of reality shows benefit from cost-saving "trade-outs" from sponsors, like free helicopter rides, air travel and dinners at fancy restaurants. And the shows are more malleable to advertisers who are pushing harder to integrate their brands directly into shows, as a way to get in front of consumers who can skip commercials with digital video recorders. Garnier Fructis sponsors a beauty makeover segment on "American Idol Extra," and Charmin gives toilet paper to contestants in remote places on "Survivor."
Working those promotions into reality shows takes as little as a few months. Meanwhile, product placements on scripted dramas often need a lead time of a year or longer.
On top of the lower production costs that reality shows enjoy, they also have tremendous long-term earning potential.
While a scripted series can be lucrative if it completes three seasons - so it can be resold for domestic reruns, in international markets and on DVD - reality shows don't need to run as long before the rights to their underlying format, the basis of the show, can be sold overseas. Some formats sell for millions of dollars.
It's why versions of "American Idol," whose format is owned by Bertelsmann AG's FremantleMedia, are all over the world, and why Ish Entertainment, creator of Hilton's show, licensed the format to ITV PLC to make "Paris Hilton's Best British Friend," which aired this year.
Part of the thrill of reality shows is seeing the unexpected - and how the participants react.
Indeed, on the Beverly Hills set of the Hilton show, a minor incident erupts. A contestant who is eliminated spouts invective instead of giving Hilton the customary goodbye hug. But tempers soon cool, and later in the evening, the remaining friend wannabes will head off to Ortolan, a four-star restaurant that will offer appetizers in exchange for a mention on the show.
Hilton, 28, knows that even a less fancy version of her show can be a big hit for her personal business.
"It's a great platform for me, because I can show a lot of my products," she said. "All the kids have my perfume. They're all wearing the clothing line, they're all wearing my shoe line, they're all wearing my purse line, my belts, my accessories, Paris Hilton sunglasses. It's kind of like having a free commercial."
By Ryan Nakashima
Thanks for reading CBS NEWS.
Create your free account or log in
for more features.