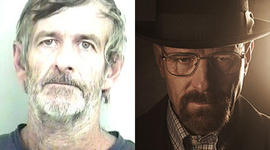 Real-life Walter White gets 12 years in prison for dealing meth
BILLINGS, Mont. - Walter White, a Lockwood man who coincidentally has the same name as the lead character in the AMC television series "Breaking Bad," has been sentenced to more than 12 years in federal prison for dealing methamphetamine.
U.S. District Judge Donald Molloy sentenced White on Monday to nine years for possession of meth for distribution followed by three-and-a-half years on weapons charges, according to The Billings Gazette.
Molloy held White responsible for the distribution of 32 and-a-half pounds of meth, a quantity he called "extraordinary."
"He ended up getting shot by his son," Molloy said. "Thirty two-and-a-half pounds of methamphetamine coupled with guns and violence is as about as serious as you can get."
White, 53, told Molloy he got addicted to meth and when he tried to get out of selling it, suppliers threatened him.
White acknowledged getting meth from Tomas Alvarado of Turlock, Calif., who is serving a 30-year prison sentence for his role in the conspiracy.
White's son, Brandon White, is charged with assault with a weapon and jailed on $150,000 bond. Court records say Brandon White told investigators he shot his father in the back in January during an argument over a $10,000 drug debt.
White was arrested in March after law enforcement officers investigating the shooting searched his residence and found four ounces of meth, valued at about $10,000, two handguns and more than $15,000 in cash.
The investigation into the shooting netted several arrests in a string of storage unit break-ins by defendants who told investigators they were trying to raise money to pay debts they owed Walter White.
Thanks for reading CBS NEWS.
Create your free account or log in
for more features.