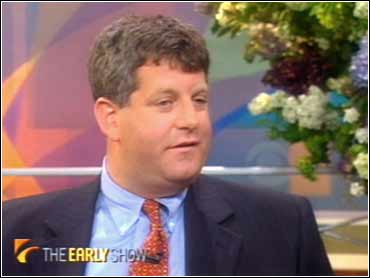 Reading Celebs Through Their Wills
If you think the lifestyles of the rich and famous are intriguing, you should hear about the afterlifestyles some of them dictate. In his book, Wills of the Rich and Famous, author Herb Nass offers a glimpse of the last wishes and words from a variety of public figures from celebrities to presidents.
Knowing what people say in their wills can shed light on their most private thoughts, feelings, and relationships. A will can also be a person's last opportunity to settle a score or to set the record straight.
The Wills of the Rich & Famous chronicles the last wills and testaments of some 100 famous people and offers insight as to whom they trusted and cared about. Nass shared a few examples with CBS News Early Show Co-Anchor Jane Clayson.
JFK Jr. — July 16, 1999

The first article of his will is quoted on page 16 of the book. It says, "tangible personal property (as distinguished from money, securities and the like) wherever located, other than my scrimshaw set previously owned by my father, to my wife Carolyn Bessette-Kennedy, if she is living on the thirtieth day after my death..."

Scrimshaw is "a craft that Massachusetts whalers and sailors practiced for centuries and that was owned by his father and earmarked that for his nephew (Caroline's son)," explains Nass.

The fourth article in his will leaves the residue of property to the JFK Jr. 1983 Trust. The exact terms of a trust like this are not required to be filed with the surrogate court. But the beneficiaries included wife Carolyn, sister Caroline Kennedy Schlossberg, and cousins Anthony Radziwill, Timothy Shriver, and Robert Kennedy Jr., as well as some friends and employees.

It is very revealing that, with the large number of cousins he had, he selected only three to share in his substantial estate. It is also interesting that he named his cousin, Anthony Radziwill, as the executor of his will and his other cousin, Timothy Shriver, as back-up executor, instead of naming his wife or sister. Perhaps John was thinking his wife and sister would be too grief-stricken at the time of his death to handle his complicated estate. Unfortunately, Anthony died from cancer three weeks after John and never acted as executor.

Jacqueline Kennedy Onassis — May 19, 1994

Like her son, Jackie O. did not name her children as executors of her will. Perhaps she also thought it would be too difficult for them. Instead, she named her lawyer, Alexander Forger, and her boyfriend, Maurice Tempelsman, co-executors.

Her will is a lengthy and sophisticated one, which reveals the generous and thoughtful woman that Jackie was. She left her estate to those close to her (her children, Maurice Tempelsman, nieces and nephews) but also icluded the JFK Library in Boston and a charity organization that would be established in her children's names.

Her children sold many of her belongings at the infamous auction at Sotheby's, raising close to $35 million. It may be hard to believe, but after taxes, there was not much of this money left over to establish a charity organization.

Frank Sinatra — May 14, 1998

In his will, Sinatra reveals some exceptionally generous impulses. His wife, Barbara, is well taken care of. He also makes cash bequests to his former wife, Nancy Sinatra, as well as his children, and to his favorite restaurant owner for keeping his kitchen open late for Sinatra and his friends.

The restaurant owner did not survive the 30-day clause in order to inherit the money. An interesting clause in Sinatra's will is the "no contest" clause in which he disinherits anyone who seeks to challenge his will.

Princess Diana of Wales — August 31, 1997

Diana signed her will shortly after she had formally separated from Prince Charles. With the exception of some "chattels," her estate was entirely left to her two sons, William and Harry, to be held in trust until they reach age 25. At one time, her mother and her private secretary, Commander Jeremy Jephson, were co-executors of her will. But Diana had a falling-out with him and later named her sister as co-executor with her mother.

Diana left an estate worth about $35,000,000, but it was subject to the 40 percent estate tax by the British government. Diana left gifts to her butler, her 17 godchildren and also let it be known that her wardrobe, picture, and name should be used for charitable purposes.

Sammy Davis Jr. — May 16, 1990

Although it sounds as though he had good intentions by leaving his wife, children, and friends money and memorabilia, at the time of his death, Sammy Davis Jr.'s liabilities outweighed his assets. People were unable to claim their bequests. It is unclear whether his wife actually received anything pursuant to his bequests. Sammy, being the showman that he was, signed his will with the "S" in his name reaching well up into the text of his will and also signed every page of his will.

Richard Nixon — April 22, 1994

The 37th U.S. president (and the only one ever to resign from office) left a will that reflects the mind of an unusually calculating person. The provisions indicate that Nixon may have continued to hold a grudge against the country. On the first page of the will, he directly cites the case "Richard Nixon vs. United States of America" and makes a bequest to the Richard Nixon Library using a formula that was a dollar amount minus the amount of legal fees he and his family incurred. He was very deliberate about this, considering the government had restricted his rights to his presidential papers.
Doris Duke, who was involved in wildlife causes and animal rights issues when she was alive, named he butler as the executor of her estate. (He has since died also.)

"He was not well-qualified to be a good executor," says Nass. "She had a billion-dollar estate with numerous assets…all over the world. He was not the best choice to handle her affairs… He didn't handle them properly. He didn't understand hat her will was designed to give to charity, wildlife causes, numerous foundations that she set up. She even established a trust for her own dog, $100,000 she set aside for the dog."
Thanks for reading CBS NEWS.
Create your free account or log in
for more features.