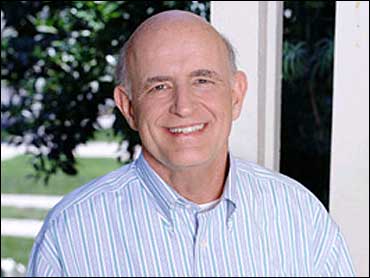 'Raymond' Cast Mourns Peter Boyle
Peter Boyle, who capped a long career as the hilariously grouchy and always politically incorrect father on "Everybody Loves Raymond," has died. He was 71.
Boyle died Tuesday evening at New York Presbyterian Hospital after a long battle with multiple myeloma and heart disease, his publicist, Jennifer Plante, told TheShowBuzz.com.
"I am deeply saddened by the passing of Peter Boyle," Ray Romano said, adding that Boyle was a mentor to him from the early days of "Everybody Loves Raymond."
"He gave me great advice, he always made me laugh, and the way he connected with everyone around him amazed me. The fact that he could play a convincing curmudgeon on the show, but in reality be such a compassionate and thoughtful person, is a true testament to his talent," Romano said.
"He could play this guy who seems scary but really underneath it has this heart you know? And get a laugh doing it," said Romano. "To get the audience to hate your character... but love you is unique."
"It's like losing a spouse," said Doris Roberts, who played Boyle's wife on the sitcom.
While a generation of TV viewers knows him as Frank Barone - with his trademark "Holy crap!" line - Boyle had a respectable career long before "Everybody Loves Raymond" debuted in 1996, including a part in Martin Scorsese's "Taxi Driver," in which he played a philosopher cabbie who counseled Robert DeNiro's angry character.
Boyle was also close friends with John Lennon, who was best man at Boyle's wedding.
A member of the Christian Brothers religious order who later turned to acting, Boyle first caught the public eye in the title role of the 1970 sleeper hit "Joe," playing an angry, murderous bigot at odds with the emerging hippie youth culture.
---

Photos: Peter Boyle

---
Briefly typecast in tough, irate roles, Boyle began to escape that image as Robert Redford's campaign manager in "The Candidate" and left it behind entirely as a tap-dancing monster in "Young Frankenstein," Mel Brooks' 1974 send-up of horror films.

The latter film also led to the actor meeting his wife, Loraine Alterman, who visited the set as a reporter for Rolling Stone magazine. Boyle, still in his monster makeup, quickly asked her for a date.

The defining moment for Boyle in "Frankenstein" came when Gene Wilder, in the title role of the mad scientist, introduced his creation to an upscale audience. Boyle, decked out in tails, performed a song-and-dance routine to the Irving Berlin classic "Puttin' On the Ritz."

It showed another side of the Emmy-winning actor, one that would be best exploited in "Raymond" as the curmudgeonly Frank Barone.

"He's just obnoxious in a nice way, just for laughs," Boyle said of the character in a 2001 interview. "It's a very sweet experience having this (success) happen at a time when you basically go back over your life and see every mistake you ever made."

When Boyle tried out for the role opposite Romano's Ray Barone, however, he was kept waiting for his audition - and he was not happy.

"He came in all hot and angry," recalled the show's creator, Phil Rosenthal, "and I hired him because I was afraid of him." But Rosenthal also noted: "I knew right away that he had a comic presence."

Patricia Heaton, who played Boyle's daughter-in-law in "Raymond," said in a statement, "Peter was an incredible man who made all of us who had the privilege of working with him aspire to be better actors. ... He was loved by everyone that knew him and loved by his many fans who cherished his talent."

"I've lost an amazing friend and colleague," said Brad Garrett, who played Boyle's son Robert on the sitcom. "Being able to share nine years with Peter on 'Raymond' and witness his talent and humanity was an honor."

Boyle had first come to the public's attention more than a quarter of a century before "Raymond," in the critically acclaimed "Joe." He met his wife, Loraine Alterman, on the set of "Young Frankenstein" when she visited as a reporter for Rolling Stone magazine and Boyle, still in monster makeup, asked her for a date.

On television, he starred in "Joe Bash," an acclaimed but short-lived 1986 "dramedy" in which he played a lonely beat cop. He won an Emmy in 1996 for his guest-starring role in an episode of "The X Files," and was nominated for "Raymond" and for the 1977 TV film "Tail Gunner Joe," in which he played Sen. Joseph McCarthy.

In the 1976 film "Taxi Driver," he was the cabbie-philosopher Wizard, who counseled Robert De Niro's violent Travis Bickle.

He appeared in dozens of other films, including "T.R. Baskin," "F.I.S.T.," "Johnny Dangerously," "Conspiracy: Trial of the Chicago 8" (as activist David Dellinger), "The Dream Team," "Monster's Ball," "The Santa Clause," "The Santa Clause 2," "Scooby Doo 2: Monsters Unleashed," and "While You Were Sleeping," in which he played Sandra Bullock's future father-in-law.

The son of a local TV personality in Philadelphia, Boyle was educated in Roman Catholic schools and spent three years in a monastery before abandoning his religious studies. He later described the experience as similar to "living in the Middle Ages."

He explained his decision to leave in 1991: "I felt the call for awhile; then I felt the normal pull of the world and the flesh."

He traveled to New York to study with legendary actress Uta Hagen, supporting himself for five years with various jobs, including postal worker, waiter, maitre d' and office temp. Finally, he was cast in a road company version of "The Odd Couple." When the play reached Chicago he quit to study with that city's famed improvisational troupe Second City.

Upon returning to New York, he began to land roles in TV commercials, off-Broadway plays and finally films.

Through his wife, a friend of Yoko Ono, the actor became close friends with Lennon. "We were both seekers after a truth, looking for a quick way to enlightenment," Boyle once said of Lennon.

In 1990, Boyle had a stroke and couldn't talk for six months. In 1999, he had a heart attack on the "Raymond" set. He soon regained his health, however, and returned to the series.

Despite his work in "Everybody Loves Raymond" and other Hollywood productions, Boyle made New York City his home. He and his wife had two daughters, Lucy and Amy.
Thanks for reading CBS NEWS.
Create your free account or log in
for more features.