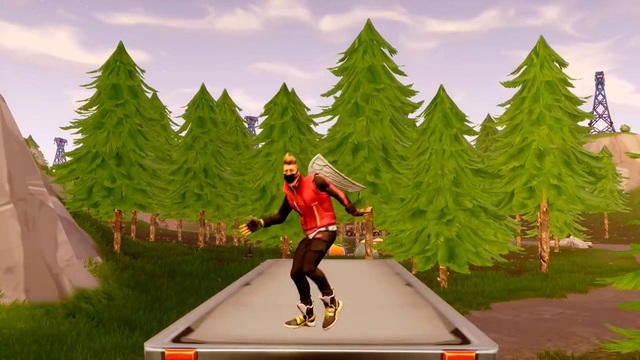 Rapper 2 Milly accuses Fortnite of stealing his dance moves
Rapper 2 Milly may not be a household name, but many know his signature move. The "Milly Rock" has become somewhat of a viral dance craze, getting picked up by other recording artists, sports stars, and now the hugely popular video game Fortnite.
"Everybody was just like, 'Yo, your dance is in the game,'" 2 Milly told CBS News correspondent Vladimir Duthiers.
The Milly Rock, renamed "Swipe It" in the video game, is one of more than 100 dances called emotes Fortnite players can buy for roughly $5. That's where 2 Milly takes issue.
"They actually sell that particular move. It's for purchase," 2 Milly said. "That's when I really was like ... oh nah, this can't go on too long."
Fortnite, with more than 140 million users worldwide and earnings of more than $1 billion since October 2017, widely samples popular culture for it's dance emotes – from movies to TV shows, from Psy's Gangnam Style to Snoop Dogg's "Drop it Like it's hot." The game is free to download and free to play, so the revenue comes entirely from in-game purchases.
Chance the Rapper called attention to this practice on social media: "Imagine the money people are spending on these Emotes being shared with the artists that made them."
Gamespot's Ben Howard says the dance emotes are a big part of why Fortnite has become so popular.
"Fortnite is the most popular game on the planet right now," Howard said. "And the culture, not just around the game, but there's this culture grown up around the memes, the dances, the costumes in the game, have sort of taken on a life of its own."
YouTube is filled with videos comparing the dance emotes to their real life counterparts. You can even enroll your kid in Fortnite dance classes.
2 Milly hopes to pursue legal action against Fornite's maker Epic Games for using the Milly Rock, but he faces some tough steps to get there.
"There's a lot of case law [and] suits surrounding the copyright of music. Lyrics. Sounds. There's a full body of case law related to that. But regarding choreographic works, that does not exist," business and entertainment lawyer Merlyne Jean-Louis said.
"What would make it fair for you?" Duthiers asked 2 Milly.
"I don't even want to bash them for all the millions. Know what I am saying? It's not really like that. I just feel like I have to protect what's mine," he responded.
Epic Games declined to comment on our story. You can no longer buy the Swipe It emote on Fortnite. It was one of the dances players could "unlock" in the game's fifth season. But if you own it, you can continue to use it – for now.
Thanks for reading CBS NEWS.
Create your free account or log in
for more features.