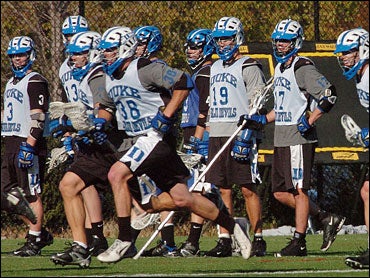 Rape Allegations Cloud Duke Lacrosse
The president of Duke University met Wednesday with students who feel his suspension of the lacrosse team during a rape investigation was not enough, urging them to be patient while police look into the matter.
"I don't want to say I'm satisfied, but I will say that what happened in there makes me feel like we're moving in a good direction," sophomore Bridgette Howard said after the roughly hourlong session.
The meeting between President Richard Brodhead and a few dozen students was closed to all media except Duke's student newspaper.
Brodhead suspended the highly ranked team from play until the school learns more about accusations that team members attacked an exotic dancer hired to perform at an off-campus party. The alleged victim, a student at nearby North Carolina Central University, has told police she was pulled into a bathroom, beaten, choked and raped by three men at a March 13 party, where she and another dancer were hired to perform.
Police collected DNA samples with a cheek swab from 46 members of the lacrosse team last week; the 47th player, the only black member, wasn't tested because the victim said her attackers were white.
No one has been charged, and the team's captains have said the tests will clear players.
Players have denied the allegations, but investigators are convinced the rape happened, and are frustrated by the team's wall of silence, Strassmann reports.
Police said three players who live at the house where the party took place spoke with investigators and voluntarily provided samples on March 16. A scheduled meeting between detectives and the rest of the team was later canceled by the players' attorney.
News of the attack has sparked days of protest at Duke and in Durham, culminating Tuesday in Brodhead's decision to suspend the team. He stressed the suspension was not a punishment, but a response to the inappropriate nature of playing while the investigation is ongoing.
Those comments led about 100 students to approach Brodhead after Tuesday night's announcement and demand his administration deliver a stronger response.
"We understand that the legal system is that you are innocent until proven guilty," said sophomore Kristin High. "But people are nervous and afraid that these people are going to get away with what they did because of a wealthy privilege, or male privilege, or a white privilege."
Their protests led to Wednesday's meeting inside the campus' black cultural center, where participants said Brodhead urged patience as police continue to investigate.
Graduate student Michelle Christian complained Duke is continuing to downplay the alleged attack.
"They need presidents, they need administrators, they need faculty, to tell them that it was wrong behavior and that they are not going to be coddled because they are athletes, because they come from privileged backgrounds, because they have money," Christian told Durham's WTVD-TV.
Later in the day, sophomore Jeff Shaw wore a Duke lacrosse T-shirt on campus in support of his friends on the team.
"Even if it's true, it's three guys and unfortunately, this is going to be a label the team is going to carry," Shaw said.
The incident was expected to heighten interest in an annual campus rally against sexual violence planned for Wednesday night.
Also Wednesday, Brodhead apologized for language used by those at the party. A woman calling 911 on the night of the party told police that men outside of the house called out to her and another woman using a racial slur.
"It's disgusting," Brodhead said in a statement. "Racism and its hateful language have no place in this community."
"The circumstances of the rape indicated a deep racial motivation for some of the things that were done," District Attorney Mike Nifong said. "It makes a crime that is by its nature one of the most offensive and invasive even more so."
Nifong said the team members are standing together and refusing to talk with investigators, and he warned he may bring aiding-and-abetting charges against some of the players.
"The silence is what I can't stand. It's the fact that people know information but they're not saying the information. So therefore, they're jeopardizing the safety of everyone else," Morgan McGhee, a Duke University student tells CBS News.
A lawyer representing several lacrosse team members did not immediately return calls Tuesday.
Angry over the team members' silence and the university's handling of the case, Durham residents have demonstrated on and off campus in the past few days. They rallied outside the house where the alleged attack occurred, and gathered outside of Duke Provost Peter Lange's home, where they banged on pots and pans until he emerged to answer questions.
Lange said Monday that he believes "the students would be well-advised to come forward. They have chosen not to."
Durham police echoed his sentiments. "We do know that some of the players inside the house on that evening knew what transpired, and we need them to come forward," David Addison, with the Durham Police Department, said.
The university's athletic director had already forced the team to miss two games because of underage drinking and the hiring of dancers at the party. Duke, considered a national title contender before the season began, has a 6-2 record with five regular-season games to go.
Thanks for reading CBS NEWS.
Create your free account or log in
for more features.