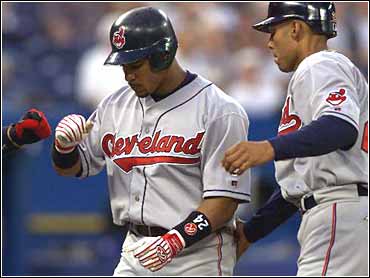 Ramirez Rejects Tribe Offer
Get your checkbooks and pens ready, Manny's headed for the market.
Manny Ramirez's agent, Jeff Moorad, turned down Cleveland's seven-year, $119 million contract offer to re-sign Friday and said he would take the outfielder onto the free agent market.
"It's not a deal that's going to come together at this point," Moorad said Friday night from his office in Newport Beach, Calif.
On Thursday, the Indians countered Moorad's $200 million contract demand over 10 years with a seven-year proposal that would have made Ramirez baseball's highest-paid player at more than $17 million per season.
Moorad said he had a "lengthy" discussion with Indians general manager John Hart on Friday afternoon, and the sides agreed they would talk again.
"It's fair to say we are going to keep an open line of communication," Moorad said. "We are both going to explore our alternatives, and at the same time stay in touch."
Hart, who is in Florida, did not immediately return a phone message seeking comment.
The Indians lost their exclusive negotiating rights with Ramirez at midnight Friday, freeing the 28-year-old All-Star right fielder to negotiate salary with any team.
Moorad said he spoke with Ramirez and explained the Indians' proposal and what it meant if they turned it down.
"We went over it in detail," Moorad said. "We also had a thorough discussion about the risks involved in testing the market and the risks that Cleveland may go in another direction. I wish we could buy some time."
Cleveland's offer was well below the $200 million package Moorad submitted on Nov. 3, but it is still the largest in baseball history. In 1998, pitcher Kevin Brown signed a seven-year, $105 million deal with the Los Angeles Dodgers.
Indians owner Larry Dolan surprised many in baseball with the size of his contract proposal for Ramirez, whose 432 RBIs in the last three years are the most by any AL player.
The club has never signed a player to a contract of more than $9 million per season, and the largest total package it has ever paid was the four-year, $32 million deal second baseman Roberto Alomar signed before the 1999 season.
Moorad has scheduled meetings with two unidentified teams for next week at his California offices, leading to speculation that Ramirez would sign elsewhere.
There are reports that the two teams are the New York Yankees and Seattle Mariners. The three-time defending World Series champion Yankees are believed to have made Ramirez their No. 1 target during free agency.
Ramirez grew up in New York, but in the past has given mixed signals about whether or not he wants to play in his hometown.
Moorad would not identify the teams, but said he was confident there would be others interested in his client's services.
"There appears to be a broad enough market that we are confident we're going to be able to find a home for Manny if it's not in Cleveland," Moorad said.
The Indians have said they would continue talking to Moorad even if Ramirez rejects their new proposal and tests the market, but that they wouldn't wait long before signing other free agents.
Ramirez batted .351 with 38 homers and 122 RBIs in just 118 games last season. He missed 39 games with a hamstring injury and, while he was out, the Indians went 19-20 and watched the Chicago White Sox open an insurmountable lead in the AL Central.
Hart and assistant GM Mark Shapiro spent the past few days at baseball meetings in Florida talking to agents about potential players to bring to Cleveland.
Ellis Burks, who hit .340 for San Francisco, could be an option for the Indians in right field if Ramirez leaves. The club also is interested in talking with right-hander Mike Mussina.
Cleveland's other free agents, catcher Sandy Alomar Jr., first baseman David Segui and pitcher Jason Bere can all talk with other teams beginning Saturday.
The Indians want to re-sign Alomar, and could again become a player in getting Segui if Ramirez bolts.
©2000 The Associated Press. All Rights Reserved. This material may not be published, broadcast, rewritten, or redistributed
Thanks for reading CBS NEWS.
Create your free account or log in
for more features.