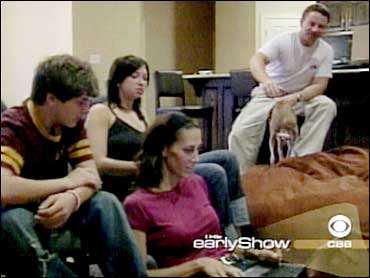 'Race' Preps One Family For Storm
"The Amazing Race" returns to CBS Tuesday night with its first-ever family edition. Ten teams of four will race around the globe as fast as they can for $1 million.
For most of the contestants, it was the adventure of a lifetime, but for the Schroeder family of New Orleans, it turned out to be a dress rehearsal for Hurricane Katrina.
"I think it's a crazy phenomenon that a reality show would prepare you for real life," Char Schroeder says. "But the race absolutely prepared us."
As Hurricane Katrina headed toward New Orleans, the Schroeder family headed out of harm's way.
"When we left, we actually packed our race bags, and ran out with our race bags," she says.
The Schroeders took refuge with friends they met while taping "The Amazing Race," the Rogers family of Shreveport, La.
"The Rogers are the most sensitive and amazing family we ever met," Char Schroeder says.
"Race" host Phil Keoghan says it is a testament of what the show is all about and what makes the show different.
He says, "Having this family version, having teams of four, and families are just very different from, say, couples. We found that out going into this, there was a different kind of spirit on the race. And obviously that extended after the race. That's kind of nice."
Now living in a rental home near Baton Rouge, Mark Schroeder, his children Stassi and Hunter, and their stepmother Char wait to rebuild the home and life they left in New Orleans. The Early Show co-anchor Harry Smith accompanied Mark and Char as they returned for the first time to assess the damage.
Mark Schroeder notes, "We grew up on the lakefront and you think, "Is it ever going to be the same.'" Char Schroeder adds, "When we were driving in and seeing the houses, the devastation is so vast."
It was not the homecoming the Schroeders had hoped for. The house they built and moved into as newlyweds six years ago is just beginning to dry out.
"What's all the mud?" asks Char. "That's what came through the dog door and the mail slot," her husband answers.
Muddied floors and mold-stained walls are evident in every room - reminders that the floodwaters of Lake Pontchartrain once filled their home.
"We've been gone two weeks and if I didn't know any better I'd swear we've been gone two years," Mark Shchroeder says. "You know, the mold is going to grow. You just don't expect it to grow up the walls in a week or two."
As they continue to inspect their home, Char asks, "That was our leather sofa?"
"That was our leather sofa," answers her husband with a sad tone in his voice.
Most of what's left will be discarded. Spared were the items above water level: family photos on a shelf, artwork on the walls, many painted by Mark himself.
"Looks like the paintings are all OK," he says.
"Yeah, Venetian-Orleans," Char says.
The painting entitled Venetian-Orleans is Mark's interpretation of how his city would look after a great flood.
He says, "Prints were made of it and I was sending them to everyone in the race, and they were saying I was a prophet somehow. But if you look at the painting, the painting's upbeat. The parade is going on; Mardi Gras is going on; and people are having a good time."
Like his painting, and despite the damage done to the home he designed, Mark Schroeder is optimistic about both the future of New Orleans and his family.
He says, "We had the most wonderfully bonding experience in the world, and now we've had the most horrific bonding experience in the world. So, we couldn't get much closer."
The Schroeders can's say how they fared in the game but host Keoghan says the Schroeder young people, like the other children in the show, were able to hold their own in the competition. If anything, he says, the kids are more fit than some of the older people who have been in the show.
The Gaghan family, for example, is composed of "fitness freaks," Keoghan says. "I mean the youngest, who is 9, can run a seven-minute mile. I mean most 40-year-old men have bum knees and beer bellies and can't run seven-minute miles. On one hand, they're at a disadvantage because they are kids and they haven't got same sort of maturity. But if you want to just look at fitness and enthusiasm and energy, the Gaghan family is extremely fit and feisty."
Other families that viewers should watch out for are the Garluski sisters. "They are just loud, competitive. They range in age from 26 to 42," Keoghan says. "They talk over each other all the time. They love pink. Every time I would see them, they would be in these pink T-shirts. By the end of the first leg, they were rather smelly - I have to say. But, they're extremely loud and they're going to be a lot of fun to watch."
Also interesting to watch will be the Aiellos, he says. They are the father-in-law with the three sons-in-laws. "The sons have obviously married Tony's young daughters. They're out to prove they're worthy of taking their hands in marriage," Keoghan says.
The show has won its third consecutive Emmy for Best Reality Show. "We need to thank the fans for that. They're the ones that keep watching the show. We thank them for that," Keoghan says.
The host is also on tour promoting his book and the DVD of season one. Visit CBS.com to find out the places he will be visiting. "Ten cities. I just don't have my dad driving like I did last time. I'm actually flying."
"The Amazing Race: Family Edition" premieres with a special two-hour broadcast at 9 p.m. ET, 8 p.m. Central.
Thanks for reading CBS NEWS.
Create your free account or log in
for more features.