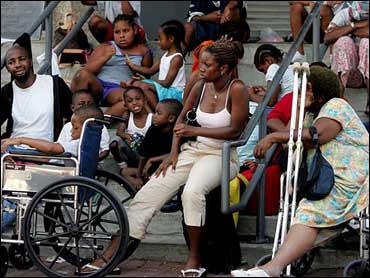 Race An Issue In Katrina Response
The human suffering from Hurricane Katrina and the images of mostly black hurricane victims and looters have provoked new debates about tough public policy decisions, the nation's troubled racial history and the racial and economic barriers that still separate Americans.
CBS Radio News reports that New Orleans City Councilman Oliver Thomas said people are too afraid of black people to go in and save them. He added that rumors of shootings and riots are making people afraid to take in people who are being portrayed as thugs and thieves.
"If we were lucky, we would have died," Thomas was told by a woman still waiting to find shelter, reports CBS Radio News.
Black members of Congress expressed anger Friday at what they said was a slow federal response to Hurricane Katrina.
"It looks dysfunctional to me right now," said Rep. Diane Watson, D-Calif.
She and other members of the Congressional Black Caucus, along with members of the Black Leadership Forum, National Urban League and the NAACP, held a news conference and charged that the response was slow because those most affected are poor.
Many also are black, but the lawmakers held off on charging racism.
"The issue is not about race right now," said Rep. Stephanie Tubbs Jones, D-Ohio. "There will be another time to have issues about color."
Watson and others also took issue with the word "refugee" being used to describe hurricane victims.
"'Refugee' calls up to mind people that come from different lands and have to be taken care of. These are American citizens," Watson said.
Secretary of State Condoleezza Rice, the most prominent black person in the Bush administration, downplayed the criticism.
"That Americans would somehow in a color-affected way decide who to help and who not to help, I, I just don't believe it," she said. "The African-American community has obviously been very heavily affected. But people are doing what they can for Americans. Nobody wants to see any American suffer."
In conversations at restaurants, homes, offices, on talk radio and online, it's clear that many blacks and whites view the effects of Katrina differently.
Although no group is monolithic in opinion or emotion, many blacks are outraged that so many of their own were left behind in New Orleans with no evacuation plan and no urgent effort to rescue them.
"Black people are mad because they feel the reason for the slow response is because those people are black and they didn't support George Bush," said Ron Walters, a professor of government and politics at the University of Maryland. "And I don't expect that feeling to go away anytime soon."
No one questions that whites have been moved by the suffering of blacks, and vice versa. But amid images of black looters, some sympathy threatens to give way to anger and disdain.
The hurricane's racial conflict took on political overtones Friday, as black leaders blasted the Bush administration's slow response and asked whether race played a part.
The Rev. Jesse Jackson charged that race was "at least a factor" in the slow response.
"We have an amazing tolerance for black pain," he told CNN on Friday. He questioned why the U.S. military couldn't house many of the homeless on unused military airbases, adding that more people will die of starvation and dehydration than from drowning.
Rep. Elijah Cummings, D- Md., stopped short of that, saying that it was the frail, the weak and the sick who were left in need. But in an interview on CNN, Cummings said, "I'm not sure" if racism was partly responsible for the problems.
"All I know is that a number of the faces that I saw were African-American," he said.
Thanks for reading CBS NEWS.
Create your free account or log in
for more features.