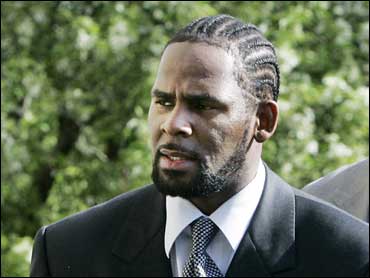 R. Kelly's Alleged Victim Identified
Prosecutors trying to prove that a woman appeared in a sex tape with R. Kelly when she was underage - over her protestations that she didn't - have turned to one of her childhood friends, the friend's father and two relatives.
The R&B superstar is accused in the child pornography trial of videotaping himself having sex with a girl who may have been as young as 13. His attorneys have said Kelly is not on the tape and the alleged victim, now 23, denies she's the person in the video.
To try to make their case, prosecutors put Simha Jamison, 24, on the stand Wednesday. She said she and the alleged victim were best friends for about 10 years, until their junior year in high school, and that she recognizes her friend as the one in the tape.
---

Photos: Stars Behind Bars

---
When prosecutors asked Jamison if she recognized the man in the tape, she leaned forward in the witness stand, peeked around the corner of the judge's bench and identified Kelly.

She testified that she and her friend visited Kelly at his recording studio and at a Chicago basketball court dozens of times, starting when they were around the age of 12.

Her friend first introduced her to Kelly as "her godfather," Jamison said, adding that the singer frequently gave her friend cash gifts - "no less than $100 and no more than $500."

She said the two also visited the home where authorities say the sex tape was filmed between Jan. 1, 1998, and Nov. 1, 2000. Jamison said her friend never mentioned a sexual relationship with the star.

Defense attorney Sam Adam Jr. said the reason the alleged victim never told the witness she was having a sexual relationship with Kelly was because there wasn't one and "because it's not her on the tape."

"Are you asking or telling me?" Jamison shot back.

Adam also showed pictures of a shirtless Kelly and asked Jamison how she knew it was his body on the video. "His head was attached to it," she responded, drawing laughter from several jurors.

During the cross-examination, the defense revealed another of its strategies may be to suggest Kelly's image was computer-generated.

"Something could have been done to put a different head on that body," Adam said. He also referred to movies where characters had been digitally altered.

The singer, who appeared grim-faced Tuesday when the sex tape was shown to jurors, looked more relaxed during testimony Wednesday, listening carefully to the witnesses. Jurors also appeared more at ease, taking detailed notes during some five hours of testimony. The 41-year-old Kelly, who has pleaded not guilty, faces up to 15 years if convicted.

An aunt and an uncle of the alleged victim also identified the female on the tape as their niece on Wednesday. Jamison's father, Peter Thomas, testified that the alleged victim's involvement in the video was the talk of their neighborhood.

The most highly charged cross-examination came after the aunt of the alleged victim - and a Chicago police officer - described how she and other relatives viewed and discussed the tape in late 2001, several weeks before someone mailed the tape to the Chicago Sun-Times, which turned it over to authorities.

Adam repeatedly asked the aunt, Delores Gibbon, why she didn't immediately go to authorities with the tape if she suspected it was child pornography. Gibbon said she was torn between her job and concern for the alleged victim and her parent.

At one point, Adam pounded his fist, saying the aunt didn't go to authorities because someone in the family wanted to "get back at Mr. Kelly" for a business dispute and hoped to "extort Kelly" in a possible civil lawsuit.

The aunt said she didn't know anything about an alleged extortion plot.

R. Kelly won a Grammy in 1997 for the gospel-tinged "I Believe I Can Fly," and also is known for such songs as "Bump N' Grind," "Ignition," and "Trapped in the Closet," a multipart saga about the sexual secrets of a lively and ever-expanding cast of characters.

By Michael Tarm
Thanks for reading CBS NEWS.
Create your free account or log in
for more features.