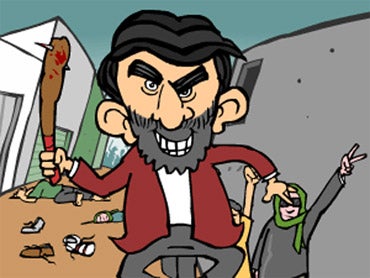 R&B star R. Kelly, jailed overnight on child pornography charges, was released Thursday after posting a $750,000 bond and a judge ordered him to have no contact with minors unrelated to him.
The charges stem from a videotape purporting to show a sexual tryst between Kelly and an underage girl, the latest legal trouble for the artist already dogged by allegations of sexual misconduct.
Kelly, 35, was charged with 21 counts of child pornography Wednesday and later arrested near a house he rents in Davenport, about 35 miles southwest of Orlando. The felony charge carries a maximum sentence of 15 years in prison and a $100,000 fine.
Attorney Ed Genson said Kelly would return to Chicago, "as soon as he gets his composure, as soon as he sees his wife and kisses his babies, as soon as he puts on a new set of clothes and is able to get a few hours' sleep."
Kelly has denied he is the man in the video, which has been sold on street corners in major cities and over the Internet and become a topic among music fans.
"Even though I don't believe any of these charges are warranted, I'm grateful that I will have a chance to establish the truth about me in a court of law," he said in a statement Wednesday.
Kelly said he had faith in the criminal justice system and expressed confidence that when all the facts come out, "people will see that I'm no criminal."
The singer is known for hits ranging from the Grammy-winning, gospellike "I Believe I Can Fly" to sexually charged material such as "Bump 'n' Grind," "Feelin' on Yo Booty" and "Your Body's Callin'."
Earlier Thursday, Kelly appeared in court in an orange Polk County Jail uniform, his hands bound with plastic restraints. He only spoke when Judge Karla Wright asked him if he understood the condition of his release.
"Yes, ma'am," he replied.
Chicago Police and Cook County prosecutors said a thorough investigation, including interviews of some 50 witnesses, determined Kelly and an underage girl were the people on the tape. And FBI forensics experts determined the tape was authentic, they said.
"The claims in this case are unfounded," Genson said after the hearing. "The charge is that there's a young lady under the age of 18 on that tape and there isn't."
Cook County State's Attorney Richard Devine said the video was made in November 1997 or later and that the girl was born in September 1984.
When asked why underage sex charges were not filed against the singer, Devine said, "We brought the charges we thought appropriate at this stage."
Kelly also is the focus of at least four lawsuits, three of which accuse him of having sex with underage girls. He has acknowledged settling two of the lawsuits regarding underage sex, but his lawyers have said they will fight the third.
Kelly is married to a former dancer from his touring troupe. They have a newborn son and two young daughters.

Thanks for reading CBS NEWS.
Create your free account or log in
for more features.