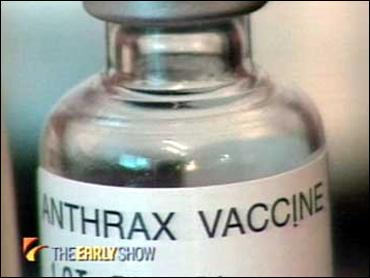 Questions Mount Over Anthrax Shot
Kamila Iwanowska is the latest soldier to get kicked out of the U.S. military for refusing the anthrax vaccine, CBS News Correspondent Sharyl Attkisson reports.
"It's not about defiance and it's not about being a bad soldier, because it's not," says Iwanowska, a former Army reservist, who received a bad conduct discharge.
She says it's about her belief that the anthrax vaccine could be dangerous. Since it became mandatory five years ago, hundreds of troops have been disciplined or booted out for rejecting it, and dozens of others have been court-martialed.
"If I knew then what I know now, I would have refused to take the vaccine," said Jason Nietupski, a former U.S. Army captain who got seriously ill after his shot in 2000.
"I developed blood clots in my legs," Nietupski says. "They found pulmonary nodules in my lungs."
But even when the Army finally documented that the vaccine was to blame, Nietupski says no one reported his case to the FDA, which tracks adverse events.
"There's a lot of people like me out there because doctors in the military are fearful of reporting adverse events to the Food and Drug Administration because of potentially being reprimanded for doing so," he says.
In fact, a General Accounting Office investigation last fall found that the rate of side effects from anthrax vaccine was hundreds, sometimes thousands of times higher than what the military claimed.
The Defense Department says it now encourages more accurate reporting of adverse events. But the latest numbers the military provided CBS News still fall short:
Among 600,000 people who got anthrax shots in the past year, possible side effects are reported by the military in only a fraction of one percent: .142 percent or 852 reports per 600,000 people. The GAO investigation released last fall found a much higher rate in a survey of vaccines: 85 percent, with side effects ranging from lumps and rashes to hospitalizations.
Dr. Bill Winkenwerder, the assistant secretary of defense for health affairs, oversees military vaccines and says he urges all problems to be reported.
He says it's "just not true" that the military hasn't provided the whole story as to how many people are getting sick from anthrax vaccines.
"We've been very forthcoming," Winkenwerder says. "There'd be no reason to be anything else other than that. Our personnel are our most important assets."
Jason Nieptuski just wonders how many others might end up like him.
"I took the vaccine because I was patriotic, because I love my country and because I wanted to serve in the military. Even though the Army ruled that the medical complications were from anthrax vaccine, I can no longer serve because of the blood clots," Nieptuski says.
Late last year, government investigators advised the Defense Department to actively track each soldier who gets the anthrax vaccine to get a truer picture of the harm it may do, but the military rejected that advice. Now, some troops find themselves more worried about the shots than the biological threat they're supposed to ward off.

Thanks for reading CBS NEWS.
Create your free account or log in
for more features.