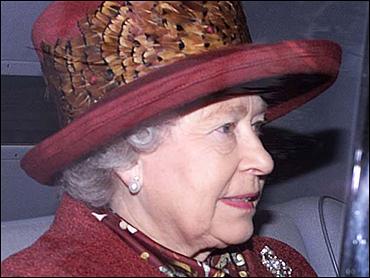 Queen Elizabeth Has Knee Surgery
Queen Elizabeth II underwent a successful operation on Monday to remove a torn cartilage from her right knee, Buckingham Palace said.
The 76-year-old monarch was expected to be "fully active again within a few weeks," said the palace, after the operation at the King Edward VII Hospital in central London. "There is no cause for concern," a palace spokesman told The Associated Press, speaking on customary condition of anonymity.
Great Britain always holds its breath when the queen or other major royals go to the hospital, reports CBS News Correspondent Steve Holt, but in this case, the queen is generally in excellent health, and hadn't been hospitalized in over 20 years.
Queen Elizabeth II, who recently led nationwide ceremonies to celebrate her 50 years on the throne, has been hospitalized for two previous ailments: in 1994 when she broke an arm and in 1982 when she had a wisdom tooth removed.
Although the queen was placed under a general anesthetic during the 45-minute operation, a temporary acting regent was not appointed to replace her during the procedure, the palace said.
Last month, the palace said the queen had strained a ligament in her right knee and was using a cane to walk. The palace said the monarch had hurt herself during a visit to Newmarket, in Suffolk, eastern England, before Christmas.
The palace said the queen was admitted to the private hospital on Sunday night. The minor operation was conducted by a team led by the queen's orthopedic surgeon, Roger Vickers.
"It went very well," and the queen is expected to leave the hospital Tuesday morning, the palace said.
She's expected to go home Tuesday morning, reports Holt, and will have a reduced schedule of royal appearances, for a couple of weeks.
She will rest at the royal Sandringham estate in eastern England during the next two weeks.

Thanks for reading CBS NEWS.
Create your free account or log in
for more features.