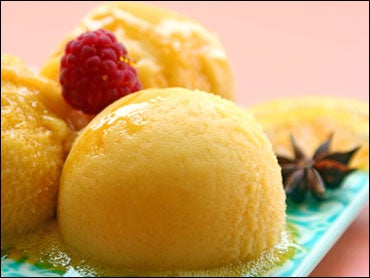 Putting Sorbet To The Taste Test
Sorbet is the light dessert this summer.
So, Real Simple magazine tried dozens of brands in search of the best, and reports the results in its August issue.
Not to be outdone, The Early Show dispatched co-anchors Harry Smith and Maggie Rodriguez to do some sampling of their own Tuesday.
Then, they compared notes with Real Simple's Kris Connell.
To watch,
Smith and Rodriguez tasted three brands of coconut, lemon and mango sorbet. All did well in the Real Simple rankings, and the ones that headed their Real Simple categories were among them.
Also on the set were new flavors found in sorbet, including wine flavors, acai (a berry flavor), and fancy fruit flavors.
According to Real Simple:
Sorbet is a perfect treat for both food lovers and dieters, customarily served either as a palate refresher between courses, or as dessert. It's a blend of 70-80 percent fruit with just a touch of water and sugar to achieve a smooth consistency. Flavors are usually dairy-free, fat-free, and cholesterol-free, except for chocolate and coconut, which contain natural fat and milk. Most sorbets are also certified as kosher products.
SIMILAR DESSERTS INCLUDE:
Gelato: An Italian-style ice cream made from milk, sugar, and additional flavors, it's smooth and creamy with a dense texture and intense taste. It usually contains 60 percent air by volume.
Sherbet: Made from ice-sweetened fruit juice or puree, sherbet serves as a lower-fat alternative to ice cream. Sorbet has a softer consistency than sherbet. Sherbet usually has more ingredients than sorbet, including milk, egg whites and gelatin.
Frozen Yogurt: Containing yogurt and/or dairy products, it also acts as a low-fat or fat-free alternative to ice cream. It's typically available in the same flavors as ice cream.
Whereas ice cream has air whipped into it, sorbet has almost none, making it a dense and very flavorful alternative.
WHAT MAKES A GOOD SORBET? WHAT SHOULD WE LOOK FOR?
Like all foods, this is a matter of personal taste. Some people prefer ore icy sorbets, while some prefer it creamier. Chances are, if you like fruit and dessert, you'll love sorbet. It's the perfect combination. And it's great for cooling you down on hot summer days.
Sorbet should be smooth and creamy, not watery. The color should be rich. It should taste like the natural fruit, not an overly sweetened candy-like flavor.
Some sorbet contains chunks of natural fruit. This is, of course, a matter of personal preference.
THOUGHTS FROM REAL SIMPLE ON SOME SPECIFIC BRANDS AND FLAVORS:
COCONUT:
Ciao Bella ($5 for a pint)

Sophisticated

Tastes like upscale vanilla ice cream

Has little shreds of coconut

5 grams of fat per half-cup

Doesn't contain any colorings or artificial ingredients.

Haagen-Dazs ($3.50 for a pint)

Refreshing and sweet

Very tropical tasting

Creamy

Tastes like ice cream.

16 grams of fat per half-cup (more than the others)

Island Way Sorbet ($12.99 for a 12-pack at Costco)

This brand delivers the sorbet in the fruit shell. It's perfect for parties, since you don't need to worry about presentation.

This brand was very creamy and tastes even more like ice cream than the Ciao Bella.

9 grams of fat per shell.

LEMON:

Whole Fruit Sorbet ($6.99)

Very sweet

Much creamier than the others

More white than yellow.

Capogiro (Lemon Opal Basil)($10.00)

Sophisticated taste, very fresh-tasting

May be better with dinner than as a dessert

Even some of us who were wary of this flavor really enjoyed it.

Sharon's Sorbet ($3.60 for a pint)

Color described as pleasingly bright but not Technicolor, more yellow than white

Strong/tart lemony flavor, tastes like lemon zest

Not too sour and still a great lemon flavor

Like frozen lemonade! Very sweet with almost no pucker.

Sharon's Sorbet uses more pure fruit than any other frozen dessert on the market

MANGO:

Ciao Bella ($5.00)

Intense flavor

Dense and creamy

Smooth

Double Rainbow (Mango Tangerine, $3.50 for a pint)

Very creamy and soft in texture

Interesting combination. You can taste both flavors. One does not overpower the other.

Good for people who are not big mango fans, because the tangerine cuts the taste.

Not "icey" like the rest of sorbets

Sharon's Sorbet ($6.99)

Tastes like real mango

Very pure taste.

WHAT'S NEXT FOR SORBET?

Sorbet doesn't just come in your garden-variety flavors anymore. Some companies are coming up with really inventive, unusual flavors.

For example, CAPOGIRO makes some really interesting flavors including, yellow watermelon with grappa, blueberry thyme, and lime cilantro. You can even create your own flavor on their Web site.

WINE CELLAR SORBET features wine-flavors, including Champagne, Pinot Noir, Riesling and Sangria.

ANOTHER BIG TREND IN SORBET: THE ACAI BERRY

Pronounced "ah-sigh-ee"

High-energy berry of a special Amazon palm tree

Tastes like a vibrant blend of berries and chocolate

According to esters, the mixed flavors (for e.g. acai and pomegranate) were better to tasters than straight acai berry.

Packed full of antioxidants (similar to both red wine and chocolate), amino acids, and essential fatty acids

Originally sold in juice and smoothie form; it's now being used in sorbets and even vodkas.

Haagen-Dazs Reserve Series — Brazilian Acai Berry
Thanks for reading CBS NEWS.
Create your free account or log in
for more features.