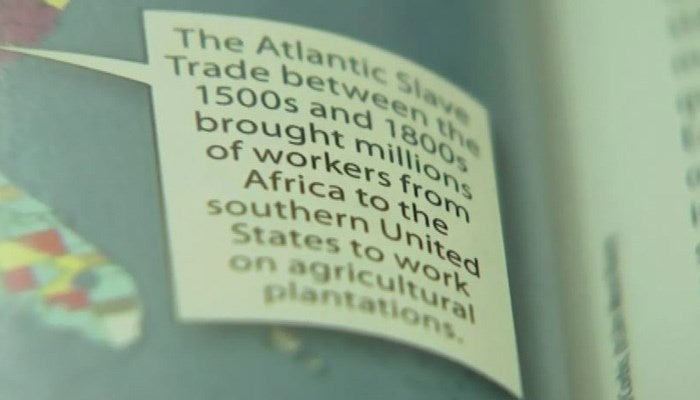 Publisher "deeply sorry" for textbook calling slaves "workers"
AUSTIN, Texas -- One of the biggest publishers in the U.S. apologized Monday for calling slaves brought to America "workers" in a geography textbook used widely in Texas, where the wording went unnoticed during the state's combative and politically charged classroom curriculum reviews.
Instead it was the mother of a 15-year-old high school freshman near Houston who prompted McGraw-Hill Education to take the unusual step of promising immediate revisions and new supplemental lessons about the Atlantic slave trade. Roni Dean-Burren, whose son pointed out the wording in his world geography textbook to his mom, ignited outrage on social media last week after posting her disbelief.
Roughly a quarter of Texas' 1,200 school districts use the textbook, according to state officials. The publisher didn't respond to questions about how many other classrooms in the U.S. purchased copies with the same phrasing.
"We are deeply sorry that the caption was written this way," McGraw-Hill Education CEO David Levin said in a letter to employees. "While the book was reviewed by many people inside and outside the company, and was made available for public review, no one raised concerns about the caption. Yet, clearly, something went wrong and we must and will do better."
The caption in the ninth-grade textbook accompanies a map of the U.S. in a section about immigration. It reads: "The Atlantic Slave Trade between the 1500s and 1800s brought millions of workers from Africa to the southern United States to work on agricultural plantations."
The textbook still remains in classrooms, CBS affiliate KEYE reports.
Dean-Burren, a former English teacher who is now a doctoral candidate at the University of Houston, found out about the caption when her son texted her picture of the page, telling her, "We was real hard workers weren't we."
Dean-Burren said she struggles most with how the wording wasn't caught by book editors or the Texas State Board of Education, which approved the textbook last November. The board is dominated by social conservatives and has drawn national attention in recent years over approving curriculum standards that deemphasize the separation of church and state and question evolution. The 15-person elected board has one black member.
"There's a part of me, the emotional side, that says, 'Y'all did this on purpose. You did this to sanitize this and to wash it down,'" Dean-Burren said. "But what if this wasn't on purpose, but it was the result of not ensuring that you have a table made up of what children and people in Texas look like?"
Levin said his company will increase the number of textbook reviewers to "reflect greater diversity."
Thomas Ratliff, a Republican member of the state board, said the wording of the caption isn't related to Texas' curriculum standards.
"People have been looking for something to criticize and if you look for something hard enough, believe me you'll find it," Ratliff said. "I think it was just worded improperly. I don't think this is the tipping point for a whole bunch of other revelations."
The Texas Freedom Network, a left-leaning group that is the board's toughest critic, has its own reviewers scrutinize textbooks. But when it came to world geography textbooks, they only checked sections about climate change and religion, said group spokesman Dan Quinn.
Ratliff said local school districts should decide whether they want to remove the current edition of the book from classrooms. McGraw-Hill says it's changing the digital version, which all Texas schools using the textbook have. The company says it's also exploring how to quickly change the physical copies.
Thanks for reading CBS NEWS.
Create your free account or log in
for more features.