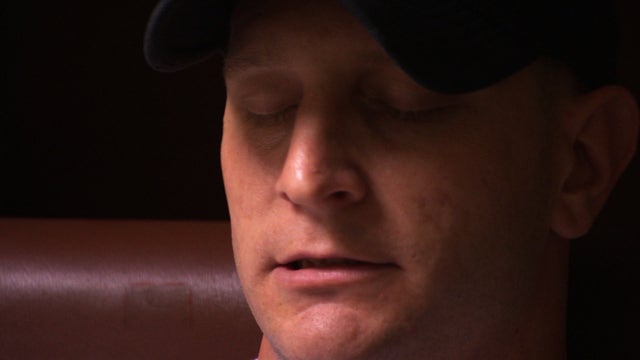 PTSD victims progressing with innnovative therapy
Therapies long-used to treat victims of sexual assault and rape are now easing the symptoms of war veterans with post-traumatic stress disorder (PTSD) and for the first time, viewers can go into the treatment rooms to see how they work. The Little Rock Veterans Administration and vets suffering from PTSD allowed cameras into these intimate sessions to hear patients' stories and monitor their progress. Scott Pelley reports on these innovative methods that the VA says are helping about three out of four who undergo them. His report, taped over a two-month period, will be broadcast on 60 Minutes, Sunday, Nov. 24 at 7 p.m. ET/PT.

Dr. Kevin Reeder runs the program at the VA Hospital in Little Rock, Ark. He stresses that the therapies are working, but there is no cure for PTSD. "I don't think there is a cure for what we are talking about. We're talking about living and putting people more in touch with their lives and emotions and good days and bad days," he tells Pelley.
One of the therapies, in which victims are encouraged -- several times a session -- to verbally recall the trauma they are trying to forget, is called prolonged exposure. In another treatment, known as cognitive processing therapy, they are encouraged to write about and face the trauma they've suppressed since coming home. It teaches them how to better deal with symptoms such as anxiety, depression, sleeplessness, irritability, hyper-vigilance and nightmares.
"They've done everything to push these memories away," says Reeder. "They haven't gained a full realization of the impact and the meaning that these stories have in their lives."
Eric Collins was wounded in a rocket attack in Afghanistan and is haunted by the deaths of his combat buddies over a year's period. He told Pelley the therapy "helps me to get past the guilt, survivor's guilt and that's a building block. Every time I get through it, I get stronger."
Collins is one of 28 men 60 Minutes taped over two months as they underwent the therapy in single or group sessions. The VA says one in five veterans of Iraq or Afghanistan has some degree of PTSD. There were some veterans of the Vietnam War still affected by their service also attending the sessions.
Sufferers often use drugs or alcohol to mask the symptoms in a dangerous pattern that often results in making their situation worse. Most of the people taped in the story finally got help because their lives were spiraling out of control.
Asked by Pelley what he would say to his fellow PTSD sufferers who have not gotten help, Collins responds, "I hope you can find the courage to get help because all you're doing is killing yourself and you don't have to live like that...It's been the hardest thing for me to do, but I wouldn't have changed coming here for the world."
Thanks for reading CBS NEWS.
Create your free account or log in
for more features.