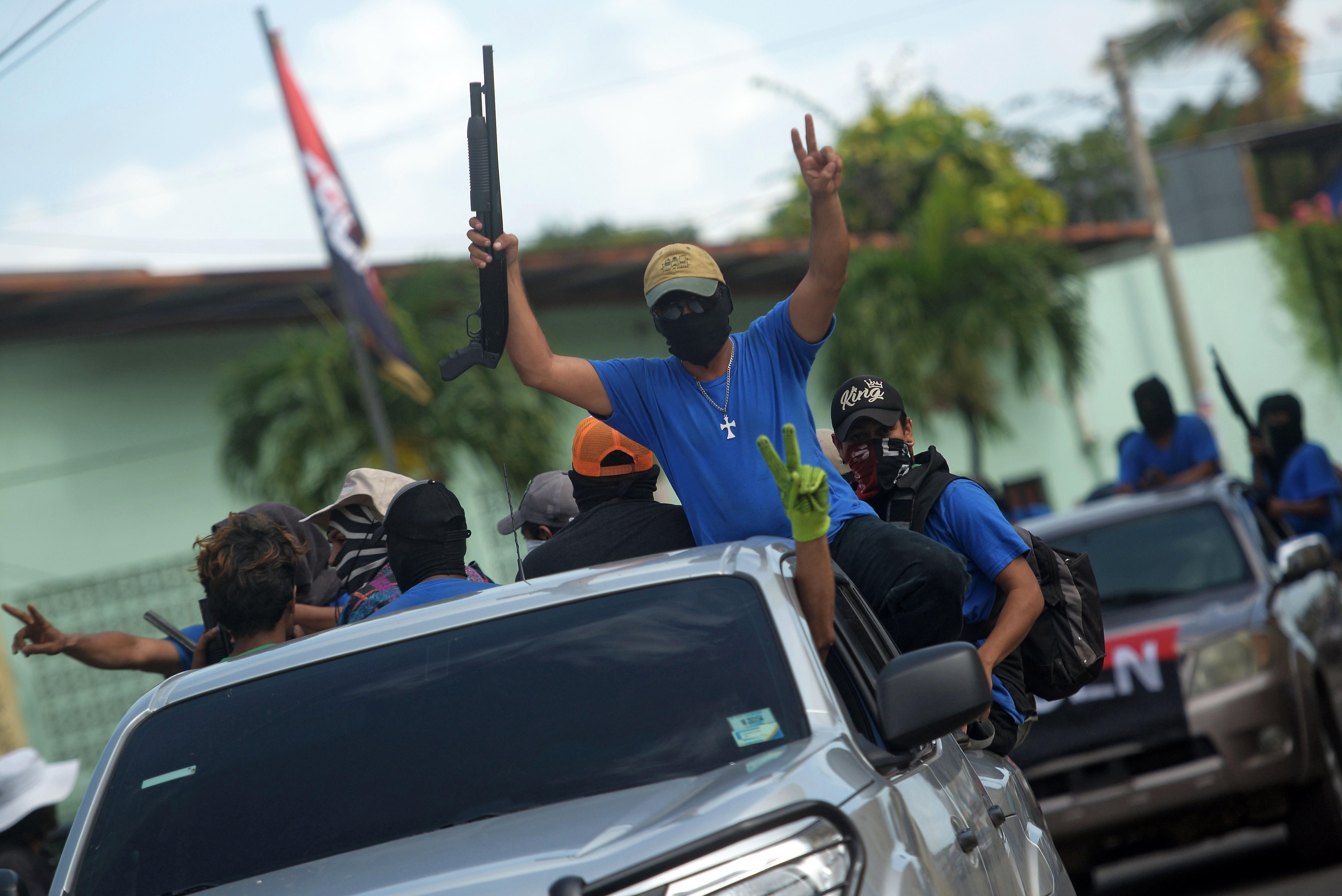 Nicaragua marks anniversary of 1979 revolution amid protests, bloodshed
MANAGUA, Nicaragua -- Nicaragua marked the 39th anniversary of the 1979 revolution against dictator Anastasio Somoza on Thursday amid protest and bloodshed. Some say the country has made progress under current President Daniel Ortega, who helped lead the 1979 Sandinista uprising that ousted the Somoza family.
But others say Ortega has become a dictator himself.
Protests that broke out over pension cuts in April have blossomed into a larger movement demanding Ortega cede the power him and his wife, Rosario Murillo, have concentrated in their family's hands.
In Washington, U.S. Rep. Ileana Ros-Lehtinen, R-Florida, told CBSN that a bill she's sponsored would deny Ortega access to international funds that help him stay in power.
"That's really all that he wants to do," Ros-Lehtinen told CBSN's Tanya Rivero. "He doesn't care about killing innocent people. He doesn't care about the disappeared. He doesn't care about the detained individuals. He just wants to stay in power. And his wife? She's the vice president, so this is some kind of dynamic duo of torture and killing."
Ros-Lehtinen said her bill has passed the U.S. House of Representatives and is awaiting action in the Senate.
In recent days, Ortega has appeared to want to celebrate the anniversary without embarrassing roadblocks erected by protesters by moving aggressively to clear opposition encampments.
Government-allied forces dislodged students camped out at the National Autonomous University of Nicaragua and reclaimed the symbolically important neighborhood of Monimbo, a stronghold of the 1979 revolution located in the city of Masaya, southeast of the capital.
The city had recently become a center of resistance to Ortega's government.
The Nicaraguan Pro-Human Rights Association has tallied 351 deaths between April 19 and July 10 in the country. The government says more than 200 people have been killed since the unrest began.
Despite recent clashes, many are still expected to gather Thursday to hear Ortega speak as the ruling Sandinista party commemorates the anniversary of the triumph of the revolution.
"The revolution is more alive than ever," said Ortega supporter Arelia Membreno, who runs a small business in the Managua neighborhood of Laureles Sur. "They have given me a loan, a scholarship for my daughter, and the street in front of my house has been paved. Before, it was dirt."
But Ortega's ability to hand out such largesse has been crippled by the slow collapse of Venezuela, whose leftist government had sold cut-rate fuel to Nicaragua. With Venezuela's economy crumbling and oil production dropping, it has become harder to subsidize Nicaraguan fuel purchases.
Ortega - who returned to power in 2007 following three failed attempts to win the presidency - has ignored term limits to get himself re-elected and packed courts and agencies with his supporters.
"I never thought I would see Daniel Ortega become a dictator, let alone a criminal who would try to stay in power with fire and bloodshed," said political analyst Julio Lopez Campos, an ex-guerrilla fighter who was once close to the president.
On Wednesday, Ortega suffered a blow when the Organization of American States adopted a resolution condemning human rights abuses committed by Nicaraguan forces seeking to quell protests.
The resolution, which was adopted 21-3 with seven abstentions, also criticized the harassment of Roman Catholic bishops.
Catholic officials who have been mediating stalled talks on finding a peaceful solution to the standoff and have criticized Ortega's government over killings have suffered at least three recent attacks.
The OAS resolution by Argentina, Brazil, Canada, Chile, Colombia, Costa Rica, Mexico, Peru and the U.S. called on Ortega to support an electoral calendar agreed upon during the dialogue process.
Ortega has rejected demands for early elections and calls those seeking his exit "coup mongers."
Nicaraguan Foreign Minister Denis Moncada blasted the OAS for adopting the resolution, calling it "illegal, illegitimate and unfair."
Thanks for reading CBS NEWS.
Create your free account or log in
for more features.