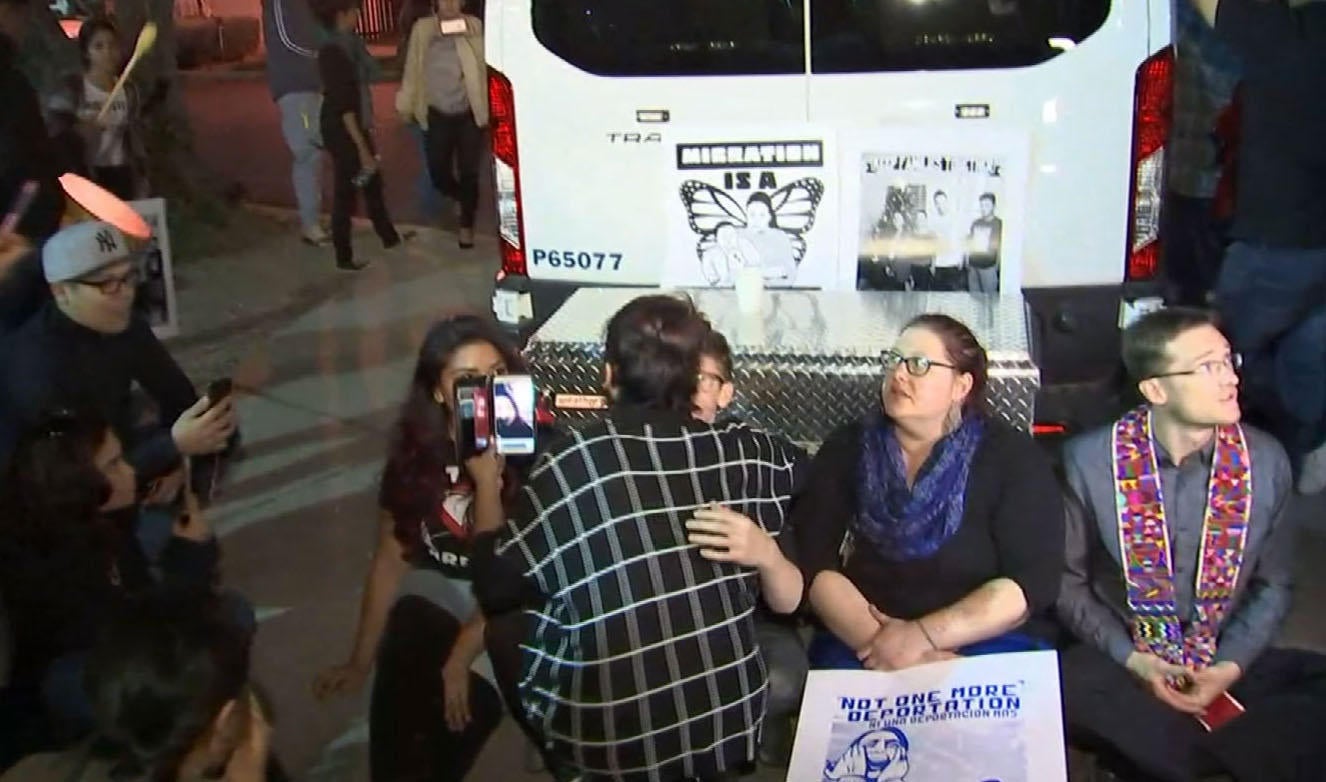 Protesters block Customs van with detained woman inside
PHOENIX -- Police arrested several protesters Wednesday night after they blocked enforcement vans from leaving an Immigration and Customs Enforcement facility in Phoenix, fearing that a mother of two was headed for deportation.
The protest surged after the Mesa, Arizona woman was taken into custody during a routine check-in with the agency, reports CBS Phoenix affiliate KPHO-TV.
Activists blocked the gates surrounding the office near central Phoenix for about an hour, the station says.
KPHO says Guadalupe Garcia de Rayos apparently was in one of the vehicles, which are used to transport people in ICE custody to detention centers, or to the border for deportation.
After 9 p.m., police officers amassed on the south side of the facility as protesters continued to block access, chanting "Justice!" and "Power to the people, no one is illegal!"
Police tweeted that they arrested about seven protesters, but added that most of the protesters were peaceful.
Garcia de Rayos' family and supporters said her detention was a direct result of President Trump's crackdown on allegedly illegal immigrants.
According to KPHO, Garcia de Rayos was arrested in one of former Sheriff Joe Arpaio's workplace raids in 2008. She was convicted of a felony and served six months in ICE detention before being released. It was thought her case had been cleared -- until Wednesday.
ICE spokesperson Danielle Bennett issued a statement to CBS News Thursday morning saying Garcia De Rayos "is currently being detained by U.S. Immigration and Customs Enforcement (ICE) based on a removal order issued by the Department of Justice's Executive Office for Immigration Review which became final in May 2013. Relevant databases indicate Ms. Garcia De Rayos has a prior felony conviction dating from March 2009 for criminal impersonation."
As day turned to night, a prayer vigil was held in support of Garcia de Rayos.
"At this point, I think the more time that passes, it's a little bit scarier and we have more anxiety around it, but we're not going anywhere until we find out what's happening," Francisca Porchas, a vigil organizer, told KPHO.
"She's always there for me. No one should ever have to go through this," said her 16-year-old son, Angel.
Garcia de Rayos could either be deported immediately or be allowed to fight her case from a detention center.
Later, police tweeted an update:
By 1 a.m. Thursday, less than two dozen protesters stood in the dark outside the building talking quietly, with just a handful of police looking on.
The protesters said they initially succeeded in stopping the vehicles from leaving, but said they later left the grounds by another exit. They didn't know if Garcia de Rayos had still been aboard.
Thanks for reading CBS NEWS.
Create your free account or log in
for more features.