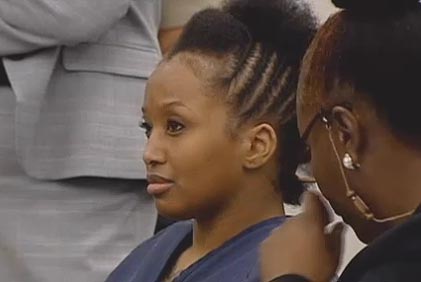 Prosecutors: Woman harassed ex-boyfriend before killing him
CHULA VISTA, Calif. -- A woman who gunned down her ex-boyfriend was convicted Monday of first-degree murder, after prosecutors say she stalked and harassed the victim for a year, reports CBS affiliate KFMB.
Vegas Bray, 27, and the 31-year-old victim, Victor Saucedo, met while they were in the Navy in Southern California. Their relationship lasted for several months and ended toward the latter part of 2011.
Prosecutors said the couple broke up because Bray was jealous of the mother of Saucedo's child, and that Bray continued to pursue the victim.
Bray committed seven acts of vandalism against Saucedo's car and apartment, including popping his car tires, smearing peanut butter on his door and even tracking him down after he changed apartments, said Deputy District Attorney Harrison Kennedy.
The couple talked about rekindling their romance the day before the murder, but Saucedo said he wasn't interested in the long-term relationship that Bray wanted, according to Kennedy.
Bray felt "spurned" and left the victim's apartment in Imperial Beach the next morning, Oct. 16, 2012, then returned in the afternoon with a gun and shot him nine times, police said.
Bray called 911 after the shooting, saying Saucedo had committed suicide.
Bray will be sentenced next year for Saucedo's murder.
Thanks for reading CBS NEWS.
Create your free account or log in
for more features.