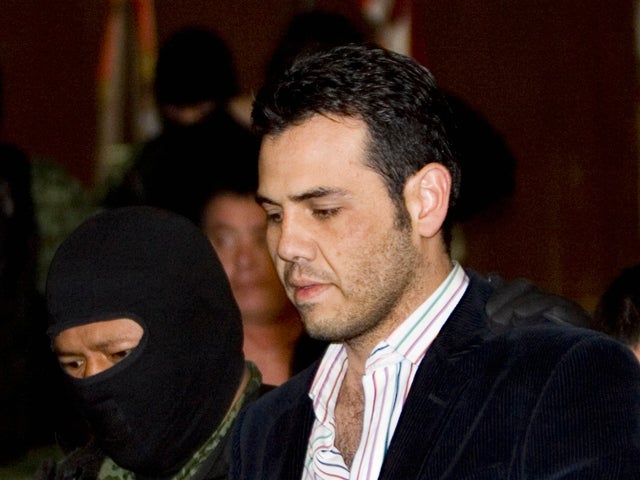 Prosecutors: No immunity deal with kingpin's son
CHICAGO - U.S. prosecutors on Friday asked a judge not to throw out drug trafficking conspiracy charges against a top lieutenant in one of Mexico's largest cartels, saying federal agents absolutely did not have an immunity agreement with him.
Vicente Zambada is being held in a Chicago jail awaiting trial. His attorneys contend he and other Sinaloa cartel leaders were granted immunity by U.S. agents — and carte blanche to smuggle cocaine over the border — in exchange for intelligence about rival cartels engaged in bloody turf wars in Mexico.
In a response filed electronically with the U.S. District Court in Chicago late Friday, prosecutors flatly denied such an agreement exists.
"Distilled, defendant's argument is that if one member of a criminal organization is indicted and cooperates, every member of that organization whether it is a drug trafficking cartel, a Mafia organization, or a street gang is immune from prosecution for all of their organization's criminal acts," prosecutors wrote "That is not the law, and defendant's motion fails because of it."
Zambada, 35, has rarely been seen since his 2009 arrest in Mexico City, after which Mexican authorities paraded him before TV cameras in a stylish black blazer and dark blue jeans.
Mexican authorities arrested Zambada just hours after he supposedly met U.S. Drug Enforcement Administration agents in a Sheraton Hotel in Mexico City. He told the agents he wanted to start providing information directly to them rather than through a cartel attorney, according to defense filings.
In their filing, prosecutors acknowledged that DEA agents met with Zambada but said they never entered into an agreement for his cooperation or granted him immunity.
According to law enforcement officials, Zambada's father, Ismael "El Mayo" Zambada, controls the cartel along with Mexico's most wanted drug lord, Joaquin "El Chapo" Guzman.
Federal officials have said Zambada assumed control over cartel logistics in 2008 and received authority to order assassinations. He was extradited to Chicago in 2010 to face trafficking conspiracy charges punishable by up to life in prison.
The Sinaloa cartel is one of Mexico's most powerful. Named after the Pacific coast state of the same name, it controls trafficking on the border with California and is battling rival cartels in an effort to expand east along the 2,000-mile-long U.S.-Mexico border.
Accustomed to luxury in Mexico, Zambada has been held in a 10-by-6 foot cell isolated from other inmates and hasn't been outside in 18 months, his attorneys say. At a Thursday hearing, U.S. District Court Judge Ruben Castillo berated government officials and said he was "very concerned" about Zambada's conditions in the Chicago jail. He ordered prosecutors to file a response to Zambada's complaints.
Castillo is expected to rule on a defense motion to improve Zambada's conditions in jail during a Sept. 28 hearing.
Thanks for reading CBS NEWS.
Create your free account or log in
for more features.