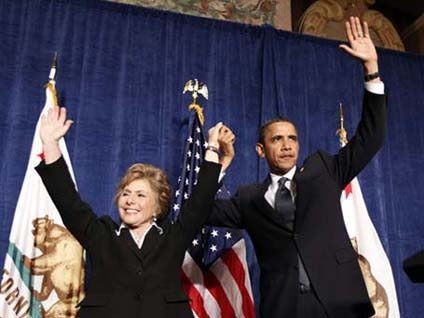 Prop 8 Ruling Divides Political Candidates
Yesterday's ruling on same-sex marriage in California drew a clear contrast between the state's high profile Democratic and Republican 2010 candidates, reflecting the divide that exists among California voters.
District Judge Vaughn Walker yesterday declared that Proposition 8, which bans same-sex marriage in California, unconstitutional.
Democratic gubernatorial candidate Jerry Brown called the decision "great news" via his Twitter account. Brown also released a statement noting that, as state attorney general, he declined to defend the measure in court.
"Proposition 8 violates the equal protection guarantee of the Fourteenth Amendment of the United States Constitution by taking away the right of same-sex couples to marry, without a sufficient governmental interest," Brown said.
Brown's Republican opponent, former eBay CEO Meg Whitman, has said that she is against gay marriage but favors civil unions. She has described her vote for Proposition 8 as a matter of "faith and conscience." After yesterday's ruling, Whitman's spokesperson reiterated that the candidate supports Proposition 8, the Associated Press reports.
Republican Senate candidate Carly Fiorina, former CEO of Hewlett-Packard, also disagrees with yesterday's ruling, according to the AP. She reportedly said voters spoke clearly against same-sex marriage when they voted for the proposition in 2008.
Fiorina's Democratic opponent, Sen. Barbara Boxer, said in a statement that the ruling was "a step forward in the march toward equal rights and reflects a growing legal consensus that marriage equality is protected by the U.S. Constitution."
Residents of California appear to be nearly as divided over the issue as their politicians. A poll conducted in late July by the Public Religion Research Institute showed that, if given the opportunity to vote on the matter again, 51 percent of Californians said they would vote to allow same-sex marriage, while 45 percent said they would keep it illegal.
California's Republican Gov. Arnold Schwarzenegger, who often breaks from his party, praised the Proposition 8 ruling, the Los Angeles Times reports, saying it "affirms the full legal protections and safeguards I believe everyone deserves."
President Obama, meanwhile, reiterated his opposition to Proposition 8 -- without endorsing same-sex marriage, Politico reports.
"The President has spoken out in opposition to Proposition 8 because it is divisive and discriminatory. He will continue to promote equality for LGBT Americans," White House spokesman Ben LaBolt reportedly said.
During his 2008 presidential campaign, Mr. Obama said he opposed same-sex marriage in favor of civil unions while insisting that Proposition 8 was unconstitutional because it singled out a group of people for adverse treatment.
An unnamed White House aide told Politico after yesterday's ruling that Mr. Obama "supports civil unions, doesn't personally support gay marriage though he supports repealing the Defense of Marriage Act, and has opposed divisive and discriminatory initiatives like Prop. 8 in other states."
Thanks for reading CBS NEWS.
Create your free account or log in
for more features.