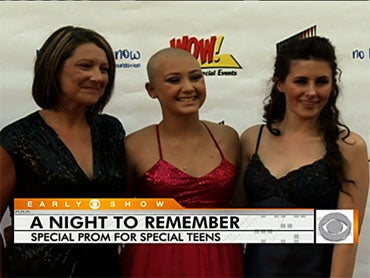 Prom Night Made Even More Special
High school graduation brings many benchmarks. One of the biggest benchmarks for some is prom night. To many people, prom can represent a lot of things, from the beginning of adulthood or falling in love for the first time. But unfortunately, not all teens are able to make it to that special celebration -- until now.
"Early Show" contributor Ayla Brown spoke to Fred Scarf, a 20-year old young man with a big heart, who has made it his own personal mission to make sure teens with life-threatening illnesses have magical memories of their prom.
Scarf's inspiration came from a very good friend of his, Shiri Gumbener, who suffered from osteosarcoma, a rare form of bone cancer that mainly effects children. Gumbener and Scarf planned to go prom together, but before that big night came, Gumbener lost her battle to cancer.
At the age of 15, Scarf started a non-profit organization called "No Worries Now" that holds proms for teens with special health needs.
"You know, when you get diagnosed with a life-threatening illness, there's a lot that happens," said Scarf. "And a lot of kids who I've talked to always say, 'You know, I just feel out of the loop from my high school, the way people treat me is different.' And what our proms do is kind of space for them to be themselves."
This year marks the fourth annual prom that "No Worries Now" has held, making it a special night for many teens, including 15-year-old Samantha Ashburn, who also suffers from osteosarcoma. This is her third "No Worries Now" prom, and Ashburn has gotten to know Scarf well.
Ashburn loves Scarf's sense of humor, which helps her feel better in a hospital, and instead of being sad, she can laugh really hard. But Ashburn's mother, Tina, appreciates Scarf not just for his jokes, but for his efforts in making these special nights a reality for teens like her daughter.
"What it means to see her get, go to prom, seeing her getting all dressed up and excited, and out there enjoying herself," said Tina tearfully, "because we don't know in time how many proms she'll get to go to, or she'll even get to go to her senior prom. So this means a lot to me this year, to see her at this prom."
Almost 200 teens attended this year's event, which is a rise in last year's attendance, and that number is expected to increase again next year. Scarf has succeeded not only in honoring his friend's memory, but giving teens like Ashburn and hundreds of others with life-threatening illnesses something to look forward to.
Prom attendee Cece Saradia says the night is so special to her because, "We have to give up and sacrifice our regular teenage life and fight for our life. So, it feels amazing to be out here and just do all the regular things that all regular teenagers do."
Scarf has future plans for the "No Worries Now" prom nights, and hopes to bring them to other major cities including Chicago and New York in the next five years.
"These kids, every day for them is unusual. And every day for them is different," said Scarf. "So for them not to be thinking about the tragedies and all the days they've been crying, and walking down a red carpet and feeling like, I'm the A-list or whatever they feel. It's amazing."
Thanks for reading CBS NEWS.
Create your free account or log in
for more features.