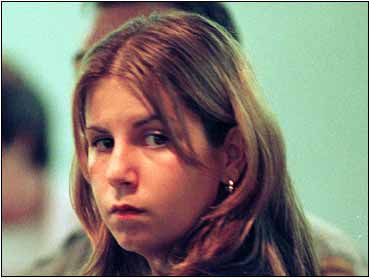 'Prom Mom' Released From Prison
A woman who gave birth in a bathroom stall at her high school prom, then killed the infant before returning to the dance floor, has been freed from prison.
Melissa Drexler, now 23, was released early Monday from the Edna Mahan Correctional Facility, said Deidre Fedkenheuer, a spokeswoman for the state Department of Corrections.
Drexler was freed after serving just over three years of the 15-year sentence she was given after pleading guilty in 1998 to aggravated manslaughter.
As an 18-year-old final-year student at Lacey Township High School, Drexler concealed her pregnancy from the baby's father and her parents. She gave birth on June 6, 1997, in a restroom while at the prom, strangled the baby and threw the 6-pound, 6-ounce boy into a trash can before eating a salad and returning to the dance.
She was originally charged with murder but pleaded guilty to the lesser charge of aggravated manslaughter. Her sentence allowed her to come up for parole in September.
Drexler, who got her high school diploma in 1997 but did not attend graduation, took fashion courses while in prison and hopes to work in the industry, said her lawyer, Steven Secare.
©MMI The Associated Press. All Rights Reserved. This material may not be published, broadcast, rewritten, or redistributed
Thanks for reading CBS NEWS.
Create your free account or log in
for more features.