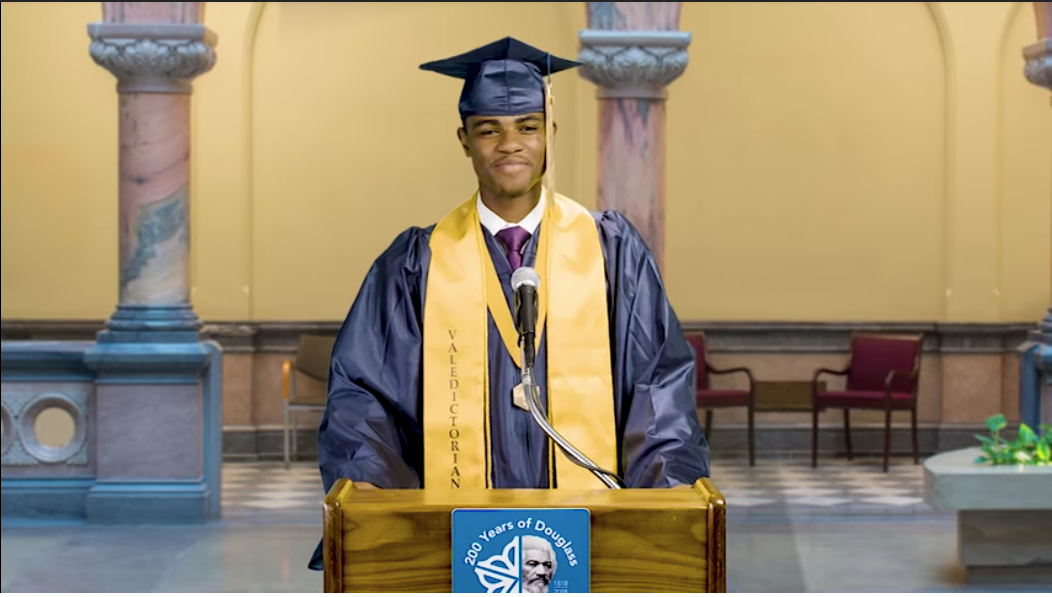 Principal refuses to allow first black valedictorian to give speech, so Rochester mayor intervenes
When Jaisaan Lovett graduated last month as his high school's first black valedictorian, he prepared a speech — but he says his principal wouldn't let him give it. So someone else stepped in who wanted to hear what he had to say: the mayor of Rochester, New York, Lovely Warren. Not only that, she gave him a much wider audience for his message.
Lovett, a new graduate of Rochester's University Preparatory Charter School for Young Men, was planning on encouraging his classmates and thanking his parents, siblings and teachers, according to the Rochester Democrat and Chronicle newspaper. He also acknowledged some past run-ins with the principal over student protests.
Lovett said he was never asked to give a graduation speech, though past valedictorians had gotten to, according to the newspaper. When he asked to speak anyway, he said the principal, Joseph Munno, said no.
"He didn't want to see the speech or what it said, nothing," Lovett told the Democrat and Chronicle. "He just said no." The paper said Munno declined to comment.
Mayor Warren invited Lovett, who works in her office as an intern, to deliver the speech at City Hall. She then posted it on her YouTube channel and Facebook page.
"Unfortunately, Jaisaan's school did not allow him to give his valedictorian speech," Warren said in the video. "For some reason, his school – in a country where freedom of speech is a constitution right, and the city of Frederick Douglass – turned his moment of triumph into a time of sorrow and pain.
"Jaisaan will never graduate from high school again. He will never get that moment back. This is not the time to punish a child because you may not like what he has to say."
Lovett had his own message for his principal, too.
"I'm here as the UPrep 2018 valedictorian to tell you that you couldn't break me. I'm still here, and I'm still here strong," Lovett said in the video. "And after all these years, all this anger I've had toward you and UPrep as a whole, I realized I had to let that go in order to better myself."
The school's board of trustees responded to the controversy in a Facebook post, saying they're "aware of the concern" and will be "reviewing the circumstances regarding what happened." They wished Lovett "much success as he continues his education at Clark Atlanta University, which he will attend on full scholarship, according to the Democrat and Chronicle.
UPrep, an all-male school serving grades 7-12, is one of Rochester's best regarded charter schools, according to the Democrat and Chronicle, with annual graduation rates well above 90 percent.
Thanks for reading CBS NEWS.
Create your free account or log in
for more features.