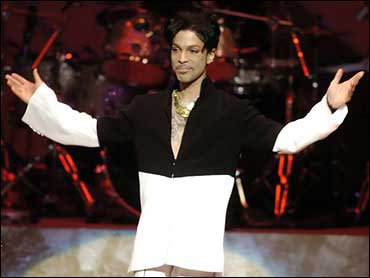 Prince Is Voted 'Sexiest Vegetarian'
Prince has been voted the "world's sexiest vegetarian" in PETA's annual online poll, the animal rights group announced Monday.
A strict vegan, Prince, 47, wrote in the liner notes of his 1999 album, "Rave Un2 the Joy Fantastic," about the ills behind wool production. He closed the disc with a quote from Mohandas Gandhi: "2 my mind, the life of a lamb is no less precious than that of a human being."
Prince released his latest album, "3121," in March.
He shares the honor with Kristen Bell, the 25-year-old star of "Veronica Mars," which is being carried over from UPN to the new CW network this fall.
Bell, in a statement, said of her vegetarianism: "I had a hard time disassociating the animals I cuddled with — dogs and cats, for example — from the animals on my plate, and I never really cared for the taste of meat. I always loved my brussels sprouts!"
Runners-up in the poll, which PETA said Monday received more than 40,000 votes, include Natalie Portman, Nicollette Sheridan and Joaquin Phoenix.
Last year, Coldplay singer Chris Martin and "American Idol" Carrie Underwood were picked as the two "sexiest vegetarians." Other previous winners include Andre 3000, Tobey Maguire, Josh Hartnett, Alicia Silverstone, Lauren Bush and Shania Twain.
Thanks for reading CBS NEWS.
Create your free account or log in
for more features.