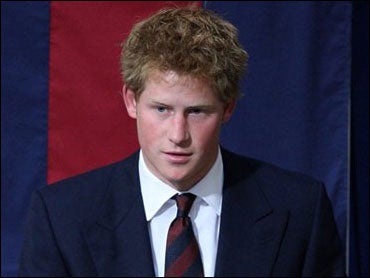 Prince Harry Reportedly Snorted Vodka
Britain's Prince Harry reportedly took part in a potentially dangerous game involving alcohol during a recent trip to Namibia.
The British tabloid News of the World carried what is said were photos of the young royal snorting vodka. The newspaper said it got the photos from a videotape, and the behavior could be deadly.
On The Early Show Tuesday, medical contributor Dr. Holly Phillips told co-anchor Harry Smith, "The idea with these kids is that they're snorting it directly into the nose, where it goes through the blood vessels in the nose directly into the bloodstream."
That, in turn, gets the alcohol into the bloodstream more quickly.
"Ethanol is vaporized very quickly," Phillips said, "and goes directly into the bloodstream and directly to the brain, where you'll have that (drunken) effect very, very quickly, as opposed to having to wait for the 'inconvenience,' if you drink the alcohol, of waiting for your stomach and intestine to metabolize it."
Phillips, who's with CBS station WCBS-TV in New York and Lenox Hill Hospital in Manhattan, cautioned that, "At the least, we would worry about getting too much (alcohol) in the bloodstream too quickly. You could lose consciousness. But, in the worst-case scenario, we would look at brain swelling and other things. You could possibly get more into the bloodstream than if you were to drink it and wait for your body to metabolize it because, remember, it's not going to go through the liver if you're snorting it directly into your bloodstream. So, you really don't have that protective (filtering) mechanism."
She noted that there are machines for sale online, called AWoL (alcohol without liquid), that vaporize the alcohol, so it can be inhaled through a small glass tube. It's apparently a phenomenon seen mostly in the United Kingdom and certain parts of Europe, meaning it could spread to the United States.
"I would certainly hope it's a passing phase," Phillips said. "It's much more dangerous than drinking the alcohol. Again, it's not going to pass through your gastrointestinal tract. Your body is not going to be able to metabolize it and clear it as quickly."
She added that it's tough to say how much liquor taken that way would be too much, "and that's one of the dangers with this. If you're drinking the alcohol -- I suppose Prince Harry could pace himself, say, 'I've had this many vodka gimlets.' If you're inhaling it directly into the nose, it's going into the bloodstream directly, and you don't know how much you're getting and how quickly."
Thanks for reading CBS NEWS.
Create your free account or log in
for more features.