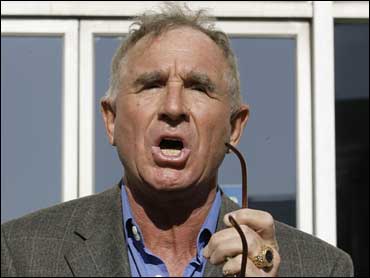 Prince Files Claim For Anna's Baby
Prince Frederic von Anhalt, husband of actress Zsa Zsa Gabor, filed papers in a Santa Monica, Calif. court Thursday seeking a DNA test to determine if he is the father of Anna Nicole Smith's baby.
Von Anhalt, who claims to have been in contact with Smith until shortly after her son's death, said that he would want to raise 5-month-old Dannielynn Hope himself if he gets custody.
"If the court rules in my favor, then she comes to me," he told reporters in a press conference.
He also lashed out at Smith's companion, Howard K. Stern, who is claiming paternity of the baby and is listed as her father on the birth certificate.
"I'm very surprised Howard Stern doesn't come forward and fight right now," he said. "He could stop this whole circus right away. Why doesn't he do it? He only knows why he doesn't do it and we will know very soon why. I think he's full of s**t. I don't talk to a man like that."
Von Anhalt said that Smith "knew Howard Stern supplied (her son Daniel) with all kinds of stuff to get high."
"When her son died, she was very upset," he said. "That was the time she talked badly about Howard Stern. She took some drugs, but not heavy stuff. She wanted to get away from all those things. But, Howard Stern gave her stuff, and stuff and stuff and she took everything."
Daniel Smith died of mysterious causes in his mother's Bahamas hospital room on Sept. 10.
Von Anhalt said he first met Smith when she was married to billionaire J. Howard Marshall, although he couldn't remember the exact date.
"That was about eight or nine years ago. I don't do any bookkeeping in those things," he said.
He added that they did not begin a physical relationship until after Marshall's death. "She did not have an affair with anybody while she was married to him. She loved him very much," he said.
---

Anna Nicole Smith: The Latest Photos

Photos: Anna Nicole Smith

---
He said he last saw Smith at the beginning of 2006, and spoke to her on the phone about seven weeks ago. Dannielynn was born in September.

According to the Associated Press, Von Anhalt's claim of an affair have largely been met with disbelief, but has boosted curiosity about the man who is rumored to have paid a bankrupt princess for his title.

He denies those reports, but acknowledges making millions of dollars by turning around and selling his title to at least 10 people.

Von Anhalt is also known for making outrageous statements about the advantages of being rich, laying claim to a German castle and suing Viagra for leaving him unable to have sex unless he takes the drug. He later dropped the case.

Bonnie Stern, the sister of Howard K. Stern, called von Anhalt's assertions "nauseating."

"She didn't even know him," Bonnie Stern said.

Ronald Jason Palmieri, longtime attorney for Gabor and von Anhalt, said, "the odds of him ending up to be the parent of this child are remote to none."

Thanks for reading CBS NEWS.
Create your free account or log in
for more features.