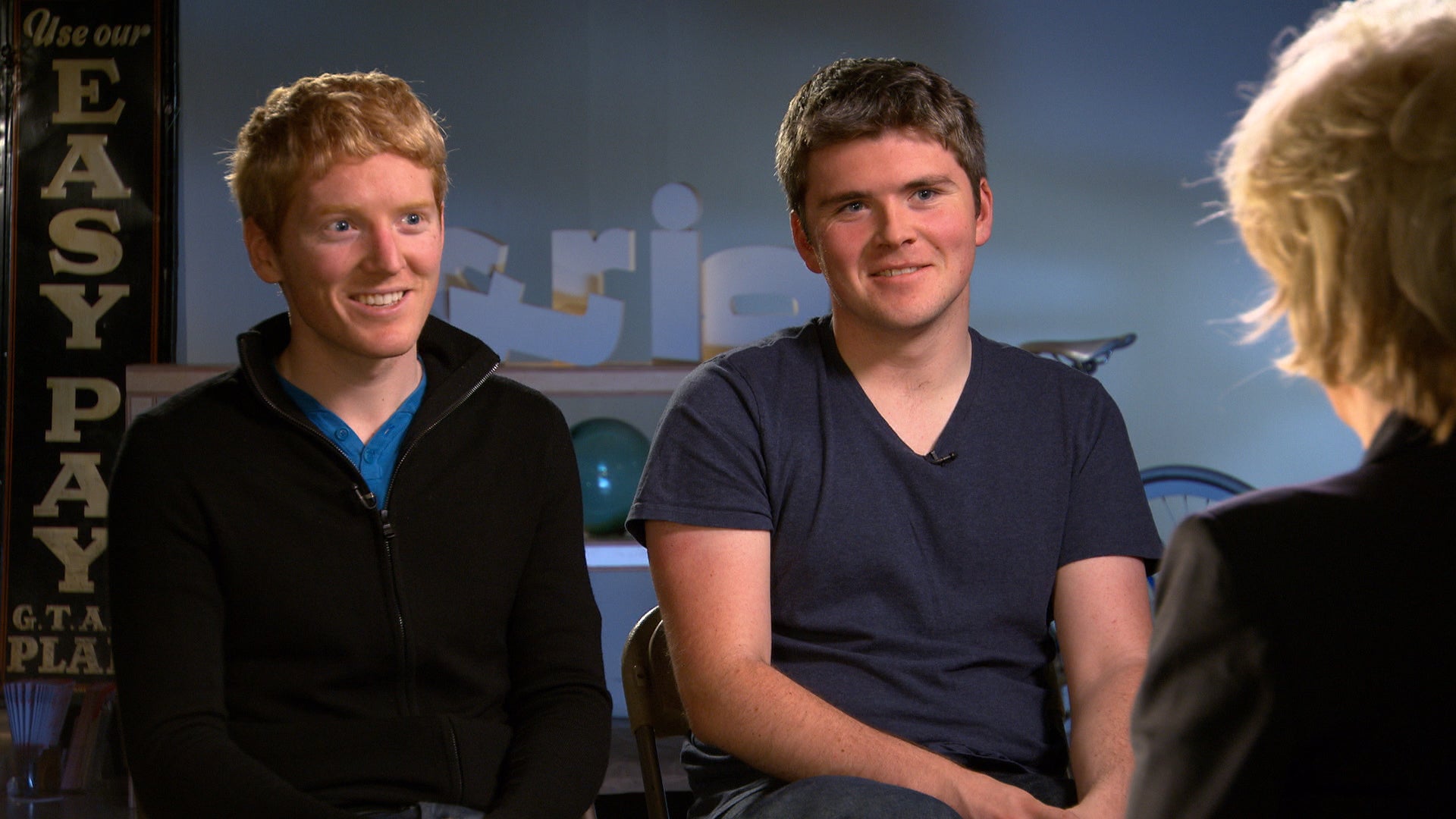 Patrick and John Collison are among a vanguard of entrepreneurs trying to make the movement of money online as easy as sending photos or videos. The young founders of Stripe, a $5 billion payments startup, appear in a Lesley Stahl report on the burgeoning industry known as "Fintech," which is challenging traditional financial institutions. Stahl report will be broadcast on 60 Minutes Sunday, May 1 on the CBS Television Network.
"In a world where people can send a Facebook message or...upload an Instagram photo and have it available to anyone anywhere in the world like that," Patrick, 27, says snapping his fingers, "I think that the fact that that doesn't work for money is something that seems increasingly, honestly, unacceptable to people," he says.
The brothers demonstrate how their app works by setting up a payment system for a fictitious online company Stahl makes up. They say this process could take weeks in the past, usually requiring a visit to the bank, paperwork, and a waiting period. They can do it in a few minutes. "It doesn't need to take any longer. This is how it should work," Patrick says. He says in the past year over one in four Americans online have used Stripe, including on sites like Facebook and Twitter, and those of major department stores. The software is embedded on both Apple Pay and Android Pay, and Patrick joined President Obama in his recent historical visit to Cuba, to encourage local entrepreneurs to set up businesses online.
Banks and other financial institutions have started taking notice and paying serious attention to fintech: studying, investing in, and partnering with these startups. But fintech poses many challenges to the old guard - for example because of the jobs such technology would inevitably eliminate.
"As services move onto the Internet they can provide the services more cheaply. And you know many of these banks have hundreds of thousands of employees," says John, 25, of Stripe. "We see financial service moving online, they don't have to have a physical presence and pay for that."
The financial system is getting its wake-up call from the fintechies, says Vikram Pandit, former head of Citigroup, one of the world's largest banks. "A lot of what you're seeing in fintech is what you're seeing in Uber and Airbnb...you've seen the impact of technology on travel, retailing," says Pandit. But will the banking industry bleed as many jobs as the travel sector? "It's the early days," says Pandit. "Banks are thinking about it...trying to understand what all this technology can mean."
Thanks for reading CBS NEWS.
Create your free account or log in
for more features.