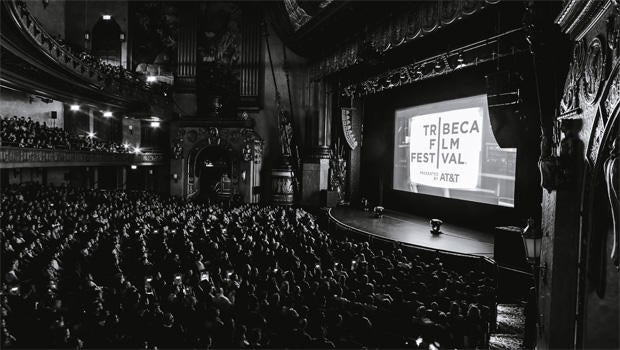 Preview: 2017 Tribeca Film Festival
New York City is preparing for one of its most entertaining and thought-provoking events, the annual Tribeca Film Festival. Now in its 16th year, the festival brings a plethora of premieres from around the world, as well as retrospective screenings of film classics, an immersive arcade of virtual reality, and some red carpet glitter.
Running April 19-30, the TFF features nearly 100 feature-length fiction and non-fiction features, many of them world or U.S. premieres, as well as short films, TV series, and interactive and virtual reality programming.
True, it is humanly impossible to partake of every dish offered over 12 days, held at several locations across Manhattan. But what a menu!
The festival opens with the gala world premiere of Chris Perkel's documentary "Clive Davis: The Soundtrack of Our Lives," to be held at Radio City Music Hall, followed by a concert with performances by Aretha Franklin, Jennifer Hudson, and Earth, Wind & Fire.
Among the notable fiction premieres are the sci-fi thriller "The Circle," starring Emma Watson and Tom Hanks; "Aardvark," starring Jon Hamm and Zachary Quinto as estranged brothers; "Love After Love," starring Andie MacDowell as a newly-widowed mother; "Blame," in which a high school production of "The Crucible" takes on some real-life drama among the players.
"Dog Years" stars Burt Reynolds as an aged former movie star reassessing his life as he prepares to receive a lifetime achievement award; "Abundant Acreage Available" is a family drama starring Amy Ryan; and "The Endless" tells of brothers who have escaped a cult -- but perhaps not entirely.
Also: "The Clapper," starring Ed Helms as a professional TV show audience member; "Manifesto," starring Cate Blanchett in multiple roles; "The Divine Order," about Switzerland's history against women's suffrage, which didn't end until 1970; "Nobody's Watching," starring Guillermo Pfening as an Argentine actor trying to make in it New York City; and "November," a supernatural drama set in 19th century Estonia.
Other films in the lineup star Steve Coogan, Marion Cotillard, Richard Gere, Laura Linney, Al Pacino, Liev Schreiber, Cobie Smulders, Naomi Watts and Debra Winger.
Among the documentaries are exposés on the lives of citizen journalists ("Copwatch"), the war in Syria ("Hell on Earth," "City of Ghosts"), transgender and civil rights activists ("The Death and Life of Marsha P. Johnson," "ACORN and the Firestorm"), environmental and civil rights concerns ("A River Below," "From the Ashes"), artists ("Shadowman," "Blurred Lines: Inside the Art World"), musicians ("When God Sleeps," "Whitney: 'Can I Be Me,'" "Can't Stop, Won't Stop: The Bad Boy Story"), and comedians ("Gilbert").
"Elián" visits Elián González, who as a child was at the center of a custody battle between his Cuban father and relatives in Miami; "True Conviction" trails a trio of former inmates trying to win exoneration for the wrong-convicted; "No Man's Land" looks at the armed occupiers of federal land in Oregon's Malheur National Wildlife Refuge; and "The Reagan Show" uses archival footage to deconstruct the rise of the 40th president.
Earth Day, April 22, will be marked with documentaries highlighting critical issues facing our planet, including climates change, food waste, industrialization and species extinctions.
The festival also includes retrospective screenings of classics, including a pairing of "The Godfather" and "The Godfather Part II," which will be marked by a panel discussion with stars James Caan, Robert De Niro, Robert Duvall, Diane Keaton, Al Pacino, Talia Shire, and director Francis Ford Coppola.
Other screenings celebrate the 25th anniversaries of "Reservoir Dogs" (with a Q&A featuring director Quentin Tarantino) and the Disney animated musical "Aladdin."
Tribeca Immersive features a "virtual arcade," in which visitors can experience new dimensions in storytelling. There are also live music events, and the sidebar Tribeca ESPN Sports Film Festival, which will showcase sports and competition films, including "Year of the Scab," about replacement players who took to the field during the 1987 NFL strike.
And if you are only interested in people talking, Tom Hanks sits down and talks with Bruce Springsteen (April 28, at the Beacon Theatre).
Can't make it to New York City? Tribeca N.O.W. offers works by independent filmmakers available online.
Single tickets and various ticket packages are available online, or call toll free (866) 941-FEST (or 3378). Rush tickets may be available for select screenings.
Thanks for reading CBS NEWS.
Create your free account or log in
for more features.