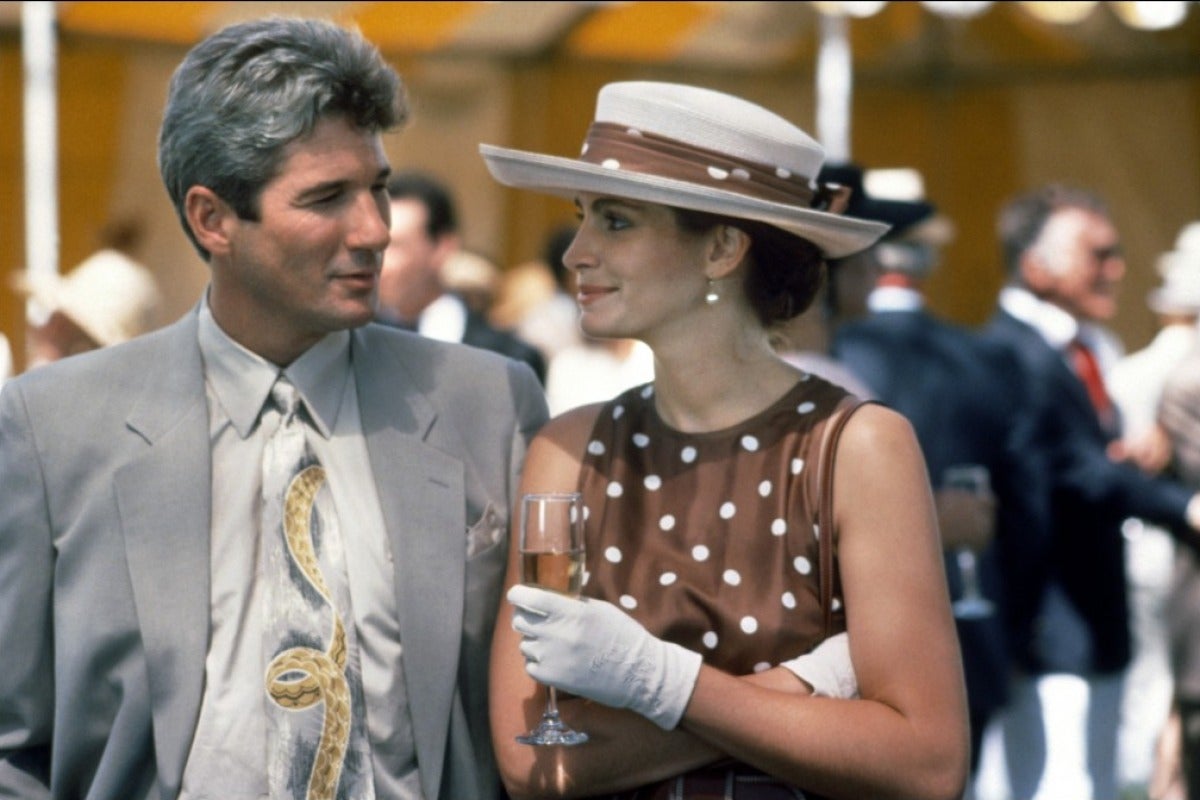 "Pretty Woman" turns 25: Go behind the scenes with 21-year-old Julia Roberts
"Pretty Woman" turns 25!
Can you believe it? It's been 25 years since the Gary Marshall romantic comedy first swept us off our feet. This year marks the silver anniversary of the movie that catapulted Julia Roberts into superstardom when it first premiered in 1990. The whole world fell for Roberts' irresistible smile and ET got to see it first on the set a year earlier.
At just 21 years old, Roberts was cast as Vivian Ward, a hooker with a heart of gold who is romanced by Edward Lewis, a millionaire tycoon played by Richard Gere. "He's really supportive, giving actor," she told ET in 1989. "It's so nice to be there with someone who, I feel like when I feel good about my work he'll support that."
The original title of the film was "$3,000," referring to the price for a night with Roberts' character. For her part, the young actress spent time with real-life prostitutes for research. "I talked to a lot of girls and it was fascinating actually to hear their stories," she said at the time. "It wasn't like you would imagine. They looked like a girl you would know from school or something and they were all very kind and very insightful."
The title wasn't the only difference about the initial script, which went through several changes before shooting. Laura San Giacomo, who played Vivian's best friend, told ET that while the premise was the same, the original film was supposed to be a much darker, gritty take on Los Angeles' prostitution scene in the late eighties and early nineties.
"My character was originally started I believe as a crack addict," San Giamcomo explained. "That's what was happening at the time and we needed to tone that down because there is not much funny about that."
Another moment that almost didn't make the final cut was the iconic jewelry box scene, which Gere improvised when he closes the box on Roberts' hand. "It was a soft jewelry box on her fingers and she gave such a sincere laugh that we kept it in the picture," director Gary Marshall told ET. "It was a gag real shot."
Marshall, who now runs the Falcon Theatre in Toluca Lake, California, and is behind a "Pretty Woman" musical planned for Broadway, says that before Gere and Roberts got their parts he tested a few actors including Al Pacino, Sam Neill and Tom Conti to play Edward Lewis. While Diane Lane almost walked away with the part that would eventually earn Roberts her second Academy Award nomination. Meg Ryan and Molly Ringwald were also reportedly offered the role.
Now, 25 years later and it's hard to imagine anyone else playing Vivian. In addition to Roberts' sole Oscar nomination for the film, "Pretty Woman" opened at No. 1 at the box office and remained in the position for four non-consecutive weeks. It has since earned over $178 million dollars and remains a classic cinematic fairy tale.
Watch the video here to see the prank the cast and crew played on Roberts during her infamous bath tub scene. If you don't, you're making a big mistake. Big. HUGE.
Follow Denny on Twitter: @DDirecto
Thanks for reading CBS NEWS.
Create your free account or log in
for more features.